WhistlinDiesel was previously married to Rae, a content creator, YouTuber, and OnlyFans model. She was known as Mrs. WhistlinDiesel until their divorce. However, WhistlinDiesel has moved on since their divorce and is currently dating Katie Miller.
24-year-old WhistlinDiesel is an American YouTuber and internet personality. He is well known for posting videos of himself modifying trucks and other vehicles. He also tries dangerous experiments with heavy-duty farm equipment.
Are WhistlinDiesel And Mrs. WhistlinDiesel Still Together?
WhistlinDiesel and his wife, Rae, are currently divorced after several years of being married. The duo are yet to tell the public when they ended things. Also, the reason behind their divorce is still unknown.
Although their marriage was no secret, no one seems to know how and when they met. But some media sources have it that they were teenage lovers and this is obviously true as they got married when they were both 18 years old.
While they were together, they seemed to have a great relationship. The couple tried to keep their marital life away from the prying eyes of the media, but that was not entirely possible as they could not help making content about each other on social media.
WhistlinDiesel also featured his ex-wife in a couple of his YouTube videos. Rae seems to be a car enthusiast just like her husband and she was very supportive of his career so much so that she even bragged about it.
Meet Rae, WhistlinDiesel's Ex-wife
As we already know, Rae is the ex-wife of Mr. WhistlinDiesel and she is known as Mrs. WhistlinDiesel on her social media accounts. Her real name is not known yet and her ex-husband never mentioned it. She is also yet to publicly talk about her family background, her birthday, and her nationality among other things.
Just like her ex-husband, Rae is a YouTuber and social media personality. Though she is not as popular as WhistlinDiesel, she has a handful of followers and subscribers to boast about, all thanks to the amazing content she puts out on her channel.
Her channel on YouTube, @MrsWhistlinDiesel, has about 113K subscribers as of October 2022. She also makes videos about automobiles, but not extreme experiments like her ex-husband. Nevertheless, her channel is currently inactive as she has pulled down all her videos on the platform.
Additionally, Mrs. WhistlinDiesel is an Instagram celebrity. She is very active on the platform and has about 317K followers on her page, @Raeted.  As at the time this article was written, she has over 570 posts on the photo and video sharing social networking site.
Similarly, Rae owns an account on OnlyFans. She became popular 5 hours after she signed up and made $245K. Her profile, @xxraeted, has about 9 pictures and her monthly subscription is just $20. As of October 2022, she makes over $500,000 and has about 20K subscribers on OnlyFans.
She also owns a Ford F-250. That car seems to be her baby as it has made an appearance in most of her Instagram posts. Her dog has made it to a number of her posts too.
As regards her marital status, Rae might still be single. She has not said anything about her divorce from WhistlinDiesel neither has she mentioned, or inferred that she's dating again.
Rumors That The WhistlinDiesels' Had Split Went On For A Longtime
WhistlinDiesel and his ex-wife, Rae, were married for a couple of years. As we stated before, they tied the knot when they were both teenagers and the fact that both of them were YouTube content creators made things easier as they were having the time of their lives, however, things went downside.
On June 10, WhistlinDiesel shared a post on his Instagram page showing off his new girlfriend. In the image he shared, he was seated in a car and his girlfriend was trying to clean the car tires. Not just that, the picture caption confirmed that he was no longer with Rae.
Before then, there had been rumors that the WhistlinDiesels had split. Fans had earlier noticed that Rae and Cody had stopped posting each other on their socials. These keen observers also found out that Rae was no longer being featured in WhistlinDiesel's videos as of late 2021.
As a matter of fact, the couple had unfollowed each other on social media, but WhistlinDiesel only confirmed their separation on June 10, 2022. He has also featured in his girlfriend's TikTok video (sometime in May 2022).
Aside from the rumors and Instagram posts, there is no information if they actually got a divorce. None of them has said a thing concerning filing for a divorce but as at the time this article was written, they were no longer together. Meanwhile, there is no information about them having any children together.
Meet Katie Miller, WhistlinDiesel's New Girlfriend
Katie Miller is a social media star, model, Tiktoker, and WhistlinDiesel's new girlfriend. She is a native of Nashville, Tennessee, in the United States and celebrates her birthday on the 8th of December every year. Miller is quite discreet about her personal information and as a result of this, there is no available information about her birthplace and early days on the internet.
She used to have an OnlyFans account where she shares adult content, but she recently deleted her account. Katie also keeps her social media accounts private. Her Instagram account is private even though it has only six posts. She mentioned in her bio that her old account was deleted.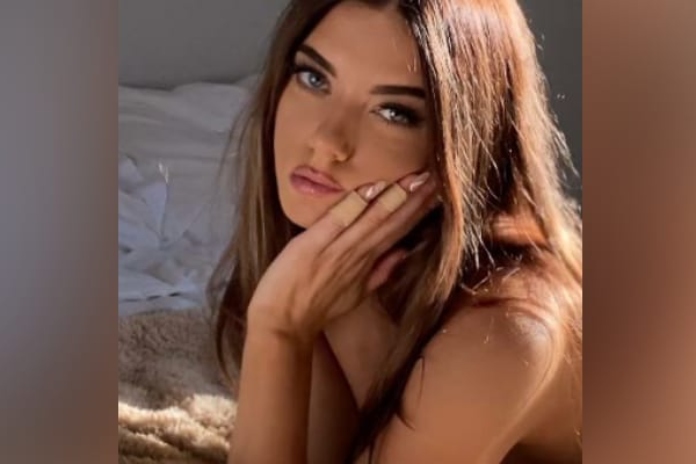 Unlike Instagram, Katie is a TikTok queen and has amassed over 90.5K followers on this platform. She posts amazing videos on her TikTok account, @stepsiskatee. Also, she has over 6.5K followers on her Twitter page, @stepsiskate.
There are speculations that Katie is also a model and photographer. These speculations came to be as a result of her tweet in April 2022 where she referenced that being a model and photographer was a full-time job. Not just that, she has also tweeted about pursuing a career on YouTube. In the same way, she shared on her Twitter bio that she works at an Alcohol Addiction Treatment Center.
Katie gave fans tidbit about her relationship with WhistlinDiesel in May 2022 when he made an appearance in one of her TikTok videos. She also shared a video of a surprise congratulations cake she made for him on TikTok. Similarly, WhistlinDiesel confirmed their relationship on his Instagram handles on June 10, 2022.
WhistlinDiesel's Has "Crazy Love" For Automobiles
WhistlinDiesel's love life may have caught the interest of his fans, but what actually drew them to him is his love for automobiles and his ability to take unexpected risks. He made an income for himself by sharing videos of him destroying both old and new cars, and doing dangerous stunts.
He is always very confident in telling his fans that none of the pictures and general content he shares on social media are clickbait, they are all real. As of the time of writing this, he has over 4.25 million subscribers on YouTube and all of the videos he shares garners at most 3 million views. On Instagram, he has over 2.4 million followers.