Tulsi Gabbard is married to a freelance cinematographer and editor named Abraham Williams. They tied the knot on 9 April 2015 and have been together since then.
Tulsi Gabbard is an American politician who many have come to respect for her numerous achievements, most especially her commitment to service. A member of the Democratic Party, Tusli represented Hawaii's second congressional district in the US House of Representatives.
Following her steady rise in American politics, she has now become a popular figure. Many people have channeled their interests toward her affairs, especially after she made known her intention to run in the 2020 US presidential election.
Tulsi Gabbard is the fourth child in a family made up of five children and the parents. Although she was born in Leloaloa, American Samoa, it was in Hawaii that she was raised by her parents Mike Gabbard and Carol Gabbard.
Her family moved there when she was still a child. Tulsi who is a practicing Hindu, as well as a vegetarian, has begun building a family of her own. Many became interested in her family life after she declared her intention to run for office as they wanted to know more about the person who could be America's first gentleman.
He was already dubbed by some quarters as "the coolest political spouse of 2020," but just how cool is he?
Tulsi Gabbard and Abraham Williams Were Friends For Years Before They Decided To Date
It is not exactly clear how these two first met, but as Gabbard revealed to the New York Times, they were acquaintances for years before their relationship got past the platonic level into romance.
Politics was what helped bring them closer in 2012 when Gabbard was running for the United States Congress for the first time to represent Hawaii's second congressional district. An admirer of hers on a professional level, Williams volunteered to serve as a photographer on her campaign team, shooting photos that were used for her campaign ads.
Gabbard's victory at the polls brought the two even closer, but sparks did not fly until a year and a half later. As Gabbard narrated to the New York Times, Williams got to ask her out at her birthday party which was thrown for her by a mutual friend of theirs. If we get the timeline right, that would mean that their first step on a romantic journey happened on the 12th of April 2013…
Gabbard said the birthday party was the first time that they had the opportunity to unwind, relax and talk on a personal level, and the rest, as they say, is history.
Their Mutual Love For the Ocean Helped Solidify Their Romance
As their relationship progressed, both Gabbard and Williams would come to know just how much they had in common. In her exact words to the New York Times, they had fallen in love over their shared passion for the ocean and surfing. For their first date, the couple went on a long walk that ended with them playing a pickup volleyball game with a few friends.
When they were done with their busy days in Capitol hill and were back in Hawaii, the couple would unwind with outdoor activities such as hiking, sand volleyball, and most especially, surfing. Sometimes, they would even go for a round of surfing early in the morning before returning home to prepare for work.
Williams capitalized on their shared love for the ocean for his proposal to the congresswoman. As she narrated to the New York Times, she had just returned from Capitol Hill, and it was a day before Thanksgiving when Abe (as he is fondly called, a short for Abraham) suggested that they head out for a time in the ocean as the sun was setting.
Their journey to the ocean took longer than usual as it was during peak hours, she observed an angsty Abe who was frustrated by the traffic and she could not just get why until they got there.
He did not want to miss the sunset and luckily, he didn't; with the sun setting down on the ocean, Williams paddled into the water and when the congresswoman joined him, he pulled out a beautiful ring and popped the question to which Gabbard said yes.
Abraham Williams Became Tulsi Gabbard's Husband in 2015
On the 9th of April 2015, Gabbard and Williams became man and wife. Their wedding was a Vedic-style wedding. It is a form of marriage that takes place among Hindus with both couples dressed in traditional outfits. Indian prime minister Narendra Modi bought them a wedding present.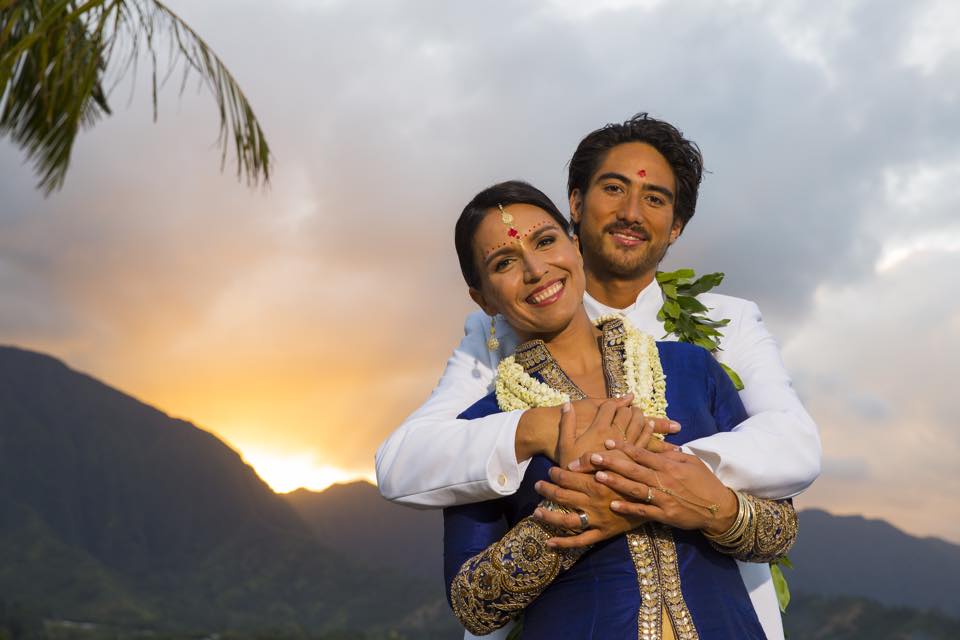 Though the couple has somewhat maintained a quiet and private life since their marriage, Gabbard's declaration for the presidential race zoomed the spotlight on them. Her husband, Gabbard seemed to be very supportive of the idea as he took to his Instagram page to declare his support for her.
Williams was by her side as the race to the White House started. When she debated with fellow Democrats vying for the party's nomination, Williams was cheering on in the crowd. Unfortunately, Gabbard would drop out of the race and declare her support for Joe Biden who went on to win the party ticket and ultimately emerge as America's 46th President.
Tulsi Gabbard's husband, Abraham, is a Freelance Cinematographer and Editor
In his chosen field of profession, Abraham Williams is equally successful. Though his birth year is not known, a Facebook post made by Gabbard to celebrate his birthday revealed that he was born on the 22nd of February.
Williams is a professional with the camera, according to his About Page on his website. He loves capturing images of people, their emotions, character, and telling their stories. He is also an editor and a colorist.
Tulsi's husband has worked on a few short and full-length movies in different capacities. Some of his works include Raphael Dumtaro: Warrior of Love, The Pit Where We Were Born, Down on the Sidewalk in Waikiki, Go for Broke, Last Taxi Dance, The Candle & the Curse, The Ace, and many more.
Like Gabbard, Williams has roots in New Zealand, a fact she revealed via Instagram when she took to the platform to condemn the attacks on mosques there on March 15. Abraham Williams is Part-Māori, part-Samoan. He is the son of Anya Anthony and the stepson of Timothy S. Anthony of Kailua, Hawaii.
His father teaches social studies and administers the English language learner program at Kalakaua Middle School in Honolulu. His mother left New Zealand a while after he was born and immigrated to the United States where she met and married Timothy Anthony.
Williams's mother Anya Anthony is the manager of Gabbard's district office in Honolulu. She chose to remain in the position even though it meant that Gabbard who had become engaged to her son in 2015 could not give her a raise or promotion to avoid conflict of interest.
Gabbard had also become worried about breaching the Congressional Ethics but was told by the committee that it was ok since Williams' mom had been serving in the position long before she and Williams got together.
During leisure, Abraham Williams plays guitar, ukulele, and drums, undoubtedly one of the many reasons why Marie Claire declared him the coolest political spouse.
Tulsi Gabbard Was Previously Married To Eduardo Tamayo
Gabbard has been married twice thus far. However, her first marriage was short-lived, and her current has already lasted longer than it did. She married Eduardo Tamayo in 2002 which was also the same year that she had been elected to the Hawaii House of Representatives, making her the youngest person in US history to be elected into the state legislature.
Gabbard would join the army in 2004 and served 12 months in Iraq. Unfortunately, her selfless desire to serve her country would later take a toll on their marriage. When she and Tamayo got divorced in 2006, the couple stated the reason to be "the stresses war places on military spouses and families."
FAQs 
Is Tulsi Gabbard Married?
Yes, Tulsi Gabbard is married. She is currently married to Abraham Williams with whom she tied the knot on 9 April 2015. Before him, she was married to Eduardo Tamayo from 2002 to 2006.
Who Is Tulsi Gabbard's Husband?
Tulsi Gabbard's husband, Abraham Williams, is a freelance cinematographer and editor born on the 22nd of February in a yet-to-be-known year. He is Part-Māori, part-Samoan. He is the son of Anya Anthony and the stepson of Timothy S. Anthony of Kailua, Hawaii.
When Was Abraham Williams and Tulsi Gabbard's Wedding?
Being Hindus, Abraham Williams and Tulsi Gabbard had a Vedic-style wedding on 9 April 2015 with both of them dressed in traditional outfits. Among the presents they received was one from the Indian prime minister, Narendra Modi.
What is Tulsi Gabbard's Husband's Net Worth?
There's no doubt that Tulsi Gabbard's husband is financially stable, however, the value of his net worth has not been revealed.
Profile Summary
First Name:
Tulsi
Last Name:
Gabbard
Also Known As:

Tulsi
Sex/Gender:

Female
Profession:

Politician and Hawaii Army National Guard officer
Famous As:
U.S. Representative for Hawaii's 2nd Congressional district
Colleges/Universities Attended:

Hawaii Pacific University
Educational Qualifications:

BSc in Business Administration
Religion:

Hinduism
Birthday & Zodiac

Age/Date of Birth:

42 years old (April 12, 1981)
Zodiac Sign:
Aries
Birth Place:

Leloaloa, American Samoa
Nationality:
American
Ethnicity/Race:

Multicultural
Country of Residence:

United States of America (USA)
Physical Attributes

Height:

5 feet 7 inches (1.73 m)
Weight:

60 Kg (132 lbs)
Eye Colour:

Dark Brown
Hair Color:

Black
Other Body Measurements:

Bust: 37 inches
Waist: 26 inches
Hips : 38 inches
Relationships

Marital Status:

Married
Spouse/Partner:

Abraham Williams (m. 2015),
Previously married Eduardo Tamayo (m. 2002–2006)
Family and Relatives

Father:

Mike Gabbard,
Mother:
Carol Porter Gabbard
Children:

N/A
Siblings:
4 siblings
Other Relatives:

N/A
Net Worth
Estimated Net Worth:

$500,000
Salary:
N/A
Source of Wealth:

Various career endeavor