The skinniest person in the world is Kristina Karyagina, a Russian woman who weighs just 17 kg. Her skinny nature is a result of anorexia, an eating disorder. Due to her excessive weight loss, her bone structure has become visible, making her look pretty scary.
Most other skinny people on this list are so because of anorexia or some other rare health condition that makes it impossible for them to gain flesh or for the body to metabolize fat. As much as it looks challenging, some of these people have leveraged their conditions to gain fame. Here are the 5 skinniest people in the world.
Meet the Top 5 Skinniest People in the World
1. Kristina Karyagina
Weight: 17 kg (37 lbs)
Height: 5 feet 6 inches
Nationality: Russian
Condition: Anorexia
Kristina Karyagina is from Barnaul in south-central Russia and has been ranked on the list of skinniest people in the world as a result of anorexia. Anorexia is an eating disorder characterized by abnormally low body weight. As a result, she is known to weigh just 17 kg, the same weight as a healthy four-year-old child after she stopped feeding properly in high school.
It was revealed that she stopped feeding properly in high school and lived on only tiny pieces of apple or banana and juice or water. She stopped going out after she graduated from law school due to her excessive weight loss. Her skinny nature made her doctor tell her that she could pass for a living corpse in a movie. Though she has started undergoing treatment, she still remains the skinniest person in the world.
2. Lizzie Valasquez
Age: 34 years old
Weight: 26 kg (58 lbs)
Height: 5 feet 2 inches (157 cm)
Nationality: American
Ethnicity: Mixed (Mexican-American)
Condition: Neonatal Progeroid Syndrome (NPS)
Occupation: Motivational Speaker, Activist, and Author
Lizzie Valasquez is a 34 year old American author, motivational speaker, and activist born on March 13, 1989, in Austin, Texas, the United States of America. Lizzy's skinny nature came from birth, as she was born four weeks prior to her due date and weighed less than two pounds (1219 g).
She was later diagnosed with a rare condition known as Neonatal Progeroid Syndrome (NPD), making her one of the only three persons with the condition. NPD is a rare condition that makes people unable to accumulate fat and gain weight. It also makes one begin to age from birth.
With a weight of 26 kg, which is half the weight of the lightest person in the world, she has become one of the skinniest people in the world. She reportedly has never weighed more than 29 kg and has almost no body fat. As a result of the condition, she has to eat every fifteen minutes (a total of 60 meals per day) and consume about 5,000 to 8,000 calories daily to stay alive. Regardless of it all, she still manages to grace several events as a motivational speaker.
3. Tom Staniford
Age: 33 years old
Weight: 65 kg (143 lbs)
Height: 6 feet 3 inches (191 cm)
Nationality: United Kingdom
Ethnicity: White
Condition: MDP Syndrome
Occupation: Para-cyclist
Tom Staniford was born on July 01, 1988, in Akrotiri, Cyprus. He is the skinniest man in the world. Tom's skinny nature is caused by a rare condition known as Mandibuloacral dysplasia with deafness and progeroid (MDP Syndrome). The condition is an extremely rare metabolic disorder that makes it impossible for fatty tissues to be stored underneath the skin.
Though doctors have come to explain the cause of the condition, it still can't be treated. He is one of the few people that have been diagnosed with the condition so far. Tom Staniford stands at 6 feet 3 inches (191 cm) and weighs 65 kg. The condition, however, did not deter him from achieving great feats in life.
He is an award-winning professional cyclist and has achieved a lot in his sporting career. The para-cyclist is living his life normally like every other person. He is happily married to his heartthrob Alice who has been a great support and inspiration to him.
4. Loana Spangenberg
Age: 41 years old
Weight: 38 kg (84 lbs)
Height: 5 feet 6 inches
Nationality: Romanian
Ethnicity: White
Condition: anorexic
Occupation: Model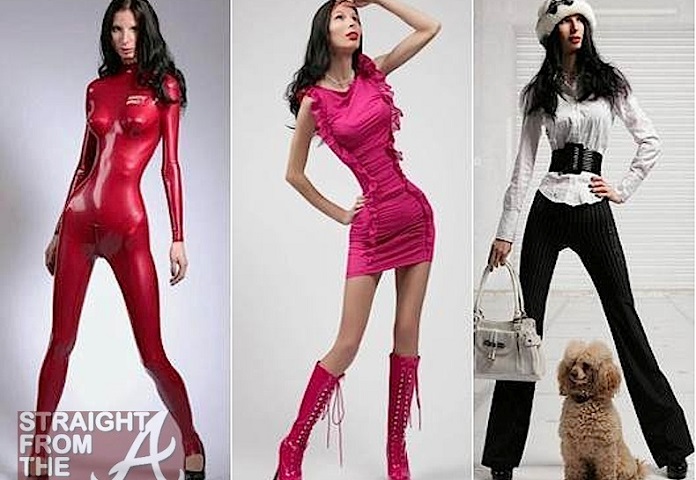 Loana Spangenberg is a 41 year old Romanian model who has been listed as one of the skinniest people in the world for a natural cause. The reason for her skinny nature is unknown but has been speculated to be a fast metabolism by experts.
Thus, her skinny nature is seen not as an outcome of starvation but a natural one. Loana has revealed in interviews that her skinny condition is not a result of starvation. She further stated that she has been trying her best to gain some flesh by sticking to three square meals per day that consist of fattening foods like kebabs, pizza, and crisps.
The model stands at 5 feet 6 inches tall and weighs about 38 kg. Her waist measures about 20 inches (50 cm), which is 5 inches bigger than a CD's circumference. Following her body measurement, which is 32-20-32, she was given the nickname Human Hour Glass.
5. Cathie Jung
Age: 86 years old
Weight: 43 kg
Height: 5 feet 6 inches
Nationality: American
Ethnicity: White
Condition: Excessive wearing of a corset
Occupation: Corset and Dress Enthusiast
Cathie Jung is a 86 year old American woman born in 1937. With a tiny waist that measures 38.1 cm, she has been able to gain a spot on the list of skinniest people in the world. Her tiny waist was an outcome of the constant wearing of a corset.
She revealed that she started wearing a corset on her wedding day in 1959, and since then, she has been wearing it. With her waist, Cathie succeeded in gaining the title of the person with the smallest waist to ever live in The Guinness World Records. Her waist measured 64 cm at the age of 28. What it measures currently is, however, unknown, but she is seen to maintain her title. Currently 86 years old, she is a mother of three and still maintains her tiny waist and title.
Other Facts About the Skinniest Persons in the World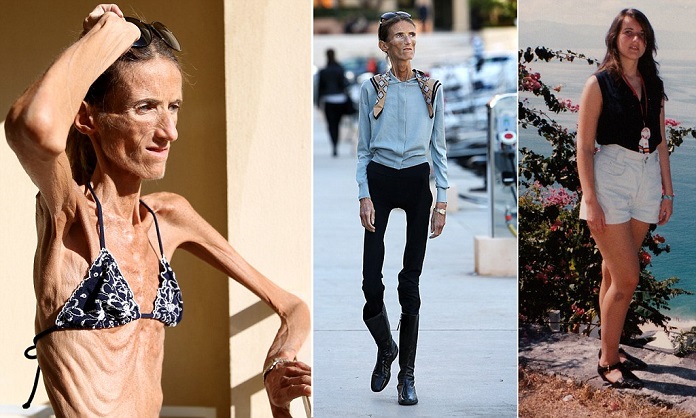 Prior to the recent ranking, Valeria Levitin was once the world's skinniest woman. She was from Monaco and weighed about 27 kg, half the weight of the lightest person. Her condition was due to an extreme case of anorexia which was caused by rigorous dieting. She went on a diet plan after she was tagged as fat by her friends, weighing about 64 kg as of then.
Years after her extreme dieting, she struggled to regain her lost weight and remained that way until her death. Prior to her death, she was a source of inspiration and urged young girls to learn from her mistakes so as to live a healthy life. She toured different countries to deliver her messages and hoped to recover someday to fulfill her dreams of motherhood. Sadly, she passed away on December 1, 2013, weighing about 25 kg.