Tati Westbrook's husband is James Westbrook, a media industry expert. They began dating in 2010 and tied the knot in 2017. On hand to witness the ceremony were various loved ones including Tati's family. This includes her parents, Cindy and Janis Krievins as well as her sisters, Larisa, Erika, and Sabrina Krievins. 
Tati Westbrook has often spoken of how supportive her family is. Her husband has also played an indispensable role in her rise to the top of YouTube Stardom. He encouraged her to take vlogging as a serious matter. He has also remained behind the scenes over the years helping her craft the content that she regularly puts out.
Tati Westbrook is a Popular YouTube Vlogger 
Tati Westbrook is a renowned American makeup artist, vlogger, and internet personality. Notably, she is the brain behind the YouTube channel, Tati (formerly GlamLifeGuru).
Tati Westbrook has successfully turned her passion into a lifelong profession. Although she started as an image consultant, Tati has since transformed into a makeup artist and YouTuber with the launch of her channel, Tati (formerly GlamLifeGuru). Therein, she shares makeup tutorials, product reviews, as well as beauty tips with her teeming fans. All these have contributed to her current net worth of $6 million
While Tati Westbrook is grateful for her empire of millions, the fact that she had to work tooth and nail to get to where she is, can't be overlooked. She has worked less-than-glamorous jobs, combated a healthy dose of controversy, even postponed her wedding, and also experienced some fertility issues.
Talk about a wedding, the makeup guru is beyond the internet and all the goodness it offers. She is a homely woman who enjoys some quality time with her family and is in a loving marriage with her husband James Westbrook.
Tati Westbrook Met Her Husband, James, On A Dating Site
Way back in early 2010, Tati Westbrook was a budding YouTube personality who was simply known at the time by the name of her YouTube channel, GlamLifeGuru. It was around this same time that she would meet James Westbrook who would become her future husband.
Being a YouTube personality, it is not difficult to understand how she met James online. She seems to have always been social media savvy. The couple met on Match.com a popular online dating site. She revealed the details of their meeting and first date in a video posted to her channel in 2012.
In the video, Tati describes how she was very nervous to meet James because she had gone on many bad dates with people she had met online. She was really hoping things would work out between her and James as she thought of him to be a very nice guy and was just sick of the bad dates.
Coincidentally, James was also in the same position, he had gone on really bad dates as well and was hoping the one with Tati would work out. Tati had made a resolve within herself to take a one-year hiatus from men should her date with James not work out.
Well, in a twist of events, Tati would be the one to almost ruin the date and get frustrated to the point of almost calling it off entirely. They had agreed to meet at a certain restaurant chain called Katsuya, however, though she located the restaurant, she would later discover that she was in the wrong location.
She had already been fuming in her seat that James was being late meanwhile she was the one who made a mistake with locating the right restaurant. Realizing her mistake, Tati decided to go on with the date. While they had dinner, James revealed to her how that if their date does not work, he was going to take a break as well, this was the first similarity between them and upon it, Tati began to build on her immediate likeness for him.
Two years after their first meeting, James had known enough of Tati to decide that he wanted to spend the rest of his life with her. He proposed to her with the help of her YouTube friends and made a video of it without her knowledge. James popped the question on the night of their two-year anniversary as a couple and did so at the same location where they had their first date.
In a bid not to blow up his cover, James, as he wrote in the caption of the video posted to YouTube, said that he had to seize her phone and computer as well as shut out the internet in the house so she would not be aware of his plans. His plans seemed to have worked and at the end of dinner that day James asked and Tati said yes.
The Couple Got Married After A Lengthy Engagement
In the years that followed, their millions of fans anticipated their wedding but it never seemed to be forthcoming. Throughout the period that they were engaged, Tati documented their relationship on her channel in addition to her primary focus which is beauty-related content.
Finally, the couple scheduled their wedding for 2015 but had it cancelled for two major reasons. The timing did not seem to suit Tati's best friend and she could not bear the thought of her best buddy missing her big day so she had it cancelled, also James's mother and his best friend who was supposed to serve as his best man on that day passed away.
It was a difficult time for the couple and the aftermath even put a strain on their engagement and they thought of calling it quits, but thankfully they found a way to navigate the storm together. They had also considered eloping but decided not to go through with it.
And then came 2017, on the 11th of January which is the anniversary of their first date, Tati and James Westbrook finally got married. The couple had an intimate wedding ceremony that was held in Maui, Hawaii, a location where the YouTuber revealed that her late mother-in-law approved of while on her sickbed before her death.
As expected, the couple posted a clip of their big day on YouTube. Her make-up was done by James Charles, a budding YouTuber at the time whom she had taken under her tutelage.
Despite the controversies that seem to frequently trail Tati's career, the couple seems to be rock solid and ever behind each other. Once there were rumors that things were falling apart between the two but Tati immediately debunked the claims. The couple reside in Los Angeles and share an adorable dog named Poocah.
When Tati was starting out as a YouTube vlogger, she did not reveal what her last name was. She was only known as Tati and GlamLifeGuru. She revealed a lot more about her identity in a 2012 video titled "Get To Know Me," posted to her YouTube channel, in it, she revealed that her first name was Tatiana and her middle name was Aleksandra, however, she refrained from revealing her last name and said she was keeping it a secret as she was about to be married to the love of her life and was changing her name to his.
James had told her that it would be easier for her fans if she did not change her last name just at the start of her career. While they waited to get married, Allure Magazine sort of forced the name change as they insisted on getting her last name when she was getting a feature in the magazine, as a result, Tati decided to start going by her husband's last name Westbrook. The YouTuber would later reveal her birth surname or maiden name to be Krievins.
Tati's Husband James Is Experienced In Media Business and Helped Her Start Her YouTube Career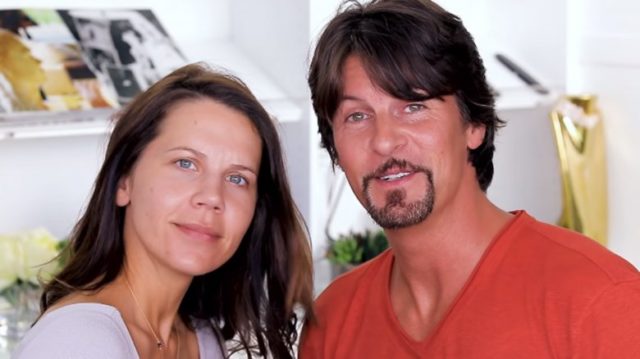 Tati, in addition to her love for make-up from childhood also has her husband's business savvy skills to thank for putting her on the map of famous YouTube personalities. James was the one who encouraged her to take her make-up skills to the video-sharing platform when she first nurtured the idea, about 7 months into their relationship. When Tati finally launched her channel, she had the support of James all the way until it began gaining traction in 2012, two years after its launch.
In one of her videos, Tati revealed that her husband James had a good knowledge of the online media industry and was a master at closing deals and contracts as well as business development. James garnered this experience from years of running a media agency. He served as the president of Delaware's Magnalix, LLC which would later relocate its operations to California before going under in 2008. The company manufactured magnetic therapy bracelets.
James Westbrook has also in the early 2000s served as the president of Hollywood Entertainment Partners Inc. He has also worked at the talent agency, Motion Pictures as her Vice President. With such a portfolio, online media success was inevitable for his wife Tati.
Though James prefers to stick to his behind-the-scenes roles, he has featured occasionally on Tati's videos. During Tati's lengthy feud with James Charles, she revealed that her husband helped James Charles to make shrewd business decisions in order to help propel his career. Together, the couple have created what can be rightly dubbed the Westbrook dynasty. The YouTuber is said to be worth about $15 million.
James Westbrook Hails From North Carolina
James was born James Alexander Westbrook on the 10th of September 1970 and Valdese, North Carolina, to father Dr. Sidney Westbrook Jr and mother Linda Westbrook who raised him alongside his two sisters, Cheryl Fennell and Beth Robinson.
He attended North State Academy in Hickory, North Carolina from where he graduated in 1988. After high school, Westbrook got admitted to the Georgia Institute of Technology for his college. His parents relocated with him to Atlanta, Georgia while his sisters remained in their home state with the respective families they had begun building with their husbands.
James' father passed away in 1994 while his mother Linda died on April 9, 2014. Linda had a good relationship with her daughter-in-law Tati who posted a heartfelt tribute in her honor after she passed away. Part of Tati's words posted to Instagram read "…Thank you Linda for being an incredible supporter of all of my wild ideas including YouTube & for the acceptance & love you gave to me from the moment I met you. I am honored to be a part of your family."
Tati Has Been Unable To Have Kids Due to Fertility Problems
It has been decades of marriage for Tati and James Westbrook, however, the couple are yet to welcome any biological children of their own. Tati has opened up about her desire to be a mother and how she has been experiencing fertility issues. She uploaded a video in early 2019, where she notified her fans that she would be stepping back a bit from YouTube, to focus on the fertility treatments she is undergoing with her husband. At the time, she continued to keep her fans updated via Snapchat, Twitter, and Instagram.
In the video, posted to her YouTube channel, a teary-eyed Tati said how it was deep pain in her soul that she has been unable to have children of her own. She added that being a mom would be her biggest accomplishment ever. At the time she decided to take a break from YouTube, she was also in the middle of a nasty feud with fellow YouTube vlogger, James Charles and she revealed in the video that it was not helping her focus on her health and wellness. Tati returned from the break but there is still news from her camp that she is expecting a baby.
She Is The Step-Mother of James' Child From A Previous Relationship
Tati Westbrook may not have experienced what pregnancy feels like, but she has been able to tap into her maternal instincts in building a relationship with Taylor, James' son from a previous relationship. However, building a connection with Taylor who was a teenager when she first met him was not easy.
He was the moody type who preferred to avoid her and respond with only a few words whenever she tried to communicate with him. Tati later found her way through with Taylor and took to YouTube to post a video featuring him. In the video, she advised ladies who were in a relationship with men with kids to be patient with them. Taylor has a passion for music and hopes to pursue it professionally.
Tati Westbrook's Fact Card
Tati Westbrook Grew Up With Three Siblings
Tati is the first of the four daughters born to the talent manager, Cindy and Janis Krievins. Her sisters include Larisa Krievens and identical twins, Erika and Sabrina Krievins. She is of Latvian ancestry. While she did not have all the money and glam growing up, the glam life guru has described her family as very loving and supportive.
Tati and her sisters grew up with a passion for acting and dancing, this could be linked to the fact that their father was a talent manager. As kids, the Krievens sisters acted and danced, while Tati had small roles in commercials and on shows like "Unsolved Mysteries" and "Greek," the twins, who were born on February 9, 1984, acted in The X-Files (1993). Their role as the Eves clones (Teena Simmons and Cindy Reardon) shot them to fame.
Apart from The X-Files, they have done several other minor roles and commercials. Sabrina has been married to Russell Phillips with whom she has a child who was born on October 19, 2011. Erika, on the other hand, is the wife of Dylan Patterson. They got hitched on July 19, 2013. Tati shares a close bond with her sisters who make occasional appearances on her YouTube channel.
Profile Summary
First Name:
Tatiana
Last Name:
Westbrook
Also Known As:

Tati, GlamLifeGuru
Sex/Gender:

Female
Profession:

Internet personality, YouTuber, makeup artist, businesswoman
Famous For:
Her company, Halo Beauty
Colleges/Universities Attended:

N/A
Educational Qualifications:

N/A
Religion:

Christianity
Birthday & Zodiac

Age/Date of Birth:

41 years old (14 February 1982)
Zodiac Sign:
Aquarius
Birth Place:

Seattle, Washington, United States
Nationality:
American
Ethnicity/Race:

Latvian
Country of Residence:

United States of America (USA)
Physical Attributes

Height:

5 feet, 7 inches (1.73 m)
Weight:

55 kg (121 lbs)
Eye Colour:

Blue
Hair Color:

Brown
Other Body Measurements:

N/A
Relationships

Marital Status:

Married
Spouse/Partner:

James Westbrook
(m. 2017)
Family and Relatives

Father:

Janis Krievins

Mother:
Cindy Krievins
Children:

N/A
Siblings:
3 Sisters - Erika, Sabrina and Larisa
Other Relatives:

N/A
Net Worth
Estimated Net Worth:

$6 million
Salary:
$1 to $2 million annually
Source of Wealth:

Various endeavor