Polo G's girlfriend is currently unknown. It is possible that he does not have a girlfriend currently, however he has been in a relationship with a number of women of which Crystal Blease was his last known girlfriend. 
Prior to this single status, Polo G previously dated Crystal for a three-year period, during which they welcomed a son together. Their romance blossomed, and she even gave Polo G some tips on his music career. The couple had a good thing going, and many thought they would last forever.
This was, however, not to be, as they broke up in late 2021. Crystal Blease has since moved on with her life and is now dating a lady named Jazz. Polo G has yet to commence a new relationship, at least publicly. This can mean that he has no girlfriend presently. It may also be that Polo G is in a relationship but is hiding the identity of his new lady love.
Polo G's Ex-girlfriend was Crystal Blease, an Entrepreneur and Social Media Influencer
Polo G's former girlfriend is Crystal Blease. She is a native of Chicago and was born on the 26th of September 2000. She has grown up to become a social media influencer and entrepreneur. As a social media influencer, Crystal has tens of thousands of followers on Twitter, Instagram, and YouTube and has done sponsored gigs for the likes of Fashion Nova and Pretty Hair.
Crystal Blease has also set up two successful businesses of her own. One of them is Crystal Couture, a brand that deals in all manner of women's clothing. There is also Beauty by Bratitude. This brand deals in beauty products, including makeup and accessories. Crystal is now a public figure, but that has not been without controversy.
For instance, in November 2021, she bragged about the impressive length of her natural hair. Many online fans accused her of devaluing other women's hair. They pointed out that what mattered was healthy hair and not length. They also pointed out that beautiful hair comes in all manner of sizes and lengths.
Crystal Blease Was Polo G's Girlfriend For Three Years, Starting from 2018
Polo G and Crystal Blease commenced their relationship in 2018. At that time, he was a fast-rising rapper with several hit songs to his name. Blease was also popular across various social media platforms. They therefore complimented each other very well, and this laid the groundwork for a successful relationship.
The couple often traveled to places together, and Blease supported her boyfriend as he promoted his music career. She joined him at his album unveiling gigs. She also advised him on potential feature artists. Her advice played a pivotal part in ensuring the success of his 2021 track, For the Love of New York, which featured Nicki Minaj.
The couple wasn't all work and no play. They often shared pictures of their vacations. Blease also shared short Tik Tok videos of them hanging out together. In one, she complained that Polo G was often busy in the studio and rarely made out time for them to do fun stuff such as shopping at the mall. The rapper apologized and later took her to the mall.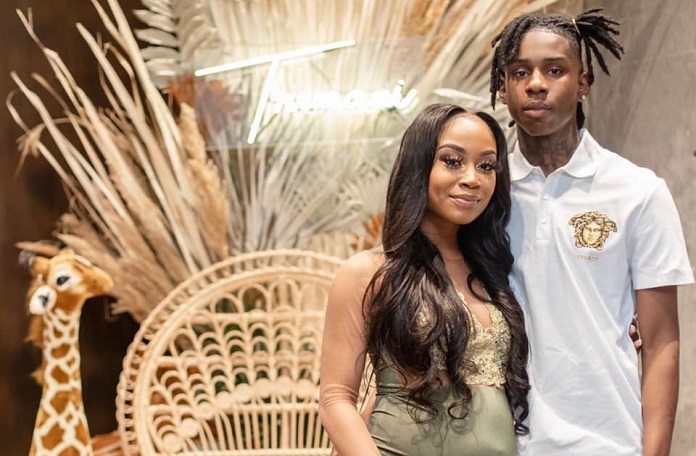 Crystal Blease Became Polo G's Baby Mama After Welcoming a Son Named Tremani Legend Bartlett in 2019
Polo G and Crystal Blease welcomed a child during the course of their relationship. Their son is named Tremani Legend Bartlett, and he was born on the 6th of July 2019. The couple was overjoyed by the birth of their son and showered a lot of love and attention on him. By the time he reached the age of one, they threw a magnificent 1st birthday party for him
Polo G and Crystal Blease also opened a jointly-managed Instagram account for their son and regularly shared cute pictures of him with the rest of the world. They also gave an insight into his favorite things to do. The couple were really much in love and alluded to the possibility of getting married someday. Blease even changed her Instagram handle to Mrs. Capalot (a reference to Polo G's nickname).
Polo G and Crystal Blease Broke Up in 2021 with Blease Accusing her Ex-Boyfriend of Infidelity
Having a child comes with its set of unique challenges for the parents, but that was not the case for Polo G and Crystal Blease. They took impeccable care of their son. They also thrived in their various pursuits. The duo became a celebrity couple in their own right, and many looked forward to the day that they would formalize their vows.
That was, however, not to be, as they broke up in mid-2021. The couple did not reveal the reason for the split, and this created room for lots of speculations. One of the major rumors was infidelity, and Blease later confirmed this in October 2021. Polo G and Crystal Blease broke up because he cheated on her.
Though the exact details of the rapper's transgressions, as well as the identity of the other woman, is not known, Blease revealed on social media that she put up with infidelity and condemned Polo G for that.
It was a painful manner to split up, but Polo G and Crystal Blease have avoided ugly drama and are co-parenting their son amicably. For instance, in July 2022, when their son celebrated his third birthday, they worked together to throw him an impressive and memorable birthday bash.
Polo G Remains Single While his Former Girlfriend has Moved on with her Life
It is hard to tell who Polo G is dating presently. Since his breakup with Crystal Blease, there has been no indication that he has found a new love. A look at his social media accounts does not reveal any special lady. He has also not been photographed with any lady by the paparazzi. The rumor mill has also not linked Polo G romantically with any person. It, therefore, means that Polo G does not have any girlfriend presently.
It may also be that he is in the early stages of a new relationship and is taking things slow. One thing that is, however, certain is that if Polo G were to be going steady with any lady, that information would find its way into the public domain at some point. While we wait for that to happen, one person that has been very open about the current state of her love life is Polo G's ex-girlfriend, Crystal Blease.
In October 2021, Blease revealed that she was in a relationship with a lady named Jazz. The social media influencer lamented the fact that she had been putting up with infidelity without knowing that her soul mate was a girl. She gushed about how wonderful her love life was and even gave the impression that she and Jazz were now co-habiting.