Octavia Spencer is not married and as such does not have a husband. She is also currently not in any known relationship, however, she has been allegedly involved with some popular men in the past.
Owing to her popularity, many are eager to know everything about her life, most especially her love life, which has been a topic for discussion among fans. Here is all you need to know about Octavia Spencer's love life and relationships.
Is Octavia Spencer Married?
Octavia Spencer is not married and has never been married to anyone in the past. The Hidden Figures actress appears to be single at the moment and is more focused on building her career as an actress. She has allegedly been in and out of so many relationships (in the quest of finding the perfect one) and even the ones that looked to be "the one" still fell short.
It is believed that her present commitment to herself and to her career has come from a place of hurt and disappointment. As we have mentioned earlier, the Self Made star may have previously gotten involved in the wrong relationships which led to her having some bad experiences and not wanting to commit to anyone.
But is she searching for a relationship? Not at all! In an interview, she made it clear that she was okay with not being married and that she was not looking for a man; rather, a man who is interested in her would approach her and make his intentions known.
According to her, she relishes her alone time and works hard to advance her career in Hollywood. She has additionally admitted in another interview that due to her extreme schedule, she only stays at her Los Angeles home for a total of six weeks every year.
Who is Octavia Spencer Dating?
Octavia Spencer, despite her celebrity status, is currently not known to be dating anyone. The actress is a very private person and rarely talks about her relationship which makes it difficult for one to know much about her personal life. However, she has been associated with a number of well-known men whom she was assumed to have dated. So while we may not have a hold on her actual dating history, below is a list of men Octavia Spencer was alleged to be involved with at one point or the another.
She Was Said To Be Involved With Tate Taylor
Octavia Spencer and Tate Taylor were rumored to have been involved in a romantic relationship. The pair has been close friends since 1995, as they attended the same college and had lived together for seven years in Los Angeles. Tate Taylor is a famous American filmmaker and actor best recognized for directing The Help, The Girl on the Train and others.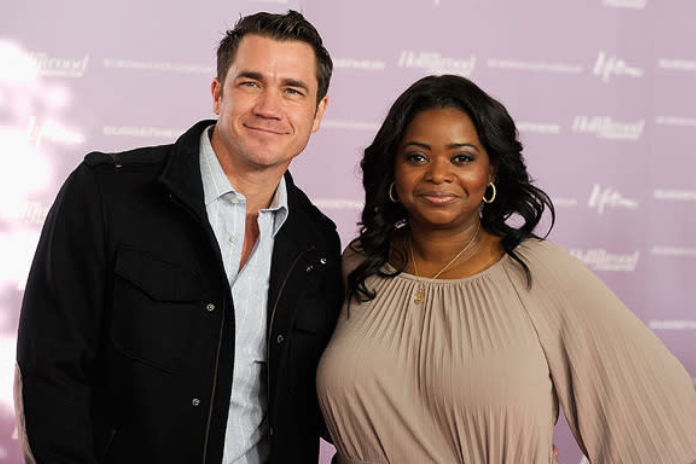 It turns out that Octavia and Tate Taylor's alleged relationship was not true as Tate is openly gay and is said to be dating producer, Todd Norris. The actress had also come out to debunk the rumor stating that she and Tate are just friends and will always continue to be friends as they have gone through a lot together.
Josh Hopkins Turned Out to Be A "Dear Friend"
Josh Hopkins is another person whom Octavia was alleged to have dated. The rumor started when Josh was her date to the 2012 SAG Awards. Josh Hopkins is an actor who is best recognized for his role as the sexy Liam O'Connor in Quantico.
It also turns out that Josh and Octavia were just friends and nothing more. The pair have known each other right from college as they share alma mater, Auburn University.
Just like Octavia's friendship with Tate, the actress has also described Josh as her "dear friend." Josh and Octavia also didn't seem to bother with the rumor circulating on the media probably as it is nobody's business whatever they do with their personal life. Not only has Octavia addressed him as her dear friend, but Josh also has shown how much he values his friendship with Octavia.
Are Kevin Costner and Octavia Spencer in a Relationship?
Kevin Costner and Octavia Spencer are not dating. The Hollywood celebrities are just two actors who are passionate about their career and have worked together on several occasions. According to sources, they developed a close friendship bond while working together in films as they worked together for the first time in 2014 when they played leading roles in the movie Black or White.
Kevin Costner is a prominent American actor who is best known for his roles in Silverado, The Untouchables, Man of Steel, and The Guardian. He is a well-decorated actor with multiple accolades under his name, including two Academy and Golden Globe Awards each. Besides acting, he is also involved as a producer, film director, and musician.
Is Kevin Costner Married to Octavia Spencer?
Kevin Costner and Octavia Spencer are not married. It is also unfathomable to think that they would be married when they were never dating. For clarity, however, Kevin Costner is a happily married man and has been married to his lovely wife named Christine Baumgartner for over two decades.
The Hollywood celebrities were rumored to have gotten married after their picture was posted on a bizarre online advertisement with the caption "They Are Married Today". And of course, as one would expect, this sparked controversy among their fans and also among netizens as the two had never really shared a public romantic relationship. Moving from colleagues to a married couple seemed a bit too much even for the staunchest of fans.
Following this revelation, "internet detectives" set about their work and it was discovered that the image that appeared on the advertisement was taken at an after-party in 2014, following the completion of the filming of the movie, Black or White. However, the uproar also prompted a lot of fans to start looking for information online to determine whether there was any connection between the movie sets and their own personal lives.
According to Snopes, when the advertisement was clicked, it took users to a 36-page slideshow of weddings of other people, but it omitted Kevin and Octavia's names. According to the source, the advertisement was spread by Definition.org as clickbait and for deceptive reasons – and it obviously worked for the time.