Natalie Cuomo (born 16th of December 1994, age: 28) is an American standup comedian, podcaster, and Twitch streamer. She initially started her showbiz journey as an actress and was professionally trained in that regard. She, however, discovered that she preferred the creative control that standup comedy gave her and switched tracks in 2017.
Cuomo remains in the comedy industry to date and has made waves. She has performed all across the United States and has her own bi-weekly show in New York. The heavily tattooed comic also has multiple podcasts to her name and is an ardent twitch streamer.
Summary of Natalie Cuomo's Biography
Full name: Natalie Cuomo
Gender: Female
Date of birth: 16th of December 1994
Natalie Cuomo's Age: 28 years old
Ethnicity: Caucasian
Nationality: American
Zodiac Sign: Sagittarius
Sexual Orientation: straight
Marital Status: single
Natalie Cuomo's Parents: Mr. and Ms. Cuomo
Natalie Cuomo's Height in Inches: 5 feet 7 inches
Natalie Cuomo's Height in Centimetres: 170 cm
Natalie Cuomo's Weight: 57 kg
Body measurements in inches: 36-28-34
Body measurements in centimeters: 91-71-86
Natalie Cuomo's Net Worth: $1 million
Famous for: comedian, podcaster, and Twitch star
Natalie Cuomo's Instagram: @nataliecuomo
Twitter: @nataliecuomo
Facebook: @nataliecuomo
YouTube: @nataliecuomo
Twitch: @nataliecuomo
Natalie Cuomo is a Native of Queens, New York City
Natalie Cuomo is 28 years old as she was born on the 16th of December 1994. Her nationality is American, while her ethnicity is Caucasian. There is a paucity of information about Cuomo's family background, including her parents' names or any siblings she may have. One thing that is, however, for sure is that she loves her parents and grandparents very much, as evidenced by the pictures she has shared.
There are some rumors that Natalie Cuomo is related to the former New York governor, Andrew Cuomo, but this is not true. One of her known female relatives is her cousin, Hailey Marmolejo. Marmolejo is a fast-rising actress and model who has appeared in a handful of movies, TV series, and commercials.
She Trained Professionally as an Actress and Has Featured in Commercials and Music Videos
Natalie Cuomo grew up in Queens, New York, and exhibited an aptitude for acting at an early age. She also had a knack for entertaining family and friends with her jokes, but it was the acting talent that she explored initially. Cuomo first completed a Bachelor of Arts degree at Bard College from 2012 to 2015. She thereafter enrolled at a famed acting school, Stella Adler Studios, and undertook professional training as an actress from 2015 to 2017.
Natalie Cuomo did not stop at this juncture. She also undertook acting classes at the Wynn Handman Studio in 2017. Upon concluding her acting training, Natalie pursued her acting career with zeal. She scored a few roles in commercials, music videos, and the likes.
Natalie Cuomo is now a Standup Comedian and has Performed all Over America
Natalie Cuomo spent much of 2017 pursuing her acting career. She also took an interest in standup comedy and attended many open mic nights in Queens. From attending and watching other comedians, Cuomo eventually worked up the courage to start performing. She discovered that she loved comedy as it allowed her control over her content. She thereafter decided to leave acting altogether in favor of comedy.
It was a bold decision, but it has paid off. Natalie Cuomo is one of the most well-known female stand-up comedians in America. Her comedy is a combination of dark and light humor and focuses on topics of personal relevance, such as her romantic relationships and anxiety about growing up in New York.
Cuomo has performed at comedy clubs all over America. She has also performed at comedy festivals such as Idaho Comedy Festival and New York Comedy Festival. Cuomo also hosts a bi-weekly show at the Stand Comedy Club in New York known as Classy Trashy Comedy.
She is also a Podcaster and Hosts the Help Natalie Podcast
Natalie Cuomo has also utilized her comic abilities to become a podcaster. The Queens native has hosted several podcasts in the past. They include Thirst Trap and Classy Trashy. Cuomo presently hosts the podcast known as Help Natalie. The podcast features her asking guests and callers for help on various aspects of her life.
Natalie Cuomo is also a Twitch Streamer and Has Thousands of Followers on the Platform
Natalie Cuomo is also harnessing the power of the internet to boost her comedy career. She is quite active on Twitch and regularly streams herself playing games such as Fall Guys, Animal Crossing: New horizon, The Legend of Zelda, and Mario Kart 8 Deluxe.
Cuomo has about 7k followers on Twitch, and her content streams attract thousands of views. She has also scored sponsorship deals with the likes of G Fuel, a popular energy brand.
She is also Active on YouTube Where She Shares Clips of her Performances
Natalie Cuomo is also active on YouTube. She often shares video clips of her podcasts on her account. She also shares clips of her standup performances as well. Natalie has 3,850 subscribers on YouTube and has shared about 93 videos on the platform. Her videos garner thousands of views though some have views as high as hundreds of thousands.
The Comic Also Has a Sizable Followership on Instagram and Twitter
Natalie Cuomo also has sizable followership on Instagram and Twitter. She uses both platforms to promote her work. She also shares funny quips on Twitter and pictures on Instagram. Natalie has 136K followers on Instagram, while her Twitter account has 16.5k followers.
One platform that Natalie Cuomo will not be joining anytime soon is OnlyFans. In an appearance on the Berning in Hell Podcast in December 2021, she stated that she would never join OnlyFans.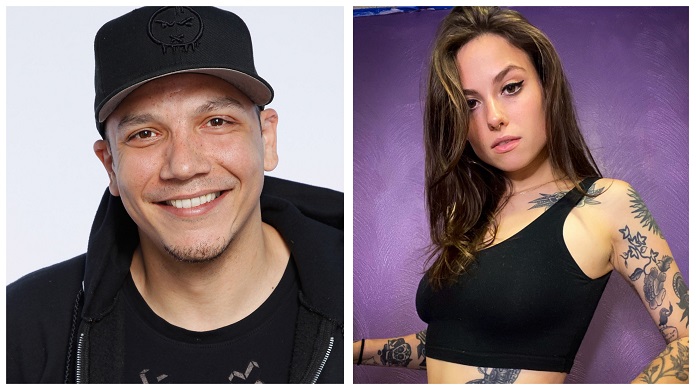 Natalie Cuomo is Said to be Dating Fellow Comic – Luis Gomez
Natalie Cuomo is rumored to be dating fellow comic Luis Gomez. Just like Cuomo, Gomez is a standup comic, podcaster, writer, and producer. He has appeared on TV shows such as Last Comic Standing (NBC), Roast Battle (Comedy Central), and Comedy Knockout (TruTV). He is also a co-host of the popular podcast Legion of Skanks.
Cuomo and Gomez have never explicitly stated that they are dating, but they have referenced it in a series of Tweets. For instance, in October 2021, Gomez posted a video of Cuomo tap dancing while Cuomo stated that she had reached the level of tap dancing before her boyfriend. In December 2021, Cuomo tagged Gomez and announced that her boyfriend had plans to buy two PS5s, something she saw as frivolous.
A Look at Natalie Cuomo's Height, Weight, and Other Body Measurements
Natalie Cuomo is 5 feet 7 inches tall or 170 cm. Her weight is estimated at 125 lbs. or 57 kg. Other body measurements are chest – 36 inches, waist – 28 inches, and hips – 34 inches. Her hair color is brown, while her eye color is also brown. Natalie has more than a dozen tattoos all over her body. They cover her legs, her arms, and her chest. Some of her tattoos include Mickey Mouse, Pikachu, and butterflies.
Cuomo has yet to discuss the significance of her tattoos, but there is no doubt that they must hold deep meaning to her. She is quite passionate about tattoos and has also co-founded two magazines to that effect, namely Inked Magazine and Classy Trashy Magazine.