Actor, Morris Chestnut crystalized his place as a star after starring in the 1991 Oscar-nominated movie Boyz N The Hood which flagged off his rise to stardom and had directors of high-budget studio films queuing up to work with him. Prior to Boyz N The Hood, Chestnut's first professional role in the movie industry was in Freddy's Nightmares – A Nightmare on Elm Street: The Series. He appeared in season 2, episode 19 titled "A Family Affair" which aired on February 18, 1990, a year before he hit prominence to become a media darling. He has remained active in the industry ever since.
One of his most notable recognition outside of movies came from People magazine which named him among the "Sexiest Men Alive" for their 2015 edition. Apparently, with his perfectly chiseled physique and toned body, it's no surprise he made the cut. Here is all we know about Chestnut's private life especially his childhood and over two-decades-long marriage with his wife, Pam Byse
A Look At Morris Chestnut's Early Beginnings
The California native was born on January 1, 1969, in Cerritos, California and is the son of Morris Lamont Chestnut Sr. and his wife Shirley Chestnut. He was given the full name Morris Lamont Chestnut Jr. at birth and is an alumnus of California State University, Northridge where he studied finance and drama. While further details about his family background and siblings are not available for public scrutiny, we do know that his parents are African-Americans.
Morris is an overachiever who by the time he was leaving college, was already walking into his dream career as an actor in his early 20s. His first feature role as Ricky Baker in Boyz n the Hood in 1991, brought him to the spotlight where he has remained to date. Between 1997 and 1998, Chestnut was a regular cast member on C-16, starring as Special Agent Mal Robinson and in 1999, he wrapped up the 90s with his role in The Best Man, a movie that earned him international recognition. The world-acclaimed film was met with positive reviews and became a box office darling, earning Chestnut an NAACP Image Award nomination.
He made more progress in the 2000s and has continued so till date. His journey to achieve the perfect body for his role in The Best Man as Lance Sullivan, a Professional Football Player, inspired him to write a book alongside Celebrity Fitness Trainer Obi Obadike. The health & fitness book published in 2017 is titled 'The Cut' and it guides the reader through exercise drills and healthy foods to eat for weight loss. To prove that he knows just what he was talking about in the book, the actor sports a trim physique and stands at an incredible height of 1.8 meters which translates to 6 feet. He also weighs about 188 lbs with a bald head to go with his small brown eyes.
Morris Chestnut at a Glance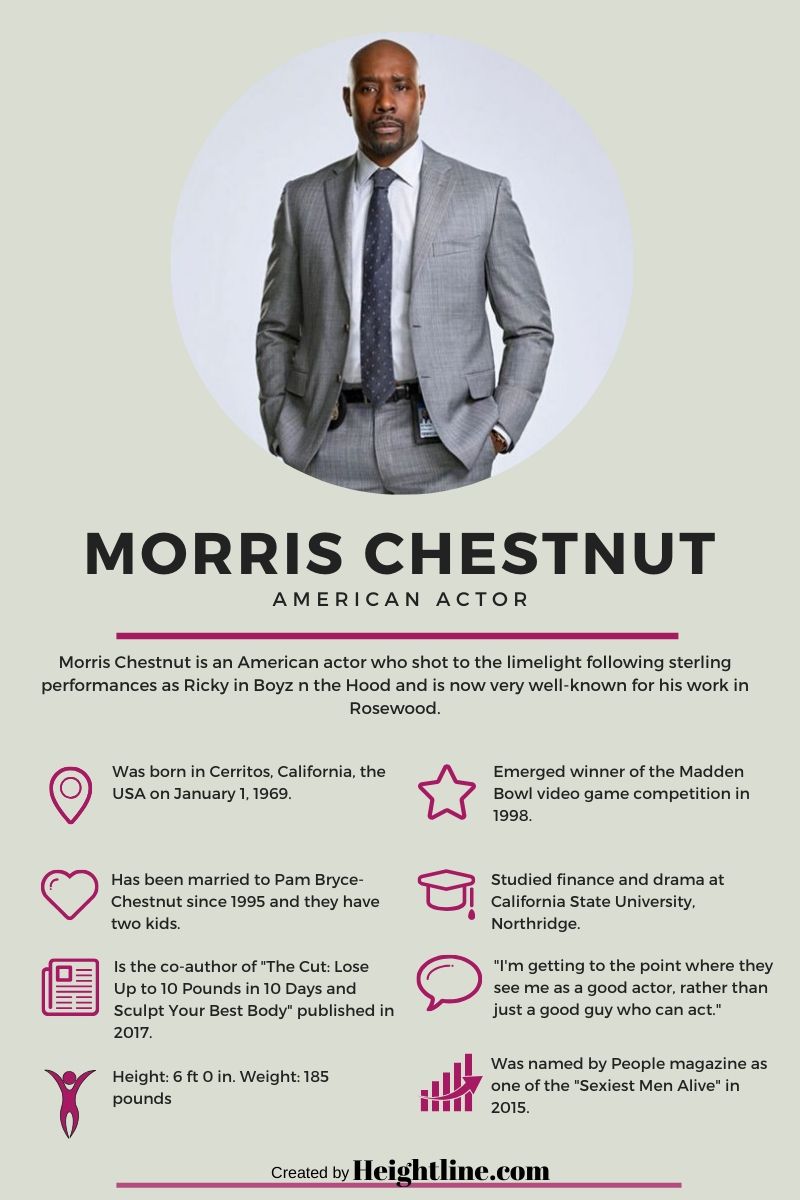 What Do We Know About His Wife & Kids?
Admittedly, Morris Chestnut is handsome in every sense of the word. Though he's easily mistaken for a ladies man, the actor has only been married once to Pam Byse Chestnut. The two have been married since 1995 and their relationship keeps getting stronger despite the rumors and controversies threatening their marriage. Chestnut gives credit to his wife for not letting all the rumors about him take a toll on their marriage.
The Los Angeles native is four years younger than her husband; she was born on December 22, 1973, and she had her elementary and college education in Los Angeles. Records have it that Pam Byse had a good sense of humor for which she became popular among her school mates. Morris and Pam first met at a party in Atlanta and from both their accounts, it was love at first sight. While it is still unclear what year the lovebirds met, we know for sure that they dated for some time before eventually getting married in 1995. It's been over two decades since and the couple is still waxing strong together.
Pam Byse and her superstar husband have two children – a son they had in 1997 and named Grant and a daughter Paige who was born in 1998. While Grant is reportedly studying at the University of Colorado, his sister Paige is said to have graduated from  Calabasas High School in California.