Morgan Wallen's girlfriend is Megan Moroney. The duo started dating during the fall of 2022 when the female vocalist was seen wearing an orange T-shirt that was previously worn by Morgan.
Morgan once dated Katie Dell Smith, whom he met on Snapchat. Also known as KT Smith, Katie is a social media personality with a presence on multiple platforms. The duo appeared to be in a hurry after they met and got officially engaged within mere months of their first meeting. They then went on to cohabit and had a child, but their relationship ended sometime in 2021. Morgan's other known girlfriend is Paige Lorenze, but they ended things in 2022.
Who is Morgan Wallen's Current Girlfriend?
Morgan Wallen's girlfriend is Megan Moroney. Megan is a musician with a specialty in the country music genre. She is an alum of the University of Georgia, where she earned a Bachelor's degree in accounting and digital marketing.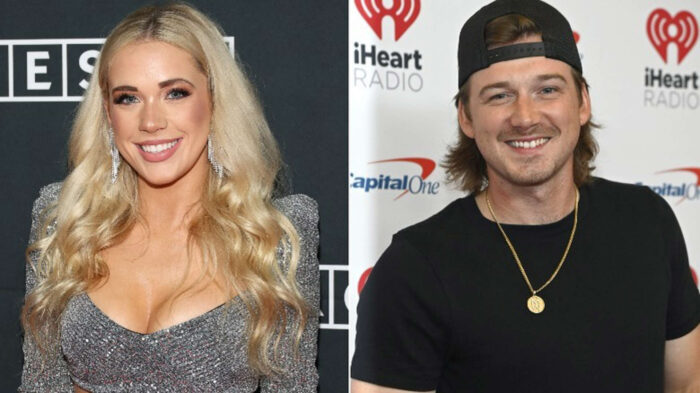 During the fall of 2022, the duo triggered romantic rumors after Megan was spotted putting on an orange Tennessee Volunteers shirt while doing the art for her track entitled "Tennessee Orange." The video sent social media detectives digging, and they came up with information that the same shirt was previously worn by Morgan Wallen.
On their own part, Morgan and Megan were having a great time on Instagram as they flirtatiously commented on each other's posts. Morgan talked about Megan's shirt, asking if fans finally figured out who the shirt belonged to.
In her equally flirtatious response, Megan said the shirt now belongs to her. On the set of Sirius XM's The Highway, the female singer revealed that the shirt previously belonged to Morgan Wallen, but it is just a shirt. Megan's interviewer was shrewd to ask if she has a man in her life, and her response was "That's a great question". The singer didn't give anything away.
Further rumors about the duo's relationship were sparked from the lyrics of Megan's Tennessee Orange track, where she described her love interest, which fans concluded was Morgan Wallen. The lyrics read,
I met somebody, and he's got blue eyes
He opens the door, and he doesn't make me cry
He ain't from where we're from
But he feels like home, yeah
He's got me doin' things I've never done
In Georgia, they call it a sin
I'm wearing Tennessee orange for him
Apart from the speculations triggered by Megan, Morgan also sparked his own set of rumors with the release of his song where the country singer talked about finding love with someone, and the person roots for a college football rival, but Morgan's love interest wasn't a University of Georgia girl like Megan, but that did not stop fans from shipping them together.
To date, neither Morgan nor Megan have deemed it necessary to come up with confirmation or rebuttal, and the news about their relationship has been dismissed as mere rumors and nothing serious.
Morgan Wallen's Dating and Relationship History
Since his emergence into the limelight, Morgan Wallen's name has been hitting the airwaves because of his career success, but fans have equally heard an earful about his personal life.
Morgan Wallen dated Katie Smith from 2017 to 2021
Social media personality Katie Dell Smith and Morgan Wallen dated for a period of four years, from 2017 to 2021, and this is Morgan's longest relationship so far. It was revealed that the duo met on Snapchat, and it was love at first sight for them. Within just a few months of dating, they became officially engaged and started planning their wedding.
The celebrity duo later started living under the same roof, and peace reigned for the first two years. However, the couple's third year was tumultuous. In 2021, Smith wrote on her blog entitled The Backstory, baring her soul about their relationships. She revealed how they started going on and off from the third year but still talked and saw each other whenever Morgan happened to be in town. Katie also said she would make time to join him on the road, but he wasn't the most faithful of men.
By the time they were finally breaking it up, Katie discovered herself to be pregnant, which resulted in the birth of their son, Indie Wallen, who joined the human race on the 10th of July 2020.
Since little Indie arrived, both parents have been making efforts at co-parenting, and things appear to be going smoothly between them.
Morgan and Paige Lorenze were Together for One Year 
It is unclear how social media influencer Paige Lorenze and Morgan Wallen first crossed paths, but the duo kept it all locked away for a year. Reportedly, they started dating sometime in 2021.
However, they decided to make things Instagram official on February 2022 when Paige Lorenze shared a picture they took together. This happened after the news of their relationship hit the airwaves via Page Six, which claimed they had been together for over a year and had been keeping it private and confidential.
In the IG image, Paige, who was then 24, was seen hugging a then 28-year-old Morgan, who was looking straight into the camera and smiling. Paige was nuzzling his cheek with her face as she hugged him from the side.
"I love you!" "and am so proud of you. @morganwallen." was the sweet caption of the post.
It was later revealed that the romantic duo snapped the shot in New York City, precisely at Madison Square Garden, where Morgan Wallen kick-started his Dangerous Tour Wednesday night.
An eyewitness at the show described how Paige went wild for her love interest as the lights went down, with screams piercing through the entire venue.
However, from what is obvious, the two weren't meant to be, as rumors started speculating that they already split up two weeks later. The cause of their split was said to be infidelity on the part of Morgan. According to Paige, several women sent her Instagram messages claiming to be the singer's girlfriends.
Barely one month after Morgan Wallen and Paige's split, speculations started making the rounds that she'd already moved on with Tyler Cameron, which turned out to be true. In July 2022, she shared a TikTok post where Cameron was sighted cooking Paige's dinner.