Mariska Hargitay's husband has been Peter Hermann. They got married in 2004 and have been together for almost two decades. They have three children named August Miklos Friedrich Hermann, Amaya Josephine Hermann, and Andrew Nicolas Hargitay Hermann.
Mariska and Peter's relationship have been an enviable one for reasons that are not farfetched: they are one of Hollywood's middle-aged couples who have been able to sustain their marriage for many years. Because of this, many have taken to scrutinizing Mariska Hargitay's family life to deduce how she has been able to keep it all together despite having a demanding career.
In addition to her family life with Peter Hermann, the family she was born into also piques the interest of the public for reasons that are quite obvious. The Golden Globe Award winner was named Mariska Magdolna Hargitay at birth by her parents. Mariska Magdolna is the Hungarian version of Mary Magdalene and the reason for the choice is the Hungarian heritage of her father.
Her parents were popular figures in the entertainment industry but as you'd soon learn, the actress didn't get to enjoy having them together in her life as they parted ways almost as soon as she was birthed. Mariska would later lose her mother in an ugly car crash. In all, she had a childhood that was pretty rough and is determined to give her kids a better experience to the best of her ability.
Who Is Mariska Hargitay's Husband Peter Hermann?
For over two decades, Mariska Hargitay has successfully portrayed the character of NYPD Captain Olivia Benson on Law & Order: Special Victims Unit. Following her role on the show, the actress has received several nominations and awards, as well as widespread praise.
Notable among the awards include the prestigious Golden Globe Award, a Primetime Emmy Award, as well as other accolades from other film associations. These achievements are part of her life journey which began on the 23rd of January 1964 in Santa Monica, California, the United States of America.
Yea, Mariska Hargitay is 59 years old and over three years older than her husband who is 56; Peter Hermann was born on the 15th of August 1967 and his place of birth was in New York City. Even though he was born in the United States, Mariska Hargitay's husband didn't get to spend the first ten years of his life in the country.
His German parents relocated to Germany two months after they had him. The family lived together in the country but when Peter turned 10, he returned to the United States and learned how to speak English. He would later attend Yale University and work with Teach For America as a high school English teacher after he graduated from college.
The story is different for Mariska Hargitay who has spent all of her life in America. She had a Catholic upbringing and schooled at Marymount High School in Los Angeles, California. During her time there, she took to unionism, cheerleading, and theatre.
More so, she had a thing for pageantry while growing up; so, shortly after she graduated from high school, she participated in and won the Miss Beverly Hills USA beauty pageant. However, following her instincts to know more about acting and theatre, Mariska pursued a degree at the prestigious UCLA School of Theatre Film and Television.
Mariska Hargitay's Husband Also Works In The Film Industry as an Actor
While Mariska Hargitay and her husband Peter Herman are Hollywood actors, the former had been in the business longer than the latter. Mariska was not able to complete her course at ULCA as she quit school when she landed her first acting gig – though it was later reported that Mariska enrolled to study at the Groundlings in LA, California.
Her first role came in 1984 when she was recruited as a cast member for a horror film titled Ghoulies. The following year, she was offered a minor role in the television series, Downtown, and from then on she featured in several films and television shows.
Notable works in her filmography include Falcon Crest, Tequila and Bonetti, Can't Hurry Love, Thirtysomething, In the Heat of the Night, Baywatch, Ellen, and the popular Law & Order: Special Victims Unit.
Like her, her husband has also had more TV than movie roles. Peter debuted as a professional actor in 1997, playing Dr. Michael Burke in 43 episodes of the American soap opera, Guiding Light. This was between 1997 and 1998. In the years that followed, he was seen in Get Real, Law & Order, Spin City, and Hack.
His next major role was as Trevor Langan in 33 episodes of Law & Order: Special Victim Unit. In between the time he portrayed the Trevor Langan character (2002 – 2009), he made appearances on episodes of shows like Elementary, Curb Your Enthusiasm, White Collar, The Good Wife, Bored to Death, Fringe, 30 Rock, Standoff, Hope & Faith, All My Children, and Sex and the City.
In addition to those, Peter Hermann played Luke Dalton in six episodes of Beautiful People (2006), Peter Wagner in four episodes of Angela's Eyes (2006), Davis Draper in seven episodes of Cashmere Mafia (2008), and Harrison Curtis in five episodes of A Gifted Man. Since 2012, he has also been playing Jack Boyle in the police procedural drama television series, Blue Bloods.
Hermann's first movie role was as an ER Doctor in the 2002 teen psychological thriller film, Swimfan. Over the years, he has been seen in other films like The Treatment, United 93, Edge of Darkness, Just Wright, Too Big to Fall, Trouble with the Curve, Philomena, Chinese Puzzle, and All Is Bright. Also regarded as a producer in some quarters, Mariska Hargitay's husband is the executive producer of the 2021 documentary titled My Beautiful Stutter.
The Couple Met On The Set of "Law & Order: Special Victims Unit" In 2002
Like a handful of other Hollywood couples, it was work that brought Mariska Hargitay and Peter Hermann together. Based on the foregoing, one can tell that the couple, for a while, worked together on the crime drama television series, Law & Order: Special Victim Unit.
Mariska has been a regular on the series, playing Olivia Benson since 1999. Peter joined the series in 2002 to play Trevor Langan but more than that, he met Mariska Hargitay and it marked the beginning of their relationship which has endured for many years.
Hargitay has been generous with details of how their relationship began. In several of her interviews, the actress recalled it was love at first sight for her. According to her, she knew when they went on their first date that Peter Hermann was her man. The actress said they finished filming on a faithful day and Peter approached her asking for a date.
One would think they went to some fancy restaurant or casually grabbed some coffee; this was not so as their first date was in a church. It happened that the two had earlier conversed about religion which left the actor thinking it would be nice to attend a service with the actress.
Overwhelmed when she saw Peter at the service, Mariska wept. Peter imagined she was moved by the service but the actress would later disclose that she cried because she realized he was her soulmate.
Mariska explained that although she had been previously engaged, she felt something she had never felt; yet understood what the feeling meant. At the end of the date, the actress couldn't delay sharing what she experienced. She rang one of her close friends and blurted that she had found the man of her dreams, the one she would marry.
Mariska Hargitay and Peter Hermann Got Married In 2004 and Are Still Together
Two years into the relationship, the two were convinced they were meant for each other and decided to make a lifetime commitment. Mariska Hargitay and Peter Hermann got married in 2004, precisely on the 28th of August. From what we gathered, their wedding happened in Santa Barbara, California, at the Unitarian Historical Chapel.
The wedding was a memorable one for the couple. The bride was dressed in a strapless, pink Carolina Herrera gown with their wedding date and Peter's initials embellished inside the lining. They hosted 200 guests and had a gospel choir perform at the event, which was followed by a reception at Montecito estate, also in Santa Barbara.
To the best of our knowledge, the couple has been happily married ever since. There has been no report of any marital issues and judging from their appearances in public and what Mariska has shared online, they have only grown deeper in love. As much as Mariska Hargitay has enjoyed a successful career, she has had a peaceful and fun marriage which she often credits to waiting for the right man.
Peter once expressed that there is no secret to their successful marriage other than working through it. The couple said they do fight but laughter always helps them find their way back to each other. The actor described his wife as an "embodiment of laughter (and) joy", adding that the awareness that they are heading to the same destination is fundamental to their marital bliss.
WHo Are Mariska Hargitay's Children?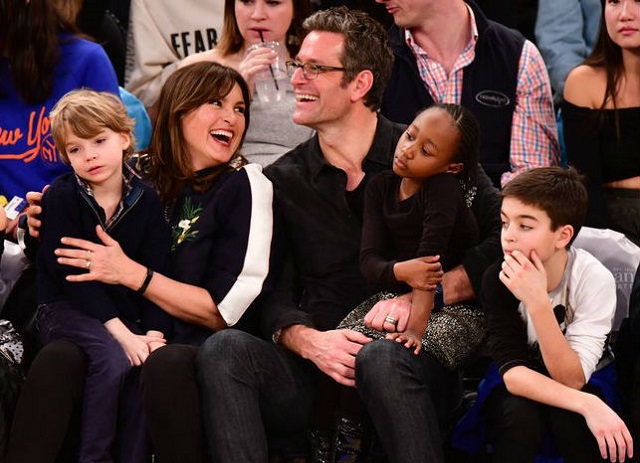 Mariska and Peter are proud parents to three lovely children. They welcomed their first son August Milkos Friedrich Hermann on June 28th, 2006. Thereafter, they chose to adopt a cute girl and a boy respectively named Amaya Josephine and Andrew Hargitay Hermann; this was in 2011.
Being a mother of three is no walk in the park, especially for a mother with a demanding career like Mariska's. Nonetheless, the actress has been able to strike a fine balance between motherhood and her career.
She attributes this success to having a very supportive husband. Noting that it has not been an easy thing to do, the actress praised her husband for being what she described as an "incredible support system".
Milkos Friedrich Hermann
Date of Birth: June 28th, 2006
Age: 17 Years Old
Occupation: Undetermined
Mariska Hargitay and Peter Hermann welcomed their first and only biological child two years into their marriage. August Miklos Friedrich was named after his maternal grandfather (Miklos) and his paternal grandfather (Friedrich). It is said that "August" is a family name that his paternal side has sustained for centuries.
The actors have been very protective of their kids, but it is no secret that August is now a high-school teenager who plays baseball. Possibly because August's birth was through an emergency cesarean section, the couple opted to adopt their subsequent kids.
Amaya Josephine Hermann
Date of Birth: April 7, 2011
Age: 12 Years Old
Occupation: Undetermined
It is said that the couple started processing the adoption of their second child a few years after they welcomed August. They awaited the birth of a child they wanted to adopt but the biological mother changed her mind at the end of the day.
As fate would have it, they were connected to another expectant mother who happens to be Amaya's biological mother. Hargitay and Hermann were there when the child was born, the actress even helped deliver the baby. In her words, she "basically pulled Amaya out".
Andrew Hargitay Hermann
Date of Birth: Sometime in October 2011
Age: 11 Years Old
Occupation: Undetermined
Andrew is the baby of the family and he joined the Hermann household unexpectedly. Just a few months after the couple actualized their dream of not only adopting a child but being a multi-racial family, they were notified about another child; a baby boy born two months premature and ready for release from the neonatal intensive care unit.
As they had planned to adopt another child in the future, Mariska and Peter wasted no time in adopting Andrew who became their second son and third child.
Mariska Hargitay's Family Background
Hargitay's mum goes by the name Jayne Mansfield and she was a popular actress back in the 50s. She was also one of the famous persons back then who were referred to as very sexually attractive.
Likewise, Mariska's father, Mickey Hargitay, was also famous as he was a bodybuilder and actor. He's also notable as a one-time winner of the prestigious Universe Championships organized for bodybuilders and his victory earned him the title, 'Mr. Universe'.
However, her parents officially divorced in August 1964 and this was barely 7 months after she was born. Sadly, a couple of years after her parent's separation, the widely acclaimed actress lost her mum on June 29, 1967, in a ghastly motor accident that also claimed the lives of her mum's then-boyfriend and the driver of the vehicle.
Hargitay and her two older brothers, Miklos and Zoltan, survived the accident with minor injuries. Following the death of her mother, Mariska and her brothers were left in the custody of their father and his new wife, Ellen Siano.
For now, no information is available concerning what her brothers are doing. However, apart from them, Mariska also has a half-sister named Tina Hargitay through her father.
From her mother's side, the award-winning actress has an older half-sister, Jayne Marie Mansfield; a popular model and actress. More so, Mariska has a half-brother, Antonio Cimber, from her mother's marriage to Matt Cimber. Not much is known about Antonio or his whereabouts.
Mariska Hargitay's Bio Profile
FAQs
Who is Mariska Hargitay married to?
Mariska Hargitay is married to Peter Hermann, an American actor, producer, and writer who has been active in the entertainment industry since 1997.
What are the names of Mariska Hargitay's Kids?
Mariska and her husband, Peter Hermann, have three children (one biological and two adopted) named August Miklos Friedrich Hermann (born on June 28th, 2006), Amaya Josephine Hermann (born on April 7, 2011), and Andrew Nicolas Hargitay Hermann (born sometime in October 2011).
Who Are Mariska Hargitay's Parents?
 Mariska's parents are Jayne Mansfield and Mickey Hargitay. Her mother was an actress and a sex symbol of the 1950s while her father was a bodybuilder and former Mr. Universe
Who Are Mariska Hargitay's Siblings?
The actress has two older brothers named Miklós and Zoltán. She also has three half-siblings named Jayne Marie Mansfield and Antonio "Tony" Cimber (products of her mother's first and third unions), and Tina Hargitay (from her father's first marriage).
What is Mariska Hargitay's Ethnicity?
Mariska Hargitay is of mixed ethnicity. She has Hungarian roots from her father's side and German/English heritage from her mother's side.