Manuel Garcia-Rulfo's wife is still a mystery yet to be unraveled, however, he is trending on the internet over rumors of being married or at least having a girlfriend. According to several reports, he is married to Lee Min Jung, a co-star in The Magnificent Seven.
There are, however, contrary reports stating that the Mexican star is dating either Becki Newton or Neve Campbell, while others question if he is gay. Here, we will separate facts from fiction on what we know about Manuel Garcia-Rulfo's wife and his sexuality.
Does Manuel Garcia-Rulfo Have a Wife?
Manuel Garcia-Rulfo is quite secretive about his personal life. He hasn't shared anything about his private details or lifestyle. However, according to our research, the fast-rising actor isn't married at the moment.
There've been rumors suggesting Manuel and Neve Campbell are couples. However, it's been confirmed that the pair aren't married but just an onscreen couple. Besides, Neve has been dating actor JJ Feild since 2011, and the duo has two children: two sons named Caspian (born in 2012) and Raynor (adopted in 2018).
Is Manuel Garcia-Rulfo Married To Lee Min Jung?  
Garcia-Rulfo does not appear to be in any serious relationship since he hasn't published any images of himself with a lover on his Instagram account. Furthermore, it doesn't seem he has been previously engaged or married.
However, there're rumors across social media that the Ozark star is married to Lee Min Jung, a South Korean actress who appeared with him in The Magnificent Seven. Fans assume they got married in 2015, even though there still isn't evidence of them being married. Moreover, the two haven't confirmed this rumor and don't live together.
Similarly, admirers have suspected Manuel and Adria Arjona of being in a serious relationship since 2019. The rumors were fueled when they appeared to be quite close in the premiere of 6 Underground under the shed at Hudson Yard in New York. The revelation, however, doesn't appear to be proof as to whether or not they're in love, although fans have always wanted him to be with Adrina.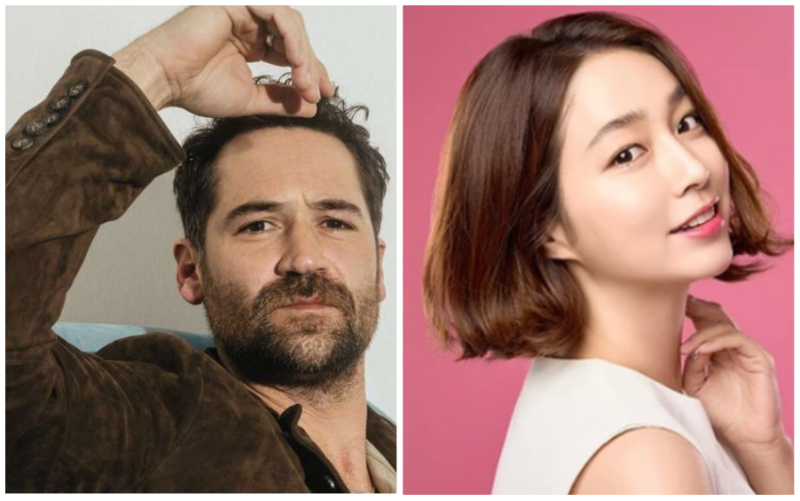 Who is Manuel Garcia-Rulfo Dating Now?
As previously mentioned, Manuel Garcia-Rulfo doesn't appear to be dating anyone at the time. So, it means that he isn't dating his on-screen second ex-wife Becki Newton, as several reports suggest.
This is especially true given Becki's marriage to actor Chris Diamantopoulos in 2005. She and her husband have three children: a boy (born in 2010), a daughter (born in 2014), and another daughter (born in 2020).
On the other hand, Manuel Garcia-Rulfo doesn't seem concerned about his single status. He is instead focused on his blistering career and ignoring every talk about marriage and relationships. Therefore, it is yet to be known whether the 41-year-old will be engaged in a serious relationship any time soon.
Is Manuel Garcia-Rulfo Gay?
As it has been established that Min Jung is not Manuel Garcia-Rulfo's wife as per his marriage or dating history, Manuel Garcia-Rulfo doesn't also appear to be gay. He's not been rumored to be or seen in a romantic relationship with the same sex. The Mexican actor has been linked to relationships with the opposite sex, including Adria Arjona, Lee Min Jung, Nave Campbell, and other female celebs.
Although Manuel has his career up and going, his love life is still under the veil. As a result of which, he has been able to raise queries about his relationship status and sexual orientation. Despite his fans being inquisitive about this issue, he has remained quiet and unconcerned.
What is the Relationship Between Lee Min Jung and Manuel Garcia-Rulfo? 
Although there were rumors in 2015 that actress Lee Min Jung and Manuel Garcia-Rulfo were married, they turned out not to be true. The relationship between the two is strictly professional, and besides, Lee was still with her husband by then. However, it is not known if they dated in the past, as many have suggested.
Manuel and Lee acted in the movie 'The Magnificent Seven,' thus creating an impression that they're in a relationship. Their characters in the movie were pretty close and made it seem they were truly in love.
However, Lee is currently married to fellow actor Lee Byung-hun. They exchanged marital vows at the Grand Hyatt Seoul on August 10, 2013. The pair had briefly dated in 2006 before resuming their romance in 2012. She gave birth to their first child, a boy named Lee Joon-hoo, on March 31, 2015.
Does Manuel Garcia-Rulfo Have Children?
As of the time of publishing this article, Manuel Garcia-Rulfo doesn't have a child. He has remained single despite his breakthrough and success in the movie industry. The Bless Me star hasn't discussed if he is interested in the idea of fatherhood. Moreover, his lack of commitment in a relationship has majorly caused his inability to father a child. More About Manuel Garcia-Rulfo.
Facts About Manuel Garcia-Rulfo's Career as an Actor
Manuel Garcia-Rulfo is a Mexican actor born on February 25, 1981, in Guadalajara, a city located in western Mexico. Coming from a well-known family, he was raised by his parents on a ranch in the far Mexican state of Jalisco.
In his educational background, Manuel attended several schools before reaching high school. After high school, he enrolled for a bachelor's degree in Communications at the University of Valle de Atemajac (Univa). More so, he briefly studied English in Vermont, where he grew up with an American family for a year.
Furthermore, taking his first steps in the entertainment industry, Manuel first studied at the New York Film Academy. Later, he signed up for Larry Moss Studio with Michelle Danner – who is a renowned teacher in Los Angeles. While he was in Los Angeles, the Mexican sensation had the opportunity of participating in several short films. Also, he made his anticipated debut in his first independent film, titled Maquillaje.
He Has Been Impressive in the Movie Industry 
Ever since then, Manuel has continued making a mark in the acting industry with his exceptional acting skills! Moreover, amidst his many acting credits, Manuel's most acclaimed role to date is arguably in Antoine Fuqua's Western remake of The Magnificent Seven.
However, Garcia-Rulfo got his first breakthrough in 2012 by playing a part in a film called Bless Me, Ultima. From that point on, his acting career started experiencing an upward trajectory. His appearance in the remake of The Magnificent Seven saw him act alongside renowned actors like Denzel Washington and Chris Patt.
Furthermore, in 2017, Manuel co-starred in the adaptation of Murder on the Orient Express. He was also cast as a star in a TV series titled The Lincoln Lawyer. He had a similar role as Matthew McConaughey in a 2011 movie made from a novel by Michael Connelly.