Magnus Carlsen's first known romance ended in a split after a year, and the Norwegian chess guru is currently with girlfriend number two identified as Elisabet Lorentzen Djønne. Carlsen's girlfriend is a model, certified Zumba fitness instructor, and care worker.
Seeing all the impressive achievements Magnus Carlsen has recorded as a chess grandmaster, one would be forgiven for thinking that he eats, drinks, and sleeps the game. This is, however, not so as the world champion, who began playing chess at the age of eight, makes time for other normal things such as being in a relationship. Thus far, Magnus Carlsen has had two girlfriends that the world has been aware of, though there could have been others that were not made known to the public.
Though some quarters have it that romance can be a distractive force for chess players, many fans of Magnus Carlsen are actually hoping that this relationship will go the long haul as previous experience shows that he seems to be more inspired and perform better while in a relationship.
Profile Summary of Magnus Carlson's Girlfriend
Full Name – Elisabet Lorentzen Djønne
Date of Birth – March 1996
Place of Birth – Hardanger, Norway
Nationality – Norwegian
Parents – N/A
Siblings – N/A
Net Worth – $500k
Schools Attended – Santa Monica College (business administration), University Of Oslo (criminology)
Career – modeling, certified Zumba fitness instructor, care worker, etc
Magnus Carlsen is Dating Norwegian Beauty Elisabet Lorentzen Djønne
As a result of his chess prowess, Magnus Carlsen has been in the spotlight since his childhood years, and so he prefers to keep certain aspects of his life all to himself. This is the case with his love life and as such, members of the public only got an inkling that he was in a relationship when he posted a loved-up couple photo on New Year's Day 2020. He did not tag the gorgeous lady but a quick search on the internet revealed her identity as Elisabet Lorentzen Djønne.
Djønne is also Norwegian but hails from the town of Hardanger, unlike her boyfriend who is from the municipality of Tonsberg. She was born in March 1996, which makes her five years younger than her famous boyfriend, who was born on the 30th of November 1990. Djønne grew up in the town of Granvin, Norway, before her family relocated to Santa Monica, California, in the United States of America, where she continued her education. She enrolled at Santa Monica College to study business administration but did not conclude the program before returning to her motherland.
Djønne Holds a Degree in Criminology and is a Certified Zumba Instructor
Upon returning to Norway in 2017, Elisabet Lorentzen Djønne enrolled at the University of Oslo to study criminology. While undergoing her studies, she was quite industrious and worked part-time at a clothing store. She also took part in a popular modeling competition where she finished in the top ten. Djønne is indeed one busy bee who leads a full life and this can be traced right back to her childhood.
According to her LinkedIn profile, she has been gainfully employed since the age of 13 and has variously worked in a children's park, a café, a gas station, a nursing home, and child protective services. She also got certified as a Zumba instructor during her time in California. Djønne is also well-traveled. She has been to places such as Bali and Indonesia. She has also spent time in India where she helped out at some local orphanages.
The Couple Have Been Going Steady Since 2019 and Now Live Together
Magnus Carlsen first posted his girlfriend's picture on New Year's Day 2020 but it is believed that they have been dating since early 2019. Djønne accompanied her boyfriend to the Grenke Chess Classic that took place in April 2019. Prior to that event, Carlsen had also shared a video of them vacationing together. The couple has therefore been together for about two years now and from all indications are going strong.
Djønne has accompanied her boyfriend to several other tournaments, including the Rapid and Blitz Chess tournament in Moscow 2019 which he won. It is believed that they now live together having purchased an apartment worth 21 million NOK ($2.4 million) in Tjuvholmen. The apartment measures 127m and features two balconies, two bedrooms, two bathrooms, and a sea view.
The couple's relationship has been smooth so far and they have not been associated with any controversy. There have been some rumors that they may have split given that Carlsen hasn't shared a picture of them together for some time. There is no confirmation of these rumors though and it could simply be a case of the couple trying to protect their private lives.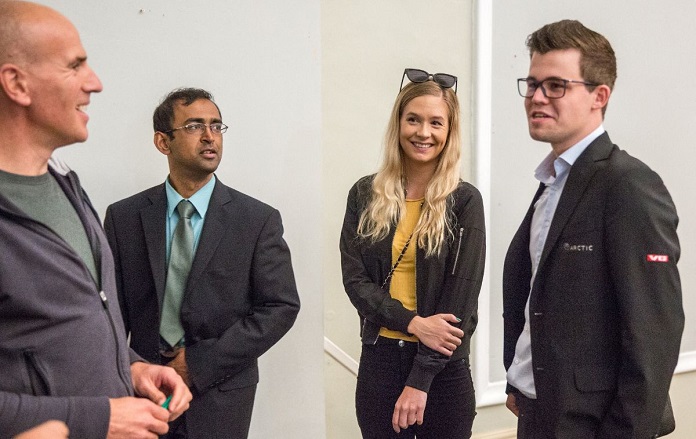 Magnus Carlsen Previously Dated Vlogger Synne Christin Larsen
Before his present relationship with Elisabeth, Magnus Carlsen was dating yet another Norwegian lady named Synne Christin Larsen. Larsen is from the town of Vesteraalen in Nordland County, Norway. There is not much information on her background but a look through her Instagram page shows that she is an adventure lover who often travels to various scenic outdoorsy places in her country and then shares the same online. It is, therefore, possible that she is either a travel blogger or just someone that is well-to-do and can afford to indulge her favorite pastime.
Carlsen and Larsen began dating around March 2017 and the chess player accordingly changed his relationship status on Facebook. Four months down the line, he shared a sweet snap of them online. The couple would remain together for the next year or so during which Larsen made a positive psychological impact on her boyfriend.
For instance, in the first three months of 2017, Carlsen performed poorly in some tournaments and his FIDE ranking dropped down to its lowest in a decade. Things will then turn for the better after he started bringing Larsen with him to several tournaments. Her presence helped him mentally and he was able to win several tournaments, including the Isle of Man Open, Grand Chess Tour Champion, and the World Blitz Chess Championship.
Carlsen himself acknowledged Larsen's positive influence and made sure to thank her for her support during the closing ceremony of the Isle of Man Open. All in all, it was a mutually beneficial relationship between Carlsen and Larsen but the couple would later call it quits in 2018.
The split was amicable as there was no mudslinging or drama between the two. Carlsen has since moved on with his life while Larsen continues to live her adventure-filled life with enviable pictures on Instagram. The vlogger has also shared a photo of her chilling with a little child which leaves open the possibility that she may have entered into a new romance and even had a child.