Victoria Prince (born 2nd December 1982; Age: 40) is an American special education teacher, entrepreneur, and former volleyball player who is famous as the wife of Kevin Federline, a rapper, dancer, and DJ, who is the ex-husband of Britney Spears.
Prince and Federline began their relationship in 2008 following the latter's split and divorce from Spears. Many expected their romance to fizzle out with time, but they surprised the naysayers.
The couple dated for about five years before tying the knot in Las Vegas in August 2013. It has been several years down the line, and the couple remains together. They now have two kids of their own. Victoria Prince also acts as a doting stepmother to her husband's children from past relationships.
Summary of Victoria Prince's Biography
Full name: Victoria Marie Prince
Gender: Female
Date of birth: 2nd of December 1982
Victoria Prince's Age: 40
Ethnicity: Caucasian
Nationality: American
Zodiac Sign: Sagittarius
Sexual Orientation: straight
Marital Status: married
Victoria Prince's Husband: Kevin Federline
Victoria Prince's Children: Jordan Kay and Peyton Marie
Victoria Prince's Parents: Mike and Brenda
Siblings: Michael Taylor, Jason Taylor, and Tabitha Prince
Victoria Prince's Height in Inches: 5 feet 10 inches
Victoria Prince's Height in Centimetres: 178
Victoria Prince's Weight: 65 kg
Victoria Prince's Net worth: $1 million
Famous for: Kevin Federline's wife
Victoria Prince is a Native of Richland, Washington
Victoria Marie Prince was born on the 2nd day of December 1982 in Richland, Washington. Her nationality is American, while her ethnicity is Caucasian. Prince hails from a family of six. Her father, Mike, is a former electrician, while her mother, Brenda, is a sales manager of repute. She has three elder siblings; brothers Michael Taylor and Jason Taylor, as well as a sister named Tabitha Prince.
Victoria Prince and Kevin Federline Began Dating in 2008
Victoria Prince met Kevin Federline through a local bowling team in Los Angeles in 2008. They were on the same team and became friends along the way. They later started dating in 2008.
The two initially tried to keep their romance low-key, but the paparazzi made this difficult, and they soon came clean. Their romance flourished from the onset, and Federline introduced Prince to his kids from his marriage to Britney Spears.
The boys grew accustomed to her, and in time, she started hanging out with them at activities such as soccer games and the likes. Victoria Prince and Kevin Federline dated for about five years before getting engaged in Las Vegas on the 10th of August, 2013. The proposal was a surprise one, and the couple did not waste any time in getting married.
Victoria Prince got married to Kevin Federline on the 13th of August 2013 in Las Vegas. The ceremony featured a handful of their loved ones, and they pledged forever to each other.
The Couple Has Two Daughters – Jordan Kay and Peyton Marie
Victoria Prince and Kevin Federline have been married for several years now, and their union has thrived. They have supported each other to pursue their various career goals. Prince has also remained a voice of reason in the course of her husband's often turbulent relationship with his ex-wife, Britney Spears.
Victoria Prince and Kevin Federline have welcomed two children in the course of their marriage. The first is a daughter named Jordan kay, who was born in August 2011. The second is another daughter named Peyton Marie, who was born in April 2014. The couple is quite crazy about their kids and previously showcased their pictures on Instagram.
Victoria Prince is also a Doting Stepmom to Four Step-Children
Asides from the biological kids that Victoria Prince shares with Kevin Federline, she also has four stepchildren from her husband's previous relationships. The first two are stepdaughter Madison and stepson Kaleb from her husband's previous relationship with actress Shar Jackson. The others are stepsons Sean Preston and Jayden from her husband's previous marriage to Britney Spears.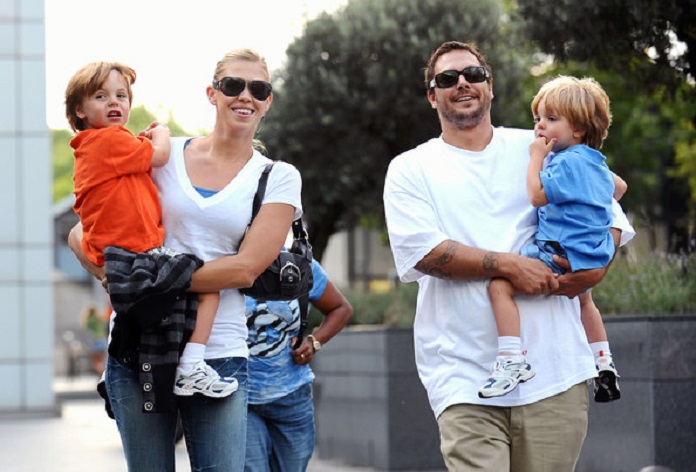 Victoria Prince has a good relationship with her stepchildren, especially Sean Preston and Jayden. Her husband and Spears split when the boys were quite little, and her husband was granted sole custody. It, therefore, meant that the boys were always with him when she started dating him, and so she became a part and parcel of their lives.
This arrangement sustains to date as they all live under the same roof. Victoria Prince attends the social and sporting activities of her stepsons and maintains an amicable relationship with their biological mother. She also helps sort out their academic activities, which were what inspired her School Box Club business in the first place.
Kevin Federline's Wife was an Outstanding Volleyball Player in High School and in College
Victoria Prince grew up in Washington and attended the Kamiakin High School. She was quite athletic from the get-go, and thanks to her impressive height, she was able to play several school sports.
Prince played basketball and volleyball, but it was in the latter that she shone the brightest. She helped her high school team make it to various district and regional competitions and was voted conference player of the year in her junior year. She also helped her team win a league title in the Big Nine Conference as a senior in 2001.
All of these feats helped Victoria Prince to garner the attention of many colleges, and she went on to attend both the Washington State University as well as the University of Hawaii. She played her first two years of college volleyball at Washington State University and played the remaining two years in Hawaii. She received honors such as HAL Classic, Mauna Loa Challenge All-Tournament Honors, and All-NCAA East Region.
Victoria Prince Spent Several Years as a Special Education Teacher
All throughout the time that Victoria Prince was doing exploits as a college volleyball player, she did not neglect her studies. She worked hard and was able to complete a degree in speech/communication in 2005. Upon completing her degree, Victoria Prince spent several years as a special education teacher. During this period, she helped kids get better at their speech.
She is the Co-Founder and CEO of the School Box Club
These days, Victoria Prince is a teacher as well as an entrepreneur. She is the co-founder and the CEO of the School Box Club. The school box club helps parents procure boxes of educational supplies for their kids. These boxes not only save parents from the stress of shopping for supplies themselves but are specially curated to reflect each child's gender, interest, and grade level.
The school box club has been a success since coming into existence. They launched a subscription-based service in 2017. They also donate to charity as well.