Kelly Nash is an American broadcaster and reporter who gained fame for her work as a host at Major League Baseball (MLB) Network.
For Kelly Nash, it started as a pastime, became a passion and eventually a profession. She was that kid who would follow the coverage of almost all the major sporting events in the U.S. and attend sporting events with her father. Kelly grew up to become a popular and widely acclaimed American sports broadcaster.
She co-hosts the Major League Baseball (MLB) Network show, The Rundown, and also hosted the Quick Pitch in the 2018 MLB season. Beyond being a part of the baseball experience in America, she also works for the National Hockey League (NHL) Network.
Biography and Profile Summary:
Age/Date of Birth:

32 years old (21 October 1990)
Height:

5 feet and 9 inches (1.79 m)
Ethnicity/Race:

Mixed of English, Irish, Swedish, and Portuguese
Nationality:
American
Husband or Boyfriend:
N/A
Parents:
Father: Ed Nash
Mother: N/A
Net Worth:
$1 million
Quick Facts About

Kelly Nash
Kelly Nash's Education and How She Began Her Career 
Anyone who takes up a job to be a conduit of good news to teeming sports lovers would most likely become a public figure. This is the case for Kelly who was born on October 22, 1990, in South Carolina, where she grew up with her sisters, Kaitlyn and Carolyn.
As a child, Nash loved tagging along with her father to sporting events. This went a long way to nurture her interest in the field. Following her high school graduation, Kelly Nash enrolled at Clemson University, South Carolina where she graduated with a bachelor's degree in Communication and Media Studies.
She interned at WPLG from 2005 to 2010 during which she covered South Florida sports teams: Dolphins, Heat, Marlins, and Hurricanes. Then, she earned two master's degrees in less than four years; in Youth Development Leadership from Clemson and Broadcast Journalism from the University of Miami, which brought her one step closer to her dream career.
Upon graduation, Kelly joined the ACC Digital Network as a production assistant and on-camera host in 2011. She presented sports-related news, handled interviews in their weekend pre-game show, ACC Kickoff, and appeared on ACC NOW.
After two years, she moved on to bigger platforms starting with Fox Sports Florida in March 2013 where she served as a sideline reporter. She covered news and stories about a few Florida top teams like Tampa Bay Rays, Orlando Magic, and Tampa Bay Lightning.
What Made Her Very Popular?
Nash gained national prominence as the lady who took an insane selfie atop the Green Monster where she was almost hit by a ball. While working for Fox Sports, it happened that she was at Fenway Park to cover a Red Sox batting practice when she decided to take some selfies that she would share with her family. I
t was only when she reviewed them later to send that she realized how close the ball had come to hitting her.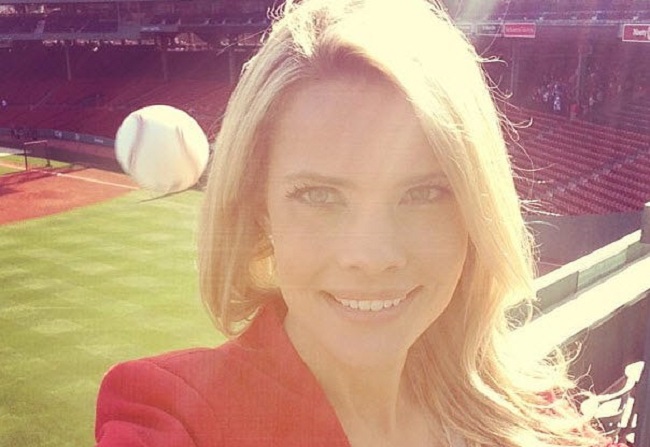 Her career breakthrough came in 2015 when she joined one of America's biggest sports news channels, MLB Network. She co-hosts The Rundown which airs on weekdays throughout the regular season at 2 p.m. ET, with Matt Yallof.
She has become a mainstay on the network as well as viewers' favorite. Nash has also expanded her broadcasting prowess to other shows and networks including Quick Pitch, ION tv, and NHL Network where she works as a studio host during the NHL seasons.
She also hosts a podcast known as Baseball and Chill with Scott Braun since June 2018. On the podcast, the two discuss everything from big stories to trending topics on baseball.
Where is Kelly Nash Now?
Kelly Nash is still with MLB Network as the co-host for the hit show, The Rundown. When she is not on MLB Network, the iconic sportscaster serves as a studio host for NHL Network during the NHL season. She is also a host on ION tv. To the best of our knowledge, Kelly is out to break through more walls in her chosen career and wouldn't be resting on her laurels.
Being one of the not-too-many women who have built a successful career in sports journalism, the South Carolina native has earned a cult-like following both on-air and on her various social media pages. She is very active on social media with many thousands of people following her on Instagram (kellynash) and even more on Twitter (@KellyNash).
Nash keeps them updated with the latest happenings in the world of sports and also shares some details about her personal life. You can keep up with her on Instagram and Twitter or subscribe to her free podcast known as Baseball and Chill.