Jack Dafoe (born in 1982 in the United States, Aged: 41 years old) is Willem Dafoe's son whom he had with partner Elizabeth LeCompte. Movie lovers, especially fans of the Spider-man franchise, will obviously know supervillain Norman Osborn/Green Goblin, played by Willem.
Aside from his more than 100+ movie tributes, the renowned American theater and film actor is also a father. Unlike his famous dad, Jack Dafoe has chosen a life away from the cameras. So what do we know about Willem Dafoe's lookalike son?
Summary of Jack Dafoe's Bio 
Full name:

Jack Dafoe

Gender:

Male

Year of birth:

1982

Jack Dafoe's Age:

41 years old

Ethnicity:

Caucasian [English, French, German, Irish, and Scottish ancestry]

Nationality:

American

Education:

Morse College at Yale University, University of Michigan Law School

Career:

Law Clerk, Public Policy Researcher, Environmentalist

Jack Dafoe's Parents:

Willem Dafoe, Elizabeth LeCompte

Famous for:

Being Willem Dafoe's son

Jack Dafoe's Facebook:

@

Jack Dafoe

Linkedin:

@

Jack Dafoe

 
Jack Dafoe is 41 Years Old
By the 1980s, Willem Dafoe was already climbing the ladders of fame as a young budding Hollywood actor willing to experiment with controversial roles. It was within this period that Jack Dafoe was born; in 1982. The exact day and month of his birth aren't available, but he was born in the United States to father Willem Dafoe and mother Elizabeth LeCompte.
Willem Dafoe was 27 years old when partner Elizabeth LeCompte gave birth to their son Jack Dafoe. The duo had been together for just five years and were not married. Jack grew up in New York, a city Willem had established roots in after moving from Appleton, Wisconsin, in 1976.
Jack, who was born in 1982, is 41 years old. He is already in his middle age, and you can begin to appreciate his dad Willem Dafoe who is much older than he is and still does his movie stunts.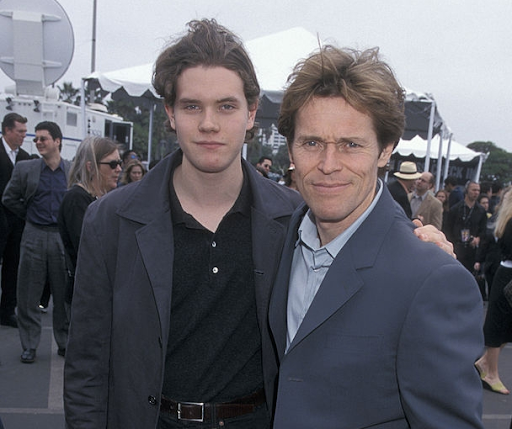 Jack Dafoe's Education Was At Some of the Best Schools
Like any child of any celebrity, Jack Dafoe had the best of the best. He went to a private elementary school in Manhattan, from where he proceeded to high school at Saint Ann's School in Brooklyn, New York. He got his bachelor's degree in English Language and Literature from Morse College at Yale University in 2004.
His interest in labor and environmental protection drove him to study law at the University of Michigan Law School from 2009 to 2012. Jack's enviable educational pursuit speaks to his brilliant and active mind. Like his dad, Jack Dafoe has since built a career out of his passion. Jack Parent's Were Never Married Despite Being Together for Close to 3 Decades.
Jack Dafoe's Parents, Willem Dafoe and Elizabeth LeCompte Met in 1977
As mentioned earlier, Willem Dafoe moved to New York in 1976. The following year, while apprenticing under Richard Schechner, he met and got romantically involved with Elizabeth LeCompte. While their love life flourished, their love for the stage and acting led to their creation of the Wooster Group, an experimental theater company known for creating numerous original dramatic works.
Despite the birth of their son in 1982, Willem and LeCompte never got married. The pair separated in 2004 after dating for 27 years. As to the reason why they never got married despite being together for almost three decades, the would-have-been bride isn't a fan of marriage. For her, marriage represented ownership.
Willem Dafoe, on the other hand, doesn't mind being married. Just a year after his separation from Jack Dafoe's mother, Willem got married to Italian actress, director, and screenwriter Giada Colagrande on March 25, 2005. The wedding was unsurprisingly spontaneous, given Willem's character. Willem had asked if she wanted to get married the next day, and the next afternoon, they had a small ceremony with two friends as witnesses.
Jack Dafoe is Willem Dafoe's Only Child
Yes, Jack is Willem Dafoe's only child. Jack Dafoe has no known siblings or half-siblings, despite his father's marriage to stepmother Giada Colagrande for more than a decade. As an only child, Jack not only enjoys the privilege of having a famous dad but also gets to enjoy the undivided attention of Willem.
Jack Dafoe shares a close relationship with his father Willem Dafoe. Despite the age gap, the two are often pictured together at social events and movie premieres. The father-son duo has been spotted at events such as the West Independent Spirit Award and the Oscars. Recently, they were spotted at the Closing Night Gala Presentation North America Premiere Of "At Eternity's Gate."
As for his relationship with his mother, Elizabeth LeCompte, it is hard to tell as they are hardly seen together. From the little we know, it is evident that father and son are closer, but you never can tell.
Jack Shares a Similar Yet Different Passion With His Dad
No, Jack Dafoe isn't an actor. He chose a rather different career path. His graduate degree was in English Language and Literature, which undeniably has some remote relationship with acting. However, Jack's passion is in environmental protection. His understanding of the role of labor in keeping man and nature in harmony led to his postgraduate degree in law.
Jack has from the earliest time been vocal about his environmental protection activities, appearing as the host of New York City Apollo Alliance, an organization that promotes clean and sustainable living, in 2008. His LinkedIn profile showed he has worked as a Senior Research and Policy Analyst, an Associate Attorney, and is currently working full-time as a Law Clerk at the United States Court of Appeals for the First Circuit.
So how does the father-son duo share a similar passion? Willem Dafoe is known to be a pescetarian, sticking strictly to a vegetarian diet except for a few occasions when he eats fish. He is vocal about his distaste for animal farms, calling them "one of the main causes of the destruction of the planet."
World People. Willem and Jack Dafoe pic.twitter.com/WD6UqpMB3F

— Windancer2706 (@Windancer2706) January 16, 2021
Jack Dafoe's Private Life is as Private as It Can Get
Jack Dafoe has created a life for himself away from the glittering lights of Hollywood. We have no idea if he is married or has any kids. However, we do know Jack lives in Washington D.C., which isn't strange considering his vested interest in public policy and environmental protection. He is renowned for his articles, covering topics such as "New York City Green-Collar Jobs Roadmap," "Growing Green-Collar Jobs: Energy Efficiency," etc
Jack has little to no social media presence. His Facebook and LinkedIn accounts are not active, though up-to-date, with only postings of his educational and job preview. We will just have to be satisfied that Willem Dafoe has a good-looking, healthy, and passionate son who is on a personal mission to save the planet!