Harper Hempel is the girlfriend of Jamal Murray, a Canadian professional basketball player. The couple's relationship went public in 2020 after a video of their intimate moments went viral.
Harper Hempel is a 27 year-old American who has has made headlines for her high-profile relationship, however, she is more than just the pretty girlfriend of Jamal Murray. She is equally talented in athletics herself. Harper Hempel played volleyball in college and also works as a photographer. We have explored further facts about Jamal Murray's girlfriend of many years.
Summary of Harper Hempel's Bio
Full Name: Harper Hempel
Gender: Female
Date of Birth: August 31, 1996
Harper Hempel's Age: 27 years old
Ethnicity: White American
Nationality: American
Zodiac Sign: Virgo
Sexual Orientation: Straight
Marital Status: in a relationship
Harper Hempel's Partner: Jamal Murray
Parents: Richard and Colleen Hempel
Siblings: Conner (brother)
Harper Hempel's Height in Inches: 5 feet 8 inches
Harper Hempel's Height in Centimeters: 173 cm
Harper Hempel's Weight: 59 kg
Occupation: Photographer, social media consultant
Famous for: as Jamal Murray's girlfriend
Harper Hempel's Instagram: @harperhempel
Who is Harper Hempel?
Harper Hempel is a child of the '90s as she was born on August 31, 1996, to American parents – Richard and Colleen Hempel. Jamal Murray's girlfriend is a native of Union, Kentucky where she probably spent her childhood but the finer details of her early years are not public knowledge. She however grew up with a brother named Conner.
Harper's father is involved in the sports world as an eCoach business owner. He has worked with numerous NBA coaches as an entrepreneur. Thus, it doesn't come as a surprise that Haper herself picked an interest in sports right from high school. She attended Ryle High School and served on the volleyball team as a captain and was a four-year-starter.
She played volleyball so well in high school and carried on with the sport when she went to college at the University of Kentucky. She was a prominent athlete in college, playing with the volleyball team from 2015 to 2017. Those few years were not spent in vain as Harper garnered outstanding statistics as a college athlete, making her famous in school. She also helped her team to record great achievements.
Aside from the University of Kentucky, Harper also attended the Gatton School of Business where she bagged a Marketing and Digital Media Degree. This degree would help in her later endeavors as an entrepreneur.
Jamal Murray and Harper Hempel Met While she was in College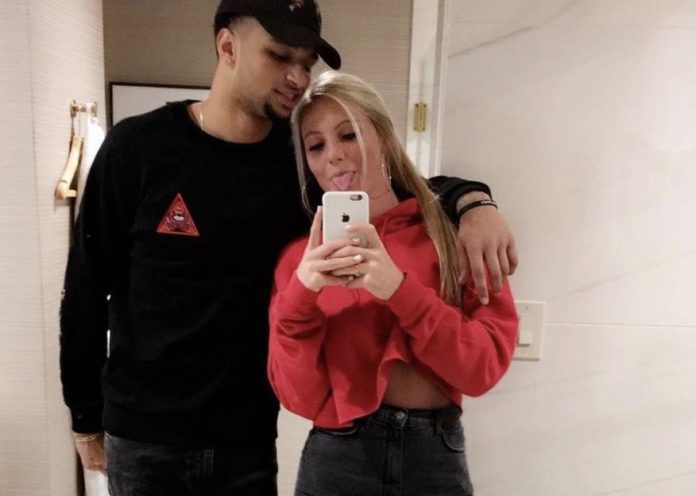 Though Jamal is a Canadian by nationality, he plays basketball in the NBA in the United States where he met Harper. The lovebirds fell for each other when Harper was still in college and began dating. It was during the 2015-2016 season when Jamal was beginning his career as a professional basketball player and Harper was in her sophomore year in college.
Their relationship has grown stronger over the years and they look happy with each other. Despite living in the spotlight, the couple has been secretive with details of their relationship. They keep a low profile regarding public and media attention, thus, it came as a shock when they found a viral video of them being intimate on the internet.
A sex video of Jamal Murray and his girlfriend Harper Hempel somehow leaked to the public and someone went an extra mile to share it on the basketball player's Instagram stories after hacking their account. It was a heartbreaking moment for the couple who pleaded with anyone who has access to the video to delete it.
Did Harper Hempel's Relationship with Murray Survive the Viral Video?
Apparently, such an occurrence can put a strain on relationships but not for these two. Jamal and Harper may have been shaken by the viral video but their relationship has remained strong. They did plead with anyone who has downloaded the video to delete it but that was their biggest reaction to it as the couple quickly went back to their normal private life.
On Harper's side, she went on a temporary break from social media activities after the video went viral. She has since made a return and is still posting her beautiful pictures and videos. Obviously, the video did not affect the couple enough to break them up. They are currently keeping it strong in a long-distance relationship as Jamal moved to play in Denver while his girlfriend remained in Kentucky.
So, for those wondering if Harper and Jamal are still together, the lovebirds are very much an item, and distance has nothing on their love for each other. They have also put the shock of the viral video behind them, moving on to happier days ahead.
What Does Jamal Murray's Girlfriend Do for a Living?
Following her graduation from college where she got a degree in Marketing and Digital Media, Harper Hempel went into the labor market. While many must have expected her to continue in her athletic field, Harper chose to work as a photographer. Photography has always been her hobby and she eventually turned it into a career.
Harper currently manages her own photography company known as Harper Hempel Photography. The company is located in her hometown of Kentucky. They focus on fashion pictures, as well as portraits.
Another one of Harper's hobbies is collecting shoes and while this is not exactly a career, it has helped her build her social media presence to a great extent. She posts several pictures of her shoe collections to the delight of her fans. In addition to collecting shoes, Harper also loves to travel and shares details of her travels with her social media followers. As such, it is easy to see that she has been to several cities in the United States of America and Europe as well.
Having built a strong social media persona, Harper Hempel has also carved a career from there. She is not just an influencer or a popular social media user, she is also a social media consultant. Her Marketing and Digital Media degree has helped her in this regard.
Harper Hempel consults famous people on their social media, planning and executing content calendars for her clients. She does this as a side job away from her photography career and other endeavors.