Giancarlo Stanton is not married, however, he is reportedly in a relationship with California-born model and actress Priscilla Quintana.
the 33-year-old American professional baseball player's relationship status will always be a topic of conversation given his celebrity status. And he has had quite a few things to say on the matter. This article provides all the information you need on the subject of Giancarlo Stanton's relationship status.
Giancarlo Stanton Does Not Have A Wife
Giancarlo Stanton is not currently married and has never been married either. His marital status has generated questions that he has always answered in virtually the same manner.
In May 2021, an interviewer with the New York Post asked him how he liked being referred to as one of New York's most eligible bachelors. His reply that it allowed him to focus on being the best baseball player he can be essentially summed up his motivation for being unmarried despite being already in his 30s at the time.
Born Giancarlo Cruz-Michael Stanton on November 8, 1989, in Panorama City, California, the recipient of the 2012 Wilson Defensive Player of the Year Award has worked hard to achieve his career goals, starting from his transfer from Verdugo Hills High School to Notre Dame High School where he was a three-sport athlete (baseball, basketball, and football)
His impressive abilities earned him offers from UCLA, UNLV, and USC to play football but he opted to go to Tulane University, the only institution that offered him the opportunity to engage in his first love, baseball. Stanton was drafted 76th overall in the 2007 MLB draft by the Florida/Miami Marlins and he made his debut for the team on June 8, 2010, after spending some time in the minor leagues.
He played for the Marlins from 2010 to 2017 before leaving to join his present team, the New York Yankees, in 2018. With the knowledge of how competitive the sport can be and what it takes to be a relevant MLB player, few would chide Giancarlo Stanton for prioritizing his baseball career over marriage.
The MLB star, who is still in his 30s by the way, did not rule out the prospect of one day settling down with a wife but he claims he will only do so when he finds a woman worth settling down with. Certain critics may consider the fact that it is to his credit that Giancarlo does not have a string of children lying around the country.
Giancarlo Stanton Is Reportedly Dating Priscilla Quintana
For all his talk of waiting for the right woman to come along, Giancarlo Stanton has dated a few women and is presently rumored to be in a relationship with California-born model and actress, Priscilla Quintana. Born Priscilla Ann Quintana in 1993, in Downey, California, Stanton's rumored love interest is best known as the actress behind the character of Jacqueline "Jax" Zhou in the CW science fiction series Pandora.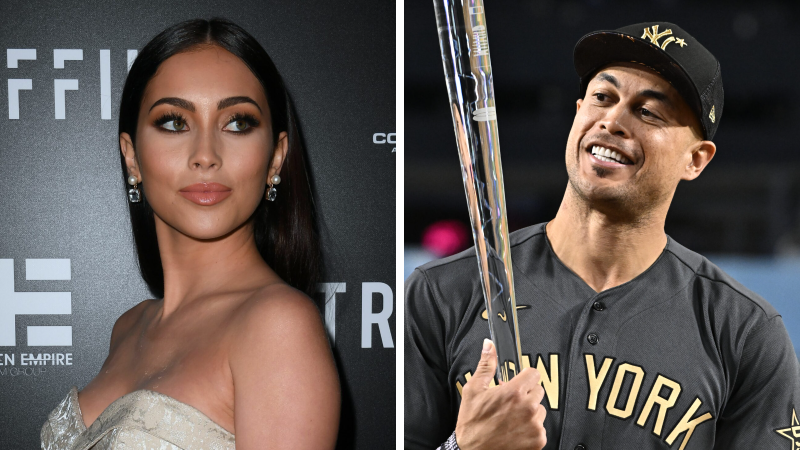 The 53-year-old actress has also acted in several other movies and TV shows, including but not limited to Traffik (2018), Furious 7 (2015), Web Atlas (2015), and Lethal Weapon (2013). We have not yet confirmed how Stanton met the actress but the rumored couple was first seen together at a club following the July 2022 MLB All-Star Game in Los Angeles.
The rumors started when Gregory Stanton, who was named the game's Most Valuable Player (MVP), was pictured all smiles and in a cozy setting with the Good Trouble actress. To further fan the flames of the rumors claiming that she and the MLB star were in a relationship, Priscilla Quintana posted a picture of Stanton on her Instagram stories to congratulate him on his MVP performance. She also added a white heart emoji to the post.
Given that they follow each other on Instagram, she tagged the New York Yankees star in the post. The Instagram story has since expired but anyone who caught a glimpse of it felt inclined to believe the rumors that romantically linked Giancarlo Stanton to Priscilla Quintana. Neither Stanton nor Quintana has deemed it fit to clarify the rumors to date, leaving the impression that the rumors were nothing more than rumors.
A Look At Giancarlo Stanton's Dating History
The fact that Giancarlo Stanton is yet to be married does not translate to the assumption that he has been single and celibate for the duration of his adult life so far. Without referring to the women he must have tangled with in college, the MLB star, formerly referred to as Mikey Stanton, has had a broad dating history.
Other than his rumored relationship with Priscilla Quintana, Giancarlo Stanton's dating history shows that he has been romantically involved with two women in the past. First with the Bahamas-born model Chase Carter and later with Brazilian-born model, Daiane Sodre.
Chase Carter
Giancarlo Stanton and Chase Carter reportedly dated for a years from 2018-2019. Despite being nearly a decade older than the model, who was born on June 10, 1997, in Nassau, The Bahamas, Stanton would not let the opportunity to date a model who had served as a Maybelline ambassador at the New York City Fashion Week in consecutive seasons of 2015 pass by him.
They were introduced to each other at a charity event hosted by a colleague of Stanton's and a mutual friend of both him and the model in New York in late 2017. They became official in 2018 and were quite fond and supportive of each other while the relationship lasted. We have yet to identify the reasons for the short-lived romance between Stanton and Chase but we can confirm that the relationship ended in November 2019.
Daiane Sodre
In 2022, there were rumors that the MLB star was secretly dating Brazilian supermodel Daiane Sodre. Born Daiane Sodre Da Silva on March 11, 1993, Sodre is in the same age bracket as Stanton's rumored current girlfriend Priscilla Quintana. While they were dating, she reportedly spent a holiday season with his family in Los Angeles where they stayed at the Peninsula Hotel, Beverly Hills.
The relationship reportedly ended because of Giancarlo Stanton's wandering eyes, which Sodre was less than satisfied with. For now, it would seem that while Giancarlo Stanton has not proven to be averse to the idea of marriage, he is choosing to keep his options open in that regard, a choice that has proven frustrating to the women he has dated.