Dr. Phil is currently married to Robin McGraw but he previously married Debbie Higgins from 1970 to 1973. Together with his second wife, Robin, the television personality has two sons named Jay McGraw and Jordan McGraw.
Dr. Phil is one of the many people in the media business today that owe their breakthrough to media mogul Oprah Winfrey. The television personality and author first gained celebrity status in the late 1990s when he became a frequent guest on the widely watched Oprah Winfrey Show.
A trained Clinical Psychologist, Dr. Phil was later able to launch his own show in the early 2000s where he has been able to attract millions of viewers who tune in to listen to him offer advice and strategies to take on life.
As the years have gone by, the Oklahoma native has gone ahead to cement himself amongst the wealthiest people on television, a position he has used to better the lives of many others.
Phil is equally successful in his family life having stayed married for over 4 decades to Robin Jo Jameson the mother of his two sons who frequently appears on his show. Despite countless rumors that have plagued their union, the couple have only waxed stronger over the years.
Bio and Profile Summary
Age/Date of Birth:

72 years old (1 September 1950)
Height:

6 feet, 3 inches (1.91 m)
Ethnicity/Race:

Irish, Scottish, and Welsh origin
Nationality:
American
Wife or Girlfriend:
Robin McGraw (m. 1976), Debbie Higgins (m. 1970–1973)
Parents:
Father: Joseph J. McGraw Jr.
Mother: Anne Geraldine "Jerry" (née Stevens).

Net Worth:
$460 million
Dr. Phil and His Wife Got Engaged On Valentine's Day
Dr. Phil has known his wife Robin since the 70s, they met at a time when Phil was in the middle of finalizing his split from his first wife Debbie Higgins McCall whom he had married in 1970. That first marriage ended in an annulment in 1973. It was while in the middle of ending things with Debbie that he would meet Robin (nee Johnson) when he returned to Kansas City.
According to Amo Mama, Phil met Robin through his sister, however, he did not seem to find the courage to ask her out until he overheard Robin tell his sister that she was equally into him. After a period of dating, Phil popped the question to Robin on Valentine's day of 1976 and 6 months later, they got married according to People Magazine.
Judging by the success of their marriage thus far, it is hard to believe that Phil was previously in a marriage that would end badly. His ex-wife Debbie had some bad things to say about her union with Phil after they divorced. They were high school sweethearts who were said to be inseparable at the time. Phil was a football player and Debbie a cheerleader who was the homecoming queen at high school.
After their annulment, Debbie came out with details of why it ended saying that Phil was domineering and never allowed her to take part in the family business but instead restricted her to domestic duties.
She also said that Phil was unfaithful and when she confronted him with his infidelity he was not remorseful, neither did he show signs of changing. Dr. Phil has been largely silent about his ex-wife's claims only saying at a time that there was social pressure on him at the time to take the next big step to get married
Social pressure might have forced Phil into his first marriage, but his marriage to Robin was well thought through. Robin told People Magazine that they both did their homework before deciding to get married.
One of the results of that homework was discovering that they were both raised by alcoholic fathers which affected their individual upbringing. Due to this, Robin had made up her mind as a young girl never to marry a man who drinks alcohol as she was not prepared to raise kids with an alcoholic father because she had had a firsthand experience of it.
So when Phil's response to Robin's question of whether or not he takes alcohol was "I actually think that I'm allergic to alcohol," it solidified their relationship and helped Robin make up her mind that Phil was the man she could spend forever with. Over 40 years into marriage and Robin says she has never seen Phil sip alcohol.
The Couple Have Frequently Spoken of The Secret To Their Longevity
Longevity in marriage for couples who are in the spotlight and in the entertainment industry is something that is rare, as a result, Phil and Robin McGraw have been asked frequently about the secret to their lasting union.
For starters, the couple make an intentional effort to keep things fresh in their union. Every year, since the 90's the couple take their family on a vacation. The first one the family had was paid for by Oprah Winfrey. In 2016, they chartered a yacht and went to the South of France and Italy.
They also try to make sure that their busy schedules do not keep them apart for too long. Phil told Us Weekly that when they do have to be apart due to work, they try not to stay away from each other for longer than two or three nights.
Even on those nights apart, they frequently Facetime each other. Phil told the publication that Robin does not like to go to bed without him being around and she uses Facetime as a substitute whenever Phil is out taping in New York and she is in Los Angeles.
The psychologist once told Us Weekly that the formula for a good relationship is to have it based upon friendship and that he and Robin are very good friends. Like every couple, Phil and Robin do have their fair share of issues but never let it snowball into a fight, something that Robin says her friends find very difficult to believe.
In a 2014 interview with the New You which was also the first time she was appearing on the cover of a magazine, Robin said that when an occasion arises when they don't see things eye to eye, they make sure to have a conversation about it early on and not let issues build.
Dr. Phil concurred to this fact when he told Us Weekly that they don't allow their disagreements to linger into a week or two but instead deal with it as they arise. He also said that in disagreements they both try to make it their goal to be heard and understood rather than agreed with.
In the interview with New You, she shared that she had told her husband that it was not natural for her to be in a house with people yelling and screaming at each other as her parents did not do it neither did she ever do it. She said Phil understood and has never raised his voice at her.
When the couple celebrated their 40 years anniversary in 2016, Robin said that while a lot of people think it is a 50/50 effort that makes their marriage work, she thinks that it is a 100/100. She said they both focus on their marriage and that she learned what upset him and tries never to do that. She also added that they learned each other's needs and continue to focus on them from the day they got married.
Divorce Rumors Have Plagued Their Marriage In Recent Years
Being a popular couple has made Phil and Robin a target of many tabloids who publish unfounded claims about their marriage. Dr. Phil finally had enough in 2016 when he sued the National Enquirer – one of the tabloids that had consistently published false stories about him divorcing Robin including one where they claimed that Robin and kicked Phil out of their home.
Phil filed a 42-page complaint at West Palm Beach, Florida against the publication. He demanded $250 million in the defamation lawsuit for continuous publishing of lies about his marriage over a 13-year period. Months after Phil had filed the complaint, BuzzFeed, the parent company of the National Enquirer revealed that Phil had dropped the lawsuit after the parties involved had resolved the issue to mutual satisfaction.
In 2019 Phil addressed the rumors during his appearance on the Rachael Ray Show. He said he found it astounding that the tabloids would choose to "obsess on something that is so at the core definition of our family."
The psychologist also touched on how his commitment to stay with Robin stemmed from the tragedy of her losing both her parents so close together and at a very young age. He revealed a moment when his wife sat up at the edge of the bed and said to him "You know, I'm now an orphan, I've got no people" to which he replied that she had her and made a promise that had been binding on them that he will never leave her.
Months later, Dr. Phil would also debunk the divorce rumors on his own show after which he warned his viewers to be careful as tabloids were using headlines about him divorcing Robin to create click baits to scam people online.
Robin McGraw Is The Owner of Revelation Lifestyle Brand
Dr. Phil has achieved humungous success in his career but his wife who has been a major supporter of his TV career since its inception is not just sitting around idle. Robin equally has a successful business which she established in 2014. The business is a lifestyle brand named The Robin McGraw Revelation.
Through the brand, she renders advisory services that mostly center on women and their daily family experience, motherhood, and how to become a great wife. Robin encourages women to believe that it is not selfish to put themselves first and that to be able to take care of those that they love they must prioritize their beauty, health, and happiness.
The Lifestyle brand succeeded an eponymous foundation she set up in October 2013, the aim of which was to help victims of domestic abuse recover and live healthy lives. Robin can comfortably add philanthropist to his repertoire; long before starting her own foundation, she had been an active part of her husband's Dr. Phil Foundation, serving as the "Family Advocate and Ambassador."
Robin McGraw utilized her husband's popular show to launch her skin care line which she established in collaboration with Harvard graduate and dermatologist, Dr. Jessica Wu, MD. Robin told Bella, New York that her goal of creating the skincare brand was to create something that worked and was easy to use. She was also inspired by the fact that she was frequently asked what she did to take care of her skin, thus she decided to create a useful regimen that she believed in.
Dr. Phil Has Two Sons With his Wife, Robin McGraw
Name: Jay McGraw 
Born: September 12, 1979
Birthplace: Wichita County, Texas
Occupation: Writer and TV Producer
Education: University of Texas, Southern Methodist University
Spouse: Erica Dahm (m. 2006)
Children: 2
Phil and Robin McGraw did not welcome any child until three years after their marriage when their first son Jay McGraw was born. Jay followed in his father's footsteps to study psychology, earning a Bachelor of Arts in the field from the University of Texas at Austin.
Jay McGraw also has a Juris Doctor from Southern Methodist University. Together with his father, he is the co-founder of Los Angeles' Stage 29 Productions where he also serves as president and CEO.
Jay is the executive producer of the very successful syndicated talk show, The Doctors. The show is a spin-off of his father's show Dr. Phil. He has also served as the host of the Fox reality TV show, Renovate My Family. Jay McGraw is also a writer, he writes self-help books for teenagers.
On the 12th of August, 2006, Jay McGraw married former Playboy Playmate Erica Dahm, she is one of the popular identical Dahm triplets from Minnesota who became popular for appearing in TV shows and movies together. McGraw had met Erica during his appearance on Renovate My Family. T
ogether the couple has two kids – a daughter named Avery Elizabeth McGraw who was born in March 2010 and their son London Phillip who was born in August 2011. Jay and his wife Erica are travel enthusiasts, the couple once said in an interview that taking a break and relaxing away from home gives them quality time to spend together and also reminds them to be best friends.
Name: Jordan McGraw
Born: 21 October 1986
Occupation: Musician
Spouse: Morgan Stewart (m. 2020)
Phil and Robin McGraw's second son Jordan McGraw is a musician and guitarist for the American band Hundred Handed. He performed on his father's show as a surprise Valentine's gift for their mother. Jordan formerly played for Stars in Stereo between 2011 and 2015.
He once revealed in an interview that his father's taste in music had a huge influence on him when he was growing up. Jordan McGraw is married to Morgan Stewart, they got married in late 2020, and on the 16th of February 2021, they welcomed their first child, a son named Row Renggli McGraw.
Dr Phil At A Glance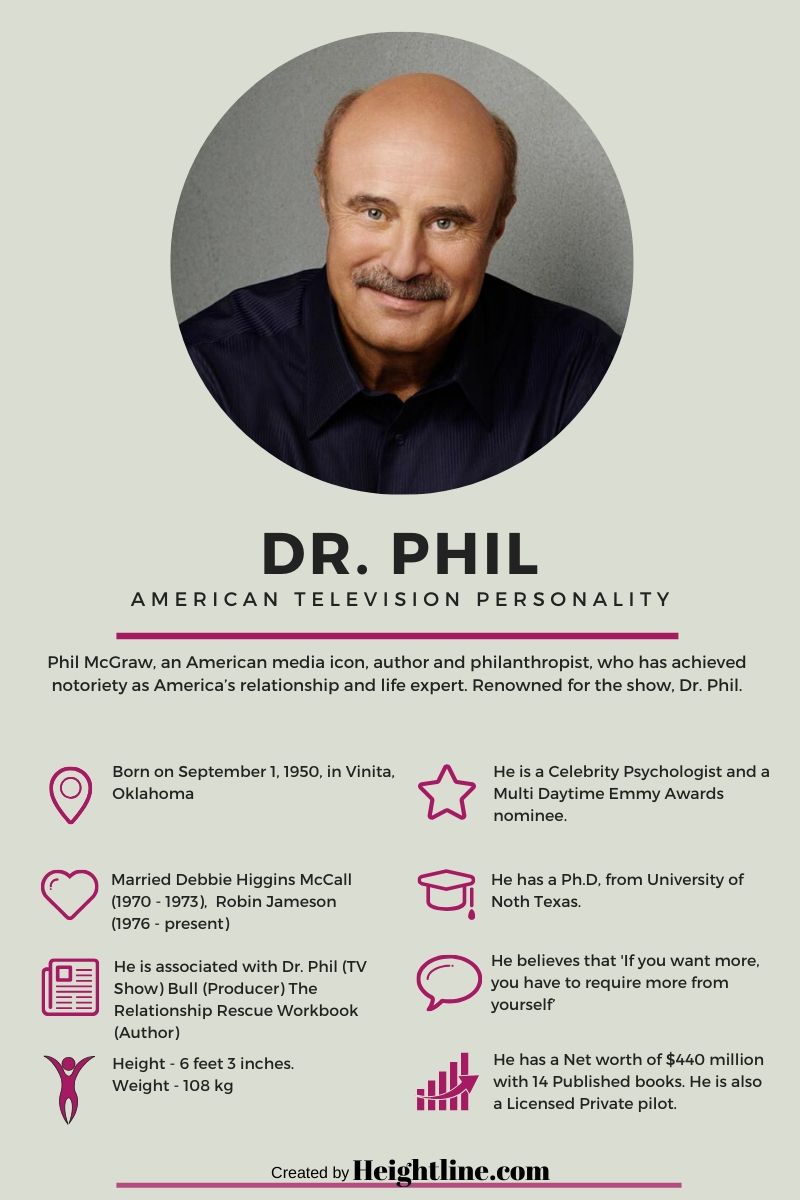 Profile Summary
First Name:
Phillip
Last Name:
McGraw
Also Known As:

Dr. Phil
Sex/Gender:

Male
Profession:

TV personality, Author
Famous For:
Dr. Phil show
Colleges/Universities Attended:

Midwestern State University,
University of North Texas
Educational Qualifications:

B.A. in psychology, M.A. in experimental psychology, Ph.D. degree in clinical psychology
Religion:

Christianity
Birthday & Zodiac

Age/Date of Birth:

72 years old (1 September 1950)
Zodiac Sign:
Virgo
Birth Place:

Vinita, Oklahoma, USA
Nationality:
American
Ethnicity/Race:

Irish, Scottish, and Welsh origins
Country of Residence:

United States of America (USA)
Physical Attributes

Height:

6 feet, 3 inches (1.91 m)
Weight:

109kg (240lbs)
Eye Colour:

Hazel
Hair Color:

Light Brown
Other Body Measurements:

N/A
Relationships

Marital Status:

Married
Spouse/Partner:

Robin McGraw (m. 1976), Debbie Higgins (m. 1970–1973)
Family and Relatives

Father:

Joseph J. McGraw Jr.
Mother:
Anne Geraldine "Jerry" (née Stevens).
Children:

2 Sons - Jordan McGraw, Jay McGraw
Siblings:
Donna McGraw, Brenda McGraw, Phil McGraw
Other Relatives:

Grandchildren: Avery Elizabeth McGraw, London Philip McGraw
Net Worth
Estimated Net Worth:

$460 million
Salary:
$95 Million
Source of Wealth:

TV Shows, Books, Professional Career