Colin Morgan is not married and does not have a wife. His name was previously linked with his Merlin co-star, Katie McGrath. However, it was later revealed that they were just friends.
Katie once did a video where she said Colin was like a younger brother to her. Morgan has also been called gay in the past and has been linked with a male partner, which also turned out as false.
Is Colin Morgan Married?
Colin Morgan is one celebrity actor who has taken privacy to a totally new level. The Merlin star guards his personal life jealously, and not even a tidbit is allowed to filter into the public arena.
The movie star knows just how to fob off questions from the media sources and has never given a straight answer about his love life and current relationship status. To further tighten the lid on the content of his personal life, the actor never bothered to establish any form of presence on social media platforms. No Facebook, Instagram, TikTok, or Twitter account is registered under his name.
Colin Morgan and Katie Mcgrath's Relationship
Colin Morgan's acting career has lasted for decades, and during the entire period, only one woman has ever been linked to him, and it happens to be Katie McGrath.
For the purpose of elucidation, Katie is a big name in the acting industry. An Irish actress, she has graced the screen in different productions, including the superhero series Supergirl, Dracula, Jurassic World, Slasher, Freakdog, The Queen, and Merlin, which made her a nominee for several awards.
While depicting the character of Morgana Pendragon on the set of the Merlin series, Katie and Colin, who starred as Merlin, displayed onscreen chemistry that got fans and viewers speculating about their off-screen relationship. Many believed that the duo really had something going on in real life, and it was infiltrating their acting.
Besides, for someone like Colin, who has been careful in cocooning his personal life for decades, fans were, in fact, happy that some tidbits were coming out at last, even if it ended up being a rumor.
Apart from the onscreen chemistry Katie and Colin Morgan displayed on the set of Merlin, the duo would still appear to be very close when they are spotted in an interview session for the series. This makes it hard for fans to believe that it was just acting.
Rumors also Ran Rampant that the Duo were Already Wedded in Secret
While the rumors about Colin Morgan and Katie McGrath's purported relationship continued to make the waves, the duo didn't bother to try debunking it, and it came as no surprise that it turned into something more serious.
Fans were soon regaled with the tale of how the celebrity couple had already taken their relationship to a higher level. We were first told that they became officially engaged prior to 2016, and people were really happy for the duo, expecting wedding bells to ring for them.
As 2016 was ushered in, another rumor ran that Katie and Colin tied the nuptial knot sometime that year. There were people who claimed that they witnessed the celebrity couple as they went shopping for wedding rings.
The pictures they previously took for a TV Guide Magazine photoshoot seemed to lend credence to the rumors. Though they were taken years ago, in May 2013, this set of pictures started making the rounds again, and people scrutinized their pose and countenance and came to the conclusion that they were too close to be just friends.
It was a collage of four pictures in a black-and-white effect where Katie was seen putting one arm around Colin Morgan's shoulder. Katie really looked elegant in the photos decked out in a black dress while her purported love interest Colin wore a casual flannel. Though fans knew quite well that the shots were for magazine publication, they responded as if they were totally ignorant of the real situation.
However, Katie later deflated rumors through a video that surfaced on the internet space. In the clip that wasted no time going viral, Katie described Colin as someone she takes like her little brother.
To date, Colin never bothered to dignify all the questions raised about their alleged relationship with an answer. This gave many room to interpret the couple's relationship any way they deemed fit.
Is Colin Morgan Gay?
Colin Morgan has never bothered to address all the gay rumors that have been making the rounds about him, thus, we cannot say whether the actor is straight or not.
His gay rumors started because he had never been in any known relationship with a member of the opposite sex. Many even suggested that the reason he has never paraded any girlfriend was that he liked men and did a good job of hiding his boyfriend.
Besides, the speculations about Colin's doubtful sexuality were fueled by his portrayal of gay characters in movies such as Christmas Special, The Catherine Tate Show and by playing the title character in Benjamin. Colin's depiction of Benjamin was perfect and made it hard for fans to believe he didn't have anything to do with the LGBTQ community.
However, to date, the movie star never bothered to set the record straight. Colin's silence was like consent, as many concluded that he might be gay after all.
Colin Morgan and Bradley James' Relationship
In addition to the numerous gay characters he has depicted and the lack of romantic stories in his life, Colin Morgan's gay rumors intensified after he was linked with his Merlin co-star, Bradley James.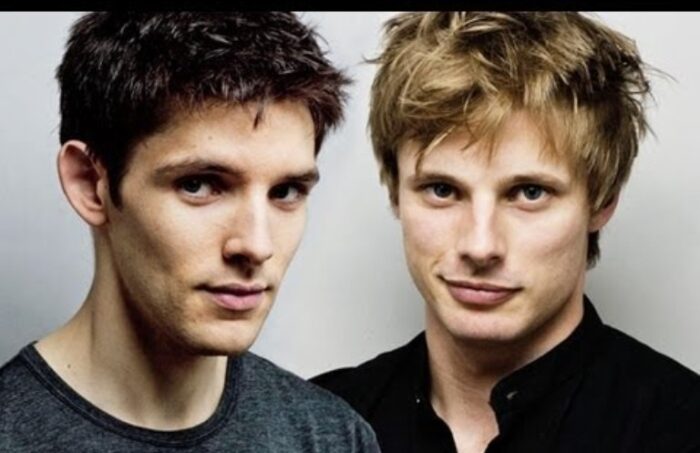 The duo appeared at a red carpet event together, decked out in black tuxedos, which got people talking. The speculations caught fire after the celebrity duo posed for pictures together. People started saying they had something special that they were hiding from the public.
However, the rumors turned out to be false as it was revealed that Colin and James didn't maintain close contact after the Merlin series wrapped up.
Bradly went live on Instagram in March 2020 to say that he hadn't seen or talked to Colin Morgan for a long time but would really love to rekindle the great bond they once shared on the set of the TV series.
It was at that point that people understood that duo were more of best friends than lovers, and this was what finally killed their gay rumors.