Aja Metoyer is an American model, internet, and reality TV star popular as actor Damon Wayans Jr's ex-girlfriend, and Dwayne Wade's baby mama. She has a total of 3 children and the first two, daughters Amara and Aniya Wayans, are the product of a long romance that she had with Damon while she had her son named Xavier with Dwayne in 2013.
Xavier's birth came at a time that Dwayne Wade was taking a break from his romance with popular actress, Gabrielle Union, and the timing of the whole thing caused a scandal. It also elevated Metoyer to the spotlight and she has continued to thrive despite some negative comments about her.
Summary of Aja Metoyer's Biography
Full name: Aja Metoyer
Gender: Female
Date of birth: 24th of July 1983
Aja Metoyer's Age: 40 Years Old
Ethnicity: Caucasian and African-American
Nationality: American
Zodiac Sign: Leo
Sexual Orientation: Straight
Marital Status: Single
Aja Metoyer's ex-partners: Damon Wayans Jr (1995 – the mid-2000s), Dwayne Wade (2011-2013)
Aja Metoyer's Children: Amara Wayans, Aniya Wayans and Xavier Wade
Aja Metoyer's Parents: Ronald and Cynthia Metoyer
Siblings: Melissa, Christen, and Derek Metoyer
Aja Metoyer's Height in Inches: 5 feet 6 inches
Aja Metoyer's Height in Centimetres: 170 cm
Aja Metoyer's Weight: 57 kg
Aja Metoyer's Net worth:$1.5 million
Famous for: Dwayne Wade's baby mama
Aja Metoyer's Instagram: Aja_Metoyer
What Is Aja Metoyer's Age and Ethnicity?
Aja Metoyer is 40 years old now as she was born on the 24th of July 1983. Her birthplace is California and she has American nationality. Her ethnicity is a mixture of Caucasian and African-American.
Metoyer hails from a family of six which includes parents, Ronald and Cynthia Metoyer. She additionally has three siblings namely sisters – Christie and Melissa and a brother, Derek. Aja Metoyer grew up in Los Angeles and graduated from Campbell High School. She subsequently attended college as well.
She Was Once a Star on the Reality TV Series, Basketball Wives L.A.
Aja Metoyer was also previously one of the stars of Basketball Wives L.A. The reality TV series follows the lives of women connected to basketball stars and Metoyer joined the cast in 2017. She spent a couple of years there during which she rose to become a major highlight. Part of the reason for this was her tangle with Dwayne Wade.
Another reason was her two sisters who joined her on the show. They often squabbled with each other and made shocking revelations about each other. For instance, Aja Metoyer once accused her sister, Christie of faking a miscarriage to curry sympathy. All of this made her quite infamous.
What is Aja Metoyer's Net Worth?
Aja Metoyer's net worth is $1.5 million est. Her sources of income include her business pursuits as well as her reality TV stint. As a businesswoman, Metoyer has sold wellness and health products from a company known as Total Life Changes.
Who Are Aja Metoyer's Kids: Amara, Aniya, and Xavier?
Aja Metoyer has a total of three children. The first is her daughter, Amara Wayans while the second is another daughter, Aniya Wayans, and the third is a 10-year-old son named Xavier Zachary Wade, whom she had with Dwayne Wade.
Her First Daughter, Amara Wayans, is a Model and Instagram Influencer
Aja Metoyer's first child is a daughter named Amara Wayans. Her father is actor Damon Wayans Jr. Amara was born on the 13th of November 2002. She primarily grew up with her mom following her parent's split. Her dad, however, maintained an active presence in her life.
Amara completed high school in 2020 and is now a student at Loyola Marymount College. She is also a budding model and Instagram influencer. She has tens of thousands of Instagram followers and has modeled for brands such as Loungewear, Kappa, and Brandy Melville.
Aja Metoyer's Second Daughter is a Popular Personality on TikTok
Aja Metoyer's second child is a daughter named Aniya Wayans. Aniya was born on the 24th of October 2004 and her dad is also the actor, Damon Wayans Jr. She spent the first few years of her life living under the same roof with her parents until they split.
She now lives with her mom but maintains good relations with her dad. Aniya is set to finish high school in 2022. She is a popular personality on Tik Tok where she posts hilarious videos including her family members. She has 391.9k followers on the platform.
Meet Aja Metoyer' Son, Xavier Zachary Wade
Aja Metoyer's third child is her son, Xavier. He was born on the 10th of November 2013 and his father is NBA star, Dwayne Wade. Xavier is in elementary school and lives primarily with his mom.
His dad also makes an effort to be present in his life. For instance, he has been pictured spending time with his young son. Dwayne also helped put together Xavier's birthday party in 2021.
Aja Metoyer and Damon Wayans Jr. Were Childhood Sweethearts and Dated for Several Years Before Splitting
Aja Metoyer first got to know actor, Damon Wayans Jr. when they were still quite young. They began dating when she was 12 and he was 13. They dated all through their school days and continued the romance even after school.
The couple welcomed their first child, Amara, in 2002, and Aniya followed in 2004. Many expected them to go on and get married given the longevity of their romance but they later broke up and went their separate ways in the late 2000s.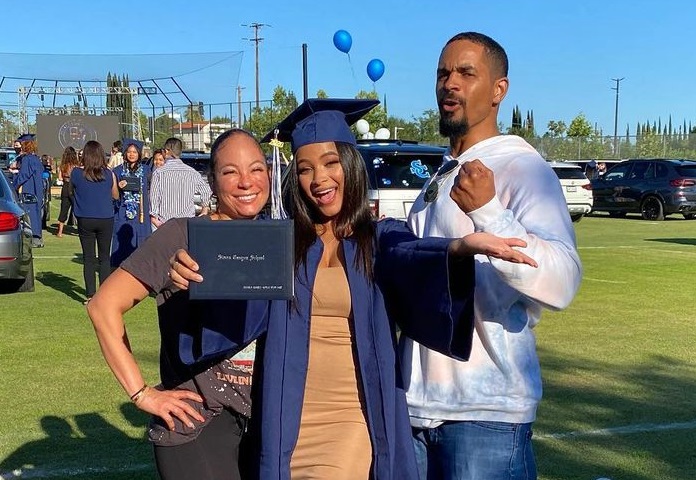 The Couple Have Clashed over Parenting Styles but now Maintain Amicable Relations
Ever since Aja Metoyer and her first baby daddy broke up, they have tried their best to co-parent their kids amicably. This good development continues to date and so, when their eldest daughter, Amara, graduated college, they were both there and took pictures together. It hasn't been all easy though.
Back in 2018, Wayans Jr. accused Metoyer of not prioritizing their daughters' education and not being accountable for the child support she received. She, however, refuted his claims and they later settled it privately.
Mother of Three Dated Dwayne While He Was on a Short Break From His Relationship With Gabrielle Union
Aja Metoyer first got to know Dwayne Wade around 2002. They became pals and remained so for the next several years. They, however, commenced a romance around 2011/2012. At that time, Metoyer had ended her relationship with Wayans Jr while Dwayne Wade was taking a break from his relationship with Gabrielle Union.
Wade and Metoyer dated for more than a year and welcomed a son in November 2013. They then went their separate ways.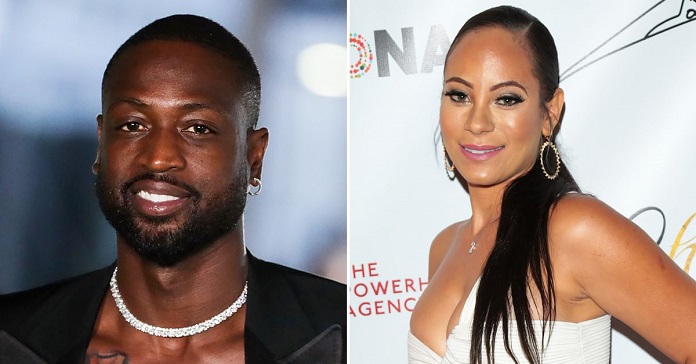 The Romance and the Birth of their Son Caused a Major Scandal
The revelation that Aja Metoyer and Dwayne Wade had a son caused a major scandal and Metoyer bore the brunt of it. Many people basically saw her as a homewrecker who was trying to scuttle the relationship between Wade and Union.
They also referred to her son as a break baby. Metoyer didn't take too kindly to this and came swinging from all cylinders. She pointed out that she had known Wade for a long time and that their romance wasn't some plan to ensnare him.
The scandal would later die down and Aja Metoyer and Dwayne Wade are now committed to amicable co-parenting. Metoyer allows her baby daddy access to his son. They also join hands together to throw birthday parties and the like for him.