Russell Wilson's parents are Harrison Wilson III (father) and Tammy Wilson (mother). His father, until his death on June 9, 2010, was a lawyer while his mother is a nurse director.
Anyone that has followed the quarterback's career will know that his parents are amongst the most important people in his life. Wilson has never hidden the impact that his parents made in his life or the values that they instilled in him. These values are what have helped him rise to the very pinnacle of his chosen sport and now that he is at the top, he has not forgotten those people who helped him get there.
Russell Wilson's Dad Was a Lawyer Who Played College Football
Full Name: Harrison B. Wilson III
Date of Birth: 1954
Nationality: American
Ethnicity: African-American
Religion: Christianity
Eye Color: Brown
Hair Color: Black
Relationship Status: married
Daughter: Anna Wilson
Sons: Harrison Wilson IV and Russell Wilson
Occupation: Lawyer
One individual that has made a tremendous impact on Russell Wilson is his late dad, Harrison Wilson III. Harrison was born in the year 1954 and hailed from an impressive family of educators. His father, Harrison B. Wilson Jr., was an educator and basketball coach who went on to serve as the president of Norfolk State University.
His mother was also a member of the faculty at Jackson State University (HBU). Being educators, both of Harrison's parents knew the importance of education and sent him off to good schools. He did well in his academics. He also turned out to be a standout dual athlete, specializing in both baseball and football.
Harrison would go on to undergo his college degree at Dartmouth during which he excelled as a wide receiver for his team. He, however, stopped short of trying out for the NFL but rather choose to attend the University of Virginia for a law degree. Following the completion of his law degree, Harrison decided to see if he could have a go at his football career once more.
He got back into shape by running on the giant lawns at the UV campus while wearing trash bags. He was then able to score an offseason tryout with the San Diego Chargers in 1980. He made good progress during the tryouts but was finally cut from the rooster. He thus never got to play pro football but his academic background meant that he was not out of options.
Russell Wilson's dad worked for corporate giants such as Procter and Gamble. He also opened up his own law practice. Harrison Wilson III also passed down his love for sports to his children. He not only practiced with them each day but coached some of their little league teams.
He also taught those values necessary for success such as perspective, vision, and belief. These lessons will pay off but sadly he missed out on some of the big moments as he passed away in 2010, two years before his son was drafted into the NFL.
Wilson's Mom, Tammy Wilson, is a Nursing Director Based in Seattle
Full Name: Tammy Turner Wilson
Date of Birth: 4th of November 1959
Nationality: American
Ethnicity: African-American
Religion: Christianity
Eye Color: Brown
Hair Color: Black
Relationship Status: Married
Daughter: Anna Wilson
Sons: Harrison Wilson IV and Russell Wilson
Occupation: Nurse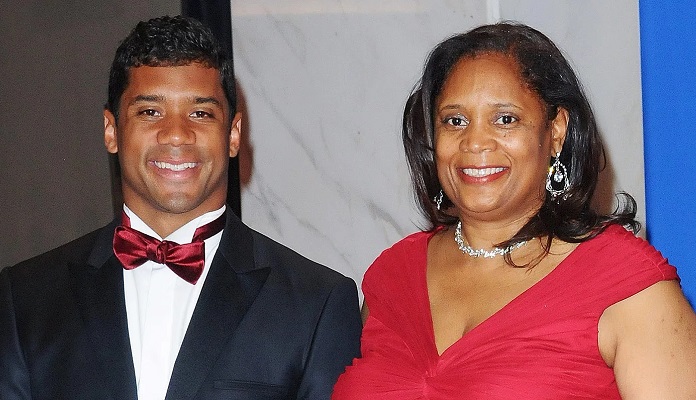 Russell Wilson now has one surviving parent and that is his beloved mom, Tammy T. Wilson (nee Jackson). Tammy is the daughter of a renowned American painter-cum-college professor, A.B. Jackson. Born in 1954, Tammy is well educated and holds a master's of education in counseling psychology from Xavier University in 1983.
She later decided to switch track to nursing and enrolled at the University of Cincinnati where she obtained a BSRN. Thirty years later, she would enroll at Ohio University where she completed a master's of health administration.
Back in the 80s when Tammy first qualified as a nurse, she was employed as an RN at the Christ Hospital in Cincinnati. She spent two years there before moving out to Richmond, Virginia, to assume the position of an assistant clinical director of nursing at Henrico Doctors Hospital.
Tammy will spend four years at Henrico before joining a health insurance company, BCBS, as a care manager and utilization review. This was in November 1995 and she spent nearly 12 years with the company before being promoted to manager of care management. That particular role would keep her at BCBS for four more years before she finally left the company in 2012.
Upon leaving the insurance industry, Tammy Wilson joined the University of Virginia Medical Center as their manager from September 2012 to September 2015. A year later, she landed employment as director of patient outreach and care management at the University of Washington.
She remains with the institution to date and has also been known to volunteer her health care expertise when needed. During the covid-19 pandemic, she joined efforts to set up portable health care facilities to relieve the overburdened hospitals in the city of Seattle.
I love my mom & dad so much. I'm #grateful for both of them teaching me how to play football, life & loving me for me pic.twitter.com/i9cnAwFHhk

— Russell Wilson (@DangeRussWilson) May 29, 2014
Russell Wilson's Parents Tied The Knot In The 80s and Remained Together Until His Father's Death in 2010
There is not a lot of details on the love story between Russell Wilson's parents but one thing that is sure is that they were a couple that loved each other. That love enabled them to raise three kids, namely Harrison IV, Russell, and Anna. It also meant that they sustained their union until death did them part in 2010.
Russell's father had been diagnosed with diabetes about two or three years before then and he fought valiantly to overcome his health challenges. Things, however, deteriorated with each passing day and his leg was amputated. He later suffered a stroke and his speech became barely inaudible. His sight was also affected and he eventually gave up the ghost in June 2010.
The death predictably devastated the members of his family but they have tried to keep the flag flying. Wilson frequently posts heartwarming tributes to his dad. In one such post in 2016, he thanked him for being a real dad and a real man who loved him and taught him how to play ball.
On the 10th anniversary of his death, the NFL star similarly took to social media to reflect on his father's death. He described his late dad as one of his greatest inspirations and stated that he misses him. He additionally added that he will forever cherish their time together.
Tammy Wilson Was Gifted A House By Her Son On Mother's Day 2019
Russell Wilson is also lavishing love on the one parent that he has left. He frequently posts heartwarming tributes to his mom on anniversaries such as mother's day. For instance, during mother's day 2020, he sent a tribute to both his mom and wife, declaring that his dad had advised him to marry a woman like his mom and that he succeeded in doing exactly that.
A year before that, Russell stunned his mom by buying her a house. The NFL star had just signed a blockbuster $140 million contract extension with the Seahawks and decided to surprise his mom with her own house. He stated that she had never asked them for anything in return except love and thanked her for loving them the way she did.