Russell Wilson is married to Ciara, the popular American singing sensation who is also an actress, songwriter, dancer, model, and businesswoman. Prior to his involvement with her, the athlete was married to Ashton Meem, a media and marketing guru who is best known as Russell Wilson's first wife.
To many people, an eight-year relationship that started from high school and was nurtured through college could be the perfect foundation for an everlasting marriage. However, NFL player Russell Wilson and his ex-wife Ashton Meem proved otherwise as they only stayed married for barely two years despite having been friends and later lovers for eight years.
The professional American footballer seemed to have been the one wronged in the union. But as fate would have it, he found an uncommon kind of love with Ciara and has been a happy man ever since.
Meet Ashton Meem, Russell Wilson's First Wife (Divorced)
Full Name: Ashton Meem
Date of Birth: September 6, 1987
Place of Birth: Richmond, Virginia
Age: 36 years old
Nationality: American
Education: North Carolina State University, Bachelor's degree in communications
Relationship: Divorced
Marriage Duration: January 2012 – April 2014
Net worth: $4 million
Ashton Meem is one of those ladies who got famous for being the partner of a well-known celebrity. In her own case, she was previously the wife of Russell Wilson. The two started their relationship in high school even before Russell began his professional football career. As all was good between them, the lovebirds dated for eight long years and got married in 2012.
Prior to her marriage with Russell, Meem was on course to pursue a career in media and marketing as she went for an internship in 2010. She later worked as a consultant in the same field before she landed a permanent job with American Family Insurance and has grown in ranks to be in the position of an Advertising Operations Assistant.
In addition to her corporate career, Meem also has an entrepreneurial side as an event planner. She was even the one that planned and organized her marriage making sure that everything was set and done to detail.
Insight into Meem's Eight-Year Relationship with Russell
Speaking on how they got started, Meem confirmed to Richmond Times-Dispatch that she met Wilson in high school and they stayed with each other till their relationship culminated into marriage in the year 2012.
When college separated them, the lovebirds maintained a long-distance relationship, proving once again that what they felt for each other was true and real. At a time, Meem had to transfer from the University of Georgia to North Carolina State University to be with her lover.
In the course of time, Russell decided he will marry Meem and on August 1, 2010, he arranged a ceremonial proposal to Ashton in the Presidential Suite of an upscale hotel in Cary, North Carolina. The proposal was graced by Ashton Meem's parents. Over a year later, on January 14, 2012, the couple got married at the Country Club of Virginia in front of 300 guests.
Meem's Alleged Cheating Scandal Led to Their Divorce After 2 Years 
Wilson and Meem had an incredible but short honeymoon. Wilson got selected by the Seattle Seahawk in the third round of the 2012 NFL Draft, 3 months after their wedding. But 2 years after, in April 2014, their marriage headed for the rocks.
It is still shocking that despite the 8 years long courtship Meem enjoyed with Meem, their marriage never lasted as long as they courted. The once happy pair got divorced two years after with Wilson being the one who filed for a divorce.
What led to the divorce is still not made open to the public. Meem is notoriously private, she wouldn't discuss her private life with the public, but rumor had it that she cheated on Wilson with his then-teammate, Golden Tate.
Both Meem and Tate denied the rumor. In a lengthy personal essay published on the Cauldron, Tate said he did not have an affair with Russell Wilson's wife and did not contribute to his divorce.
Tate claimed that he and Russell are good friends and won't give in to the rumor. On the other hand, Wilson is also secretive about the cause of the divorce. He only asked his fans to pray for them as it was a difficult time in their lives.
Many years has passed since his sad divorce with Meem and the facts are still shrouded in secrecy as they have always been and perhaps will continue to be.
The trio of Meem, Russell, and Tate have all moved on with their lives and the crux of the divorce seems to have been eternally forgotten. Also, there isn't any information regarding Ashton Meem's subsequent relationships.
As Russell Wilson's wife, she also didn't have any child for the 24 months they lived as husband and wife. Meem's decision to stay off the internet and guard her life closely away from the glare of the media has kept her and all that has to do with her relationship life far away.
Russell Wilson Is Now Married To Ciara, the Mother of His Kids
Full Name: Ciara Princess Wilson (nee Harris)
Date of Birth: October 25, 1985
Place of Birth: Fort Hood, Texas, U.S
Age: 38 years old
Education: Riverdale High school, in Riverdale
Occupation(s): Singer, Songwriter, Dancer, and Model
Spouse: Russell Wilson (2016 till date)
Children: 3
Soon after his divorce from Ashton Meem, Russell struck a chord with pop diva Ciara sometime in 2014. At the time, Ciara was also coming out of a relationship so people took the new relationship to have happened because they both came out of failed relationships. While Wilson filed for a divorce with his ex-wife Ashton Meem in April 2012, Ciara broke her engagement with her fiancé, rapper Future, in December of the same year.
Ciara is an American singer, songwriter, and model who has made an indelible mark in the music world. She had lots of fun as a child traveling around the world. She eventually moved to Atlanta, Georgia where she joined the girl group Hearsay, after which she pursued a solo career in music.
The celebrity has always dreamt of being a singer. She remembers telling her friends in Clayton High School in College Park, Georgia that she would grow to be a world-famous singer. She achieved some of her dreams by the time she was 21 years of age. As a talented and successful singer, Ciara has won several awards, one of which is the Grammy Award.
Ciara met Russell in the Midst of Her Breakup with Future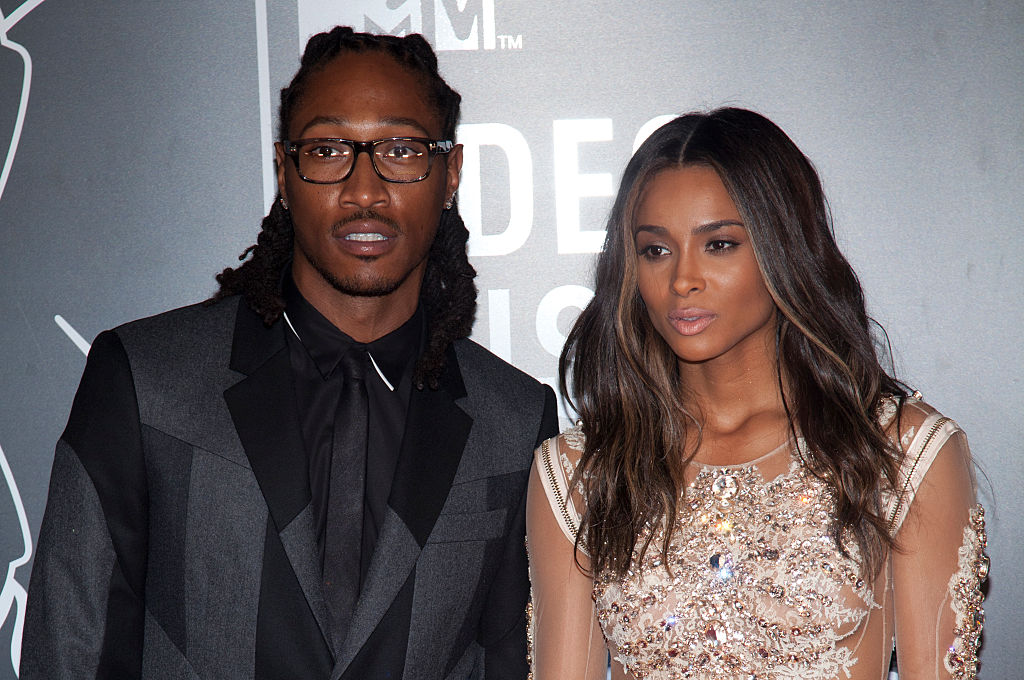 Ciara and Wilson have been married since 2016. After their respective heartbreaking divorce and separation, they never believed they could love again. But little did they know that cupid had already shot an arrow at both of them.
When they first met in 2014, the duo instantaneously knew that love could still work and they began a relationship that blossomed into marriage in 2015.
While speaking to Essence in 2016, Ciara disclosed that her breakup with Future wasn't part of the dreams/aspirations she had in life but it happened and it hurt her really bad. She admitted she realized she would be a single mother, had to reflect on the challenges ahead, and also braced up to always be there for her son.
In addition, Ciara also held the belief that God still had a plan for her and it was best she moved forward one day at a time.
Russell and Ciara first met while attending a Wisconsin college basketball game. They quickly took a fancy to each other and made plans to have dinner though Ciara had her misgivings about it. At that time, Ciara was in the center of her split with Future and she was having a hard time coping with the breakup.
Also, she was carrying out the court proceedings to gain the custody of her son from his father, and to cap it all, the media was following closely to report any juicy things they could hear or see about her. All these drained the singer emotionally, but still, love was knocking hard on her heart. She, therefore, decided to keep her newly founded friendship or perhaps a relationship with Russell away from the public.
Deets of Russell and Ciara's Uncommon Love Life
On 6th July 2016, Russell Wilson and Ciara got married. The duo has been waxing stronger every day in their union. They make fans all jealous with loved-up Instagram photos, telling of how much love flows in their union. Even with the responsibility of taking care of 3 kids, they still look stunning. It is certainly a love tailor-made from heaven.
Russell's sweet tribute to his wife also tells us how much he loves her. Especially the one he penned on her birthday, he revealed that Ciara came into his life and changed it for the better. In his words; "You have changed my life for the better. You, my Queen, are the most loving mother to our beautiful 3 babies. I am grateful for how you always love'.
Continuing, he wrote, 'Jesus has anointed you from the crown of your head to the souls of your feet. You have changed generations with your music, your dance, your business, and your influence as a woman around the world. However, despite all of that…the best thing about you is how you always make our family laugh and smile from ear to ear."
Ciara also took to Instagram stories to celebrate her and Russell's anniversary. She wrote about how they met before professing her love for him. Seeing all these, there is no doubt that the couple is perfect for each other.
Russell and Ciara's religious life is not left out in their relationship as it is an integral part of their lives. They share a strong commitment to each other and perhaps an even stronger devotion to God.
Wilson readily refers to his faith in God in post-game interviews and posts daily scriptural verses on his Twitter feed. He says his faith in God is the foundation of his life and family (parents, siblings, and immediate family). Ciara also shares his belief in God. The duo constantly prays and dedicates their activities to God, especially while performing.
They are Parents To Four Children
Russell Wilson and his wife both co-parent her first child, Future Zahir Wilburn, a son she had from her failed relationship with rapper Future. The couple are not without their own biological children; they have a daughter named Sienna Princess, and a son named Win Harrison Wilson. Together, the family of 5 live very happily.
Future Zahir Wilburn
Date of Birth: May 19, 2014
Age: 9 years old
Future Zahir Wilburn is Ciara's first and only child with Future. While their relationship was perceived to be heading for an engagement following the birth of Zahir, they began having problems and decided to call their relationship off. Ciara took custody of Zahir and he has been with her since.
When she met Russell in 2016, Russell revealed (on the occasion of Zahir's 7th birthday) that he did not only fall in love with his mother but also knew God was blessing him through Zahir. He described him as his daily joy and also referred to him as a son. As you would expect, Wilson is also tutoring the young lad on the rigors and rudiments of the game. Russell Wilson's wife also doesn't cease to express his admiration for her first son.
Sienna Princess Wilson
Date of Birth: April 28, 2017
Age: 6 years old
Sienna Princess Wilson is Russel and Ciara's first child. Sienna was born a year after they got married. She is currently 6 years old and as can be seen, her mother is already setting her up for something great in the entertainment industry.
As a 3-year-old, she was featured in Beauty Marks, the music video of her mother's song, and also in one of Disney's productions titled The Disney Holiday Singalong in 2020.
Win Harrison Wilson
Date of Birth: July 23, 2020
Age: 3 years old
For now, Win Harrison Wilson is the youngest child in Russell and Ciara Wilson's household as the footballer has expressed his desire to have more beautiful kids. Win was born on July 23, 2020, and his birth was hugely celebrated on and off social media. He has since then been a constant feature on any of Wilson's social media pictures. Fans of both the footballer and actress have not ceased to express their admiration for the cute child.