NLE Choppa's mom is a Jamaican woman identified as Angeleta Ellis Potts, while his dad is an African American whose name is unknown. Following the fame that his music has brought him, NLE Choppa's mom and dad have been able to get the public's attention.
The American songwriter, rapper, and entertainer known for his hit single Shotta Flow started rapping while he was a teen. He started his professional music career at the age of 15. In 2019, the spotlight shone on him after he released Shotta Flow, which was a huge success. To date, he has released many hit songs, including albums, collaborations, mixed tapes, and extended plays, and has equally made guest appearances.
Meet NLE Choppa's Mom and Dad
With the fame that the rapper has garnered over the years of his music career, his parents have also gotten the public's attention. Meet NLE Choppa's mom and dad:
Angeletta Ellis Potts is NLE Choppa's Mom and Manager
NLE Choppa's mom, also known as Choppa Mama or Mama Choppa, is his manager. Her date, month, and year of birth are unknown, thereby making her exact age unavailable to the media. She is known to be of Jamaican ethnicity, while her nationality remains under wraps.
Details of her early education have been kept off the record, but she graduated from John Overton Comprehensive High School. Angeleta Potti graduated with a degree in accounting from the University of Memphis. Before she started working with her son, she worked at Shelby County School, a public school system in Tennessee, California.
Currently, she is her son's manager. She is seen to have greatly influenced her son's love for music as she usually played Jamaican songs like that of Bob Marley while her son grew up. She also played other kinds of music by some artists like Shabba Ranks, Tupac Shakur, Lil Wayne, and many others.
According to NLE Choppa, he started his own brand because his mother instilled a sense of music and ownership in him. She would always tell him that they were in this alone. He chose her as his manager because he always wanted her to look after his things. He once revealed that after his first label, he called her to be his manager. In his exact words, he stated, "she was like huh? What? She was at work and I was like mom this shit is finna take off, it's over with." NLE Choppa further stated that she hung up in his face because she thought he was lying.
The rapper stated that once they got a call from the label, she knew he wasn't lying and took him seriously. A few days later, he flew to Los Angeles with his mother. His mother has been his manager since his rise to the spotlight and has appeared in interviews with him.
Meet NLE Choppa's Dad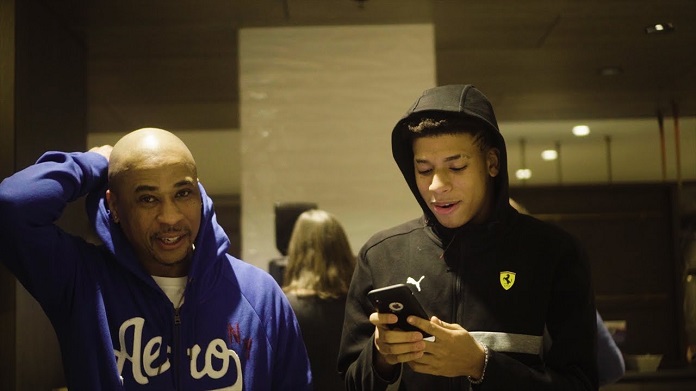 NLE Choppa's dad is a very private person, and as such, he has kept his name, date, month, and year of birth private. According to reports, he is of African American ancestry and of Nigerian nationality. He has managed to keep details of his educational background off the public record, as well as what he is currently up to.
According to the rapper, his father also influenced his love for music as he listened to the same songs as his mother while he was yet to pursue his music career. His father is mostly spotted with him traveling or at his shows. He was once spotted backstage dancing to his son's music while he performed. It is not known if his father and mother live together or separated, as there is no information on that.
Who is NLE Choppa?
NLE Choppa is a 21 year-old American rapper, entertainer, and songwriter. He was born Bryson Lashun Potts on November 1, 2002, in Memphis, Tennessee, the United States of America.
NLE Choppa attended Cordova High School in Rancho Cordova, California, where he started rapping. According to reports, he stated that he would love to study business at a Florida college, but there is no information if he has enrolled in any institution yet. The rapper started rapping at 14 for fun with friends while in high school. At the age of 15, in 2008, he took his rapping skills to a professional level with the name YNR Choppa before he switched to the name NLE (No Love Entertainment) Choppa.
He rose to the spotlight for his singles like Camelot, Shotta Flow, Walk En Down, and many others. The rapper's debut album, Top Shotta, and EP, Cottonwood, also helped him gain more fame. He also has mixtapes like From Dark To Like, Me vs. Me, and No Love: The Take Over to his credit. NLE Choppa has also collaborated with artists like Kodac Blac, $osa, 50 Cent, Bhad Bhabie, and many others in releasing hit songs.
Besides his music career, he is also into business. He owns an online store known as NLE Health and Wellness, where he sells health and wellness products like sea moss, herbal kits, oils, and many more.
NLE Choppa's Mom and Dad are Also Parents to Other Children
The rapper's family appears to be doing everything possible to keep their personal information out of the public eye. Though the number of children that were born to NLE Choppa's mom and dad is unknown, the rapper was spotted in a Youtube video gifting his brother a car. The rapper's family is seen to be quite close to him as they are always spotted in a happy mood with him.
NLE Choppa's Mom and Dad Are Both Grandparents to The Rapper's Daughter
NLE Choppa's mom and dad became grandparents on June 20, 2020, when the rapper's first baby mama gave birth to their daughter. At the age of 17, the rapper, together with his ex-lover, Mariah, gave birth to a daughter named Clover Brylie Potts. He announced the arrival of his daughter with a picture of himself holding up her sonogram.
She has been growing up under the care of her mother. The rapper's parents would have become grandparents for the second time, but his girlfriend suffered a miscarriage. NLE Choppa, together with his girlfriend, Marrisa, announced that they were expecting a child in 2021.
They revealed the child's gender and gave him the name Seven Da'Shun, but they lost him through a miscarriage. Marissa took to her Instagram to announce their loss, stating how the rapper has been by her side. She also encouraged other women who had suffered miscarriages to stand strong.