LL Cool J's family includes his wife, Simone Johnson, whom he's been married to since 1995 and together they have four children: Najee Laurent Todd Eugene Smith, Italia Anita Maria Smith, Samaria Leah Wisdom Smith, and Nina Simone Smith.
LL Cool J, originally named James Todd Smith at birth, is a world-class rapper and a respected personality in the music industry. His love for rap and the desire to become a notable rapper came to life in his younger years after his jazz saxophonist grandfather gifted him an amplifier, an audio mixer, and two turntables worth $2,000.
The musician began rapping before the age of 9 and by the time he clocked 16, he was already creating demo tapes with the hip-hop group The Treacherous Three, which he credits as his earliest inspiration. Today, he has established himself as an accomplished rapper, record producer, actor, author, and businessman.
Besides all of his endeavors in the rap world, the rapper has also had a good run with love and family. Although his' seems to be a rather large one, here's a walk through the family of LL Cool J with Details about his wife and kids.
Simone Smith Has Been m n LL Cool J's Wife Since The 1980s
Only a few people in the entertainment industry can boast of sticking to one partner for over a decade or two, and LL Cool J counts among them, having been married to just one lady for two decades and counting. Their meeting came in 1987 when Cool J's career was just kicking off, and both were just teenagers, he was 19 while she was 17.
Narrating their meeting during his appearance on Jimmy Kimmel, LL said that their meeting happened on an easter day when he was driving and stopped by to see a friend who then asked to introduce him to his cousin, LL said he was initially uninterested, but his mind changed the moment he saw Simone, and the rest is history.
LL Cool J and Simone then dated for 8 years and would then get married in 1995 and have remained together ever since then. She told VH1 about their early dating years when Todd got anxious that she would go for another man cause he was about to go on tour for 8 weeks.
He panicked and even told her that if she had any interest in dating another man, then they should just be friends until he got back from the tour, but Simone reassured him of her loyalty and that she was going to wait for him to get back.
Simone told VH1 that she was indeed sure that Todd was very much into her when he brought her on stage during one of his concerts in Miami and kissed her in front of the ladies who certainly had eyes for him. Simone said it was a crazy moment as the very jealous onlooking ladies began throwing cuss words at her.
For their engagement, LL Cool J described the unconventional way it happened in his book, I Make My Own Rules. Instead of going with the usual method of getting down on one knee with a ring, the rapper opted for a rather weird option…
They were driving in their Porsche when he turned down the volume of the radio and put the car on top speed, asked her to marry him and did not slow down until she said YES! Though he described the move as being quite unromantic in his book, he did say that the proposal came from his heart.
All of the years they have been together seemed glamorous looking from afar, but like every other typical couple, the duo has not been without their fair share of struggles. The first issue they had was due to jealousy on Simone's part which led the couple not to speak to each other for about two weeks.
It happened shortly after their honeymoon in 1995 when Simone viewed for the first time the music video for his song "Doin' It." She told Oprah in an interview that seeing him get all raunchy with another woman pissed her off.
She had thought to herself that she knew that he was sexy and as his name goes, ladies want him, but that he should learn to set boundaries. The couple's love for each other and willingness to make things work out saw them iron out their differences. Todd apparently learned his lesson.
The couple has over the years taken turns to share with the media what has helped them keep their marriage going strong for so long. LL Cool J during an episode of ESSENCE's "Yes, Girl!" podcast, dished out some solid relationship advice saying that each one should ensure that they are going after their dreams and purpose and want someone who is equally doing the same and with whom they can add value to their life and vice versa.
Simone, on the other hand, told Oprah that one of the ways they've kept together is putting God first, picking their battles, and respecting each other. LL has also mentioned mutual respect in their effort to stay together as well as knowing how the other person wants to be loved. The rapper and actor have also mentioned support as his way of expressing true love to his partner.
LL Cool J's Wife Is A Successful Businesswoman
Born on the 31st of March 1968, Simone Smith was raised in the suburbs of New York by her grandparents in the 1980s.
The successful businesswoman kicked off her venture into the business world with her custom-made, beaded bandana line known as Ms. got rocks. She has expanded in many ways since that first attempt and currently has a jewelry collection called Simone I. Smith, which was launched in 2011.
Simone, who derives so much joy in designing bracelets and earrings, has also featured on TV shows like The Insider, Entertainment Tonight, and The Talk while her jewelry has made it to the pages of In Style and Essence. Some big names in the music world who have rocked the products from her jewelry are Missy Elliot, Rihanna, Rachael Ray, and Hoda Kotb.
Simone Is A Cancer Survivor
Success for the rapper's wife went beyond business after she survived cancer. In 2004, she was diagnosed with a stage 3 chondrosarcoma, a rare form of cancer where the tumor was growing in her right tibia bone. A microvascular reconstructive surgery that lasted about 15 hours was performed on her, the surgeons removed her tibia bone and replaced it with her fibula bone.
After the surgery, Smith was unable to walk for the next two and a half years and had to use a wheelchair, she underwent intense rehabilitation in order to learn how to walk again. Fortunately, she recovered and has been cancer-free for over a decade.
Simone revealed how she overcame the devastation she felt upon her diagnosis by drawing strength from her husband's support. LL had even offered to give his wife his own fibula as he thought it would be stronger. He told Oprah Mag that he had to stick with his wife during the time and deal with the "fox hole" with her. The rapper even made changes to his career pursuits to give him more time to support his wife.
Simone also credited prayers with helping her through the tough time. She confessed to being depressed for two weeks after which a call from her grandmother who inspired her to get to praying and staying positive helped her to stay strong.
After making a full recovery, Simone went back to designing jewelry and one of the first pieces she made was about her experience with cancer. The surgery took part of the lollipop tattoo she had on her leg for her husband's song Candy Girl, as a result, the first piece she created was a lollipop pendant that has a piece taken from it.
The designer said that the lollipop symbolizes how sweet life can be and the bite, what cancer does to a person.
Simone and her husband also became supporters of the American Cancer Society. She created "A Sweet Touch of Hope" a name for the lollipop charms she created, proceeds of at least $10 from each jewelry go to support the ACS. The jewelry can also be found found at retailers like Macy's and Kohls.
The couple also started "Beat Cancer Like a Boss" campaign to inspire cancer patients by sending the message that beating cancer can be a game of mind over matter. The promotional video for the campaign featured the couple alongside celebrities like Mary J. Blige, Jhene Aiko, Salt-N-Pepa, and Jordin Sparks.
Using her jewelry line for a selfless cause has earned her accolades; in 2013, she was awarded the National Association of Women Business Owners of Los Angeles' Rising Star award.
Who Are LL Cool J's Children?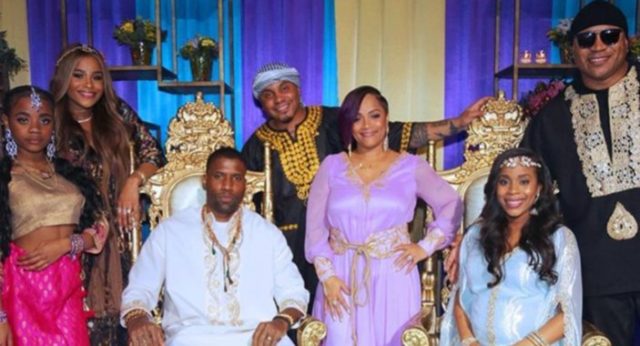 Rapper LL Cool J does not just hold good ground as a loving husband to his wife but also a doting father to his kids. The rapper is a father of four and is doing a good job raising a closely-knit family as obvious by their Instagram posts.
LL Cool J stays inspiring his kids, one of his daughters revealed to Oprah that her dad would pull her aside almost every week or few days to tell her that she can do whatever she sets her mind to do.
The rapper has previously revealed that he has no intention of raising spoilt kids, he is of the opinion that kids should be able to understand the real world and that though he does not mind helping them out with opportunities, they need to earn it by understanding hard work.
Najee Laurent Todd Eugene Smith is LL Cool J's First Son
James Todd Smith's Age: 34
Occupation: Photographer
Najee who is the rapper's first son was born on 18th September 1989 after 28 hours of labor, according to his mother's revelation. Smith and Simone's first offspring is a very private person and has chosen to live off media attention. Nevertheless, we gathered that he is a professional photographer with an impressive following on Instagram.
Though he lives a private life, Najee made the news for the wrong reasons in 2015 when E News reported that he was involved in a fistfight outside a restaurant in Manhattan that led to his arrest. Police reports had it that he had refused to obey security guards and was seemingly intoxicated. He was charged with criminal trespassing but the case was later dismissed and sealed.
Italia Anita Maria Smith is LL Cool J's First Daughter
Age: 32
Occupation: Real Estate Agent
LL's first daughter who was born on 3rd January 1991 is happily married to her longtime boyfriend, Lamar Cardinez. The two exchanged marital vows on June 17, 2017, in a beautiful ceremony and are now parents to a lovely boy. Italia is not just a wife and mom, she has equally had a very successful time as a real estate agent.
She has a Regents Diploma from Manhasset Senior Highschool and holds a Bachelor of Science Degree in Business Administration Entrepreneurship and Marketing from Northeastern University. She also holds a Commercial Real Estate Certificate from Cornell University. She has an extensive work portfolio with CBS in various capacities and how works as a licensed real estate person with Douglas Elliman Real Estate.
Samaria Leah Wisdom Smith is LL Cool J's Third Child
Age: 28
Date of Birth: September 15, 1995
Occupation: Fashion Designer
Italia's immediate younger sister and LL Cool J's third child and second daughter was born on September 15, 1995, and was raised between New York and Los Angeles. She holds two degrees in Fashion Merchandising and Fashion Design from the Fashion Institute of Technology.
She is the owner of the Samaria Leah clothing line which was launched on her birthday. She works with vintage denim. She has over 200 thousand followers on her Instagram page which is verified.
Nina Simone Smith is LL Cool J's Last Born
Age: 23
Occupation: Recording Artist
The last of LL Cool J's children is his youngest daughter Nina Simone Smith who was born on 9th August 2000. Before attaining adulthood, her parents had ensured that she maintained a low profile, appearing only a few times at celebrity events with her parents.
This was until she stepped into her own light by releasing her debut single "Call Me" to celebrate her new age – her 19th birthday. Her genre of focus is R n' B.
FAQs 
What is LL Cool J's Real Name?
The American entertainer was given the name James Todd Smith at birth. However, he is now more popularly known by his professional name "LL Cool J" which is short for Ladies Love Cool James.
How Old is LL Cool J?
LL Cool J is 55 years old. He was born James Todd Smith on January 14, 1968, in Bay Shore, New York to Ondrea Griffith and James Louis Smith Jr. also known as James Nunya.
Is LL Cool J Gay?
There is nothing that proves that the rapper is gay. He is known to have been involved with only women and is has also married to a woman named Simone Smith since 1995.
Is LL Cool J Married?
Yes, LL Cool J is married and has been for over a decade. He met his wife, Simone Johnson in 1987, and in 1995 they tied the knot. Their union has enjoyed stability and together they have four children.
Who Is LL Cool J' Wife?
LL Cool J is married to Simone Johnson, a businesswoman born on the 31st of March 1968, and raised in the suburbs of New York by her grandparents in the 1980s.
Who Are LL Cool J's Children?
LL Cool J and his wife Simone have four grown-up children named Najee Laurent Todd Eugene Smith, Italia Anita Maria Smith, Samaria Leah Wisdom Smith, and Nina Simone Smith.
Who is LL Cool J's Grandson?
LL Cool J has a grandson named King James through his first daughter, Italia Anita Maria Smith's marriage to her longtime boyfriend, Lamar Cardinez. The two exchanged marital vows on June 17, 2017, and welcomed their son on March