Demetrius Flenory (Big Meech) has one known child, Demetrius "Lil Meech" Flenory Jr. However, it was recently revealed that he had other children, including Demetria Edwadior Jackson Flenory, Manessa Mia Hussey, and more. Their mothers are Latarra Shane Eutsey, Yolanda "YoYo" Smith, Telese Hussey, and more.
How Many Kids Does Demetrius Flenory Have?
Meech may actually have more than one child, contrary to what many have believed for years.
Demetrius "Lil Meech" Flenory Jr. is Big Meech's Most Famous Child
Date of birth: 22nd of August 2000
Age: 23 years old
Mother: Latarra Shane Eutsey
Occupation: Actor and rapper
Demetrius Flenory Jr., also known by the diminutive form of his father's alias, Lil Meech, is the only confirmed child of Big Meech. Born on the 22nd of August 2000, his birth occurred in Miami, Florida, Demetrius is the product of the relationship between the former drug lord and his baby mama, Latarra Shane Eutsey.
The details of Lil Meeh's academic journey are not known, but the young man works in the entertainment industry as an actor and rapper. We must also acknowledge the fact that Big Meech's son had nothing to do with his dad's drug business until it was dismantled in 2005.
As an actor, Lil Meech is currently starring in the Starz BMF series produced by American rapper 50 Cent. In the TV series, which chronicles the personal and professional life of the former drug baron, Lil Meech depicts the character of his own dad. Though the BMF series is his debut acting role, Lil Meech has bagged other gigs in Euphoria and Taurus.
As a musician, the young American rap artist and music producer has dropped quite a good number of hit tracks. Spooky SZN, Ptap Life, and Manifesto are some of his known tracks. He is on Instagram with the username @lilmeechbmf, where he has accumulated over 445,000 followers
His mother is a real estate specialist working for Real Property Executives, LLC, in Plantation, Florida.
On the 13th of December 2022, Lil Meech had a run-in with the American authorities. He was apprehended at Florida's Fort Lauderdale Airport for possession of firearms. However, he was set free after setting a bond of $2,500.
Big Meech's son is active on the love scene, and his current girlfriend is R&B singer Summer Walker. Reports said the celebrity duo started going steady sometime in 2023 and have remained together for some months
Demetria Edwadior Jackson Flenory
Date of birth: 1988
Age: 35 years old
Mother: Yolanda "YoYo" Smith
While many have always believed that Big Meech only has one child, it soon came to the fore that the former kingpin of the Black Mafia Family has other children.
A young lady who goes by the name Demetria Edwadior Jackson Flenory came up on Twitter in 2010 with claims of being the daughter of the BMF boss. She was then leveraging her platform to support her alleged dad, but it went flat in 2012, and nothing has been posted on the handle to date.
Fans later got to know that Demetria is older than Lil Meech and was born in 1988 through the drug baron's ex-girlfriend, Yolanda "YoYo" Smith.
While many were doubting the authenticity of Demetria's claim that she is Big Meech's daughter, The former drug dealer's mum, Lucille, shared a Facebook post in 2021 showing where she attended the young lady's wedding. Lucille even referred to Demetria as her granddaughter.
Manessa Mia Hussey
Date of birth: 1st of July 1989
Age: 34 years old
Mother: Telese Hussey
Born on the 1st of July 1989, Manessa Mia Hussey is another of the drug lord's daughters. Reports said her mother is Telese Hussey, who dated Meech in the late 1980s. There is even a picture showing the former lovers together
Meech's mother, Lucille, has always been instrumental in shedding some light on the identities of the former drug trafficker's unknown children. On the 2nd of July 2019, an Instagram post surfaced on her handle, wishing her granddaughter Manessa well on her birthday. It was after Lucile's post that people actually started believing that the young lady and Meech have blood ties.
On her own part, Manessa has been doing a great job of proving to the world that she is Meech's biological daughter. On the 20th of June 2021, she shared an Instagram post where she was seen in a throwback picture posing with her dad.
Big Meech's Rumored Children
Apart from the aforementioned three that have shown proof of their blood ties with Meech, there are still several others that claim to be his children.
One such person is Lori Harvey, whose mother is Marjorie Elaine Harvey. There was actually a time that rumors of Meech and Marjorie's relationship rented the air, but it was never confirmed. Many have speculated that if it turns out to be true that Big Meech is Lori's dad, then the drug trafficker may have also sired her two siblings, Jason and Morgan Harvey, though they are now adopted children of the renowned television presenter Steve Harvey.
There is also Neeka Flenory, born to Meech's former girlfriend, Lori Walker. Lori's part in the drug lord's life was even depicted in 50 Cent's BMF series by actress, Serayah.
Queen Trudy is also one of Meech's rumored children. Nothing much is known about Queen except that she runs an Instagram handle @queentrudy
How Many Baby Mamas Does Big Meech Have?
Fans of the former Black Mafia Boss have always believed that Big Meech had just one baby mama, Latarra Shane Eutsey. However, if all the claims we have been witnessing on social media turn out to be true, then he has quite a number.
Latarra Shane Eutsey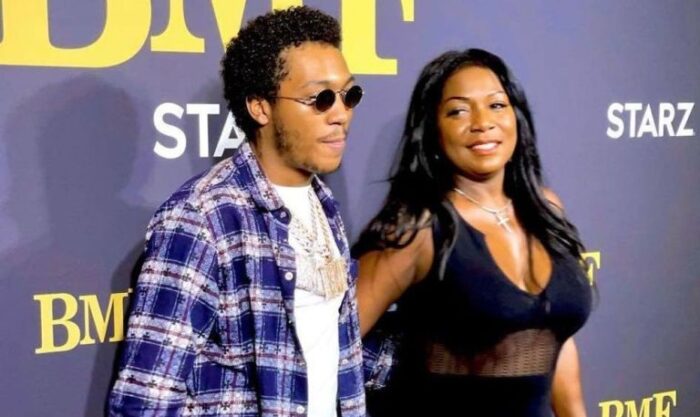 Born in 1969, Latarra Shane Eutsey is Meech's only confirmed baby mama, and as earlier mentioned, she is the mother of Lil Meech. Eutsey is obviously the type that loves to live their lives away from public scrutiny, but reports have revealed that she works in the real estate industry.
She currently lives in Plantation, Florida, and is confirmed to be a staff of Real Property Executives, LLC. The realtor firm deals in both residential and commercial properties.
Yolanda "YoYo" Smith
Yolanda "YoYo" Smith is said to be the mother of Demetria Flenory. Nothing much is known about her, but she used to be a close pal of the 50 Boyz and watched their backs
However, she died on August 12th, 2004.
Telese Hussey
Telese is the sister of Dexter "Sosa" Hussey, and it is common knowledge that Sosa was a third founding member of the Black Mafia Family, albeit a silent member. Telese is the mother of Manessa Mia Hussey.
However, if all the speculations were later confirmed to be true, this list may expand to include the likes of Lori Walker and Marjorie Elaine Harvey.