The whereabouts of John Wayne Gacy's daughter, Christine Gacy, is currently unknown. Due to her father's heinous crimes, it is likely that she does not even go by her known given name. Christine was just a year old when her mother divorced her serial killer father. After the divorce, her mom basically 'disappeared' from the public eye, cutting off ties with her ex-husband and his extended family. 
Additionally, her mom Marlynn Myers eventually remarried, changing her name entirely. Christine, therefore, grew up away from the stigma of her biological father's crime. She has rightfully chosen an obscure existence away from the limelight.
Who Is Christine Gacy?
Christine Gacy is the daughter of notorious serial killer John Wayne Gacy. She was born in March 1967 in Iowa, United States of America. Her mother, Marlynn Myers, was John Wayne Gacy's first wife. Christine also has an older brother Michael Gacy, who was born in February 1966. Christine Gacy is now a 56 years old woman, possibly married with kids and living without ties to her father's name.
Christine Gacy's father, John Wayne Gacy, was arrested, convicted, and executed for the assault, torture, and murder of thirty-three teenagers and young men between 1972 and 1978. Christine Gacy was never in contact with him during this period, as her mother had full custody of her and her brother after her parents divorced in 1969. However, she is still infamously known as John Wayne Gacy's daughter.
Meet Christine Gacy's Parents: John Wayne Gacy and Marlynn Myers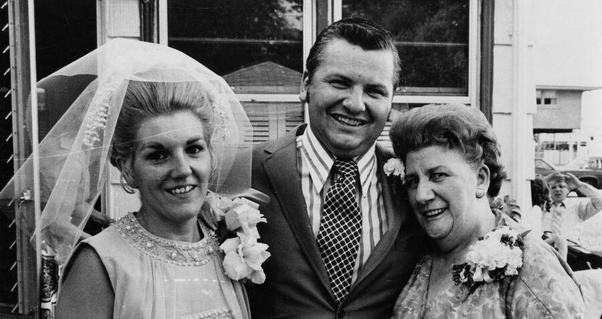 Christine Gacy's parents are John Wayne Gacy and Marlynn Myers. Her father, John Wayne Gacy, was born on 17 March 1942, in Chicago, Illinois, United States, to parents John Stanley Gacy and Marion Elaine Robinson. John grew up in a troubled household, where he endured physical and verbal abuse from his always-drunk World War I veteran and auto mechanic father. Adding to his tragic childhood, John was molested by a family friend in 1949, an incident he kept from his family.
When he was eleven, John was involved in a playground accident that led to a blood clot in his brain. As a result, he suffered from occasional blackouts as a teenager. However, he was treated and cured of this. At eighteen, John had become aware of his attraction to men. However, he kept this a secret while trying to live a 'normal life'. He then attended Northwestern Business College, graduating in 1963 and securing a job with the Nunn-Bush Shoe Company.
On the other hand, Christine Gacy's mother, Marlynn Myers, was born in a relatively well-to-do family. According to reports, her father, Fred W. Myers, once owned a string of Kentucky Fried Chicken franchises in Waterloo. Although the information on Marlynn Myers's upbringing and educational background is sketchy, from the little we know, she grew up in a relatively 'normal' home. She later began working at the Nunn-Bush Shoe Company store in Springfield, Illinois.
Christine Gacy's Parents Were Co-Workers
John Wayne Gacy worked as a management trainee with the Nunn-Bush Shoe Company for a while before he was transferred to Springfield as manager of Roberts Brothers, a men's clothing store owned by the Nunn-Bush Shoe Company. It was at the store that he met Marlynn Myers, who was also working at the store. The two began dating, and nine months later, they tied the knot in September 1964.
In 1966, the couple moved to Waterloo, where John began working in his father-in-law's fast‐food outlets as a manager. It was while there that Christine Gacy was born in March 1967.
Christine Gacy's Parents Got Divorced Because of Her Father's Sex Crimes
Christine Gacy was a year and a few months old when her 'perfect' family life was thrown into disarray. In May 1968, two teenage boys accused her father, John Wayne Gacy, of forcing them to commit sexual acts with him. He was subsequently arrested despite denying the crime. As a result of this accusation and an attempt to blackmail one of his victims, John Wayne Gacy was tried and sentenced to 10 years at the Iowa Reformatory at Anamosa in December 1968.
In light of these, Marlynn Myers filed for divorce on the grounds of cruel and inhuman treatment, and on 18 September 1969, the divorce was granted. Marlynn Myers was granted full custody of the couple's two children – Michael and Christine Gacy. Christine Gacy was two and a half years old at the time of her parent's divorce. Marlynn Myers then took her kids and disappeared from public eyes, wanting nothing to do with the disgraced John Wayne Gacy.
John Wayne Gacy served 18 months in the reformatory before being paroled for good behavior. He was then placed on a 12 months probation period.
What Were Christine Gacy's Father's Heinous Crimes? 
After he left the reformatory, John Wayne Gacy returned to Chicago. He moved in with his mother while working at a restaurant. He later held a contractor job. John subsequently bought a house in Norwood Park Township, remarried in June 1972, and started his own remodeling business (PDM Contractors, Inc.) in 1974. He also took a side job as a clown (Pogo The Clown), entertaining children at parties and charity events.
His second wife was his high school sweetheart Carole Hoff, who was divorced with two daughters at the time. The couple's marriage had its difficulties – John admitted to Carole that he was bisexual. He, at a point, stopped all sexual contact with her. He also grew violent when she confronted him on the gay magazines lying around the house and the I.D.s of young men found in his car. The couple finally ended their marriage on 2 March 1976.
John Wayne Gacy started his string of killing in 1972. Under the guise of giving them a job in his construction company, he would lure young men and teenagers into his home. And then will assault, torture, and finally murder his victims. He would then bury their bodies in a crawl space under his house.
It was the disappearance of John Wayne Gacy's last victim, 15‐year‐old Robert Piest, that finally led to his arrest. Evidence of the boy's presence was found in his home after John had denied having any dealings with the teenager.
Further investigation uncovered the decomposing bodies of 27 victims buried under the house. John later confessed to additional murders bringing the total number to thirty-three victims. He throws the bodies of some of his victims into the Des Plaines River.
John Wayne Gacy went on trial on 6 February 1980. His defense lawyers tried to plead a case of insanity. However, he was ultimately found guilty and sentenced to death by lethal injection. Despite the guilty verdict announced in 1980, John Wayne Gacy was finally executed at the Stateville Penitentiary Joliet, Illinois, on 10 May 1994, after he exhausted all his appeals.
Where Is Christine Gacy Now
After her mother got divorced from John Wayne Gacy, Christine Gacy remained with her mom, who had full custody of her and her brother. When her mother later remarried, she became part of her mother's new family and possibly changed her name as well.
After the divorce, Christine had no contact with her father's side of the family. According to John Wayne Gacy's sister, her attempts to contact her brother's children were all rebuffed.
The whereabouts of Christine Gacy is, therefore, unknown. She is possibly living under a different name, making it difficult to obtain any information on her. It is not unusual for children of notorious killers to change their identity or move to a new environment to avoid any stigma and discrimination from their connection with violent criminals. Therefore there is no current information available on John Wayne Gacy's daughter Christine Gacy.