Peyton Manning and his lovely family of four live in a multi-million dollar mansion located in the Cherry Hills village of Denver. The Mannings first moved to Denver in 2012 and have remained put to date.
Despite what else the world would have us believe, hard work still pays and one good example of this is none other than Peyton Manning. The retired NFL QB enjoyed 18 impressive seasons in the league, a time during which he established himself as one of the best in history. He broke several records and won numerous accolades, including two Super Bowls.
Of course, all these achievements did not come empty-handed as Manning went on to accumulate nearly half a billion dollars in career earnings. With such a fortune, he is now enjoying a blissful life of retirement. Though not one for extravagance, the Hall of Famer still treats himself to some of the finer things in life, including a home located in one of the most affluent neighborhoods in America.
Peyton Manning's Mansion is Located in Cherry Hills – the Fourth Richest Neighbourhood in America
While many wealthy personalities prefer to change residence frequently, the case has been quite different with Peyton Manning who has lived in Cherry Hill Village, Denver, for nearly a decade now. The retired QB's love affair with Denver dates back to the year 2012 when he became a free agent upon the expiration of his contract with the Indianapolis Colts. Several franchises indicated an interest in buying him but he chose the Denver Broncos and promptly signed a deal worth more than $90 million.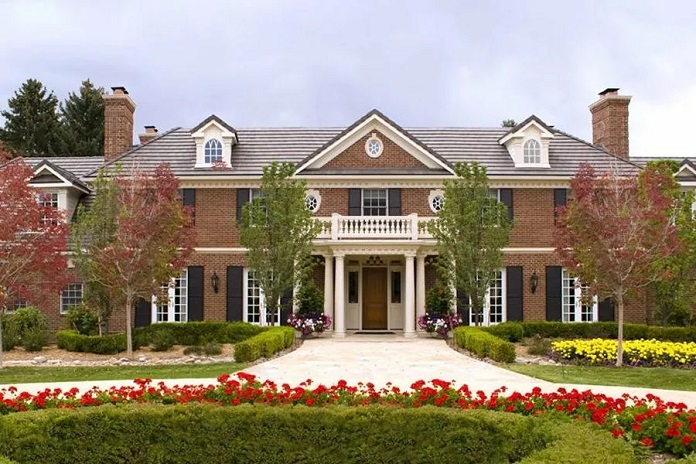 Armed with such a deal, Manning promptly moved out to the city where he would call home for the foreseeable future and began house hunting in earnest. In the interim, he resided with his then coach, Mike Shanahan, before eventually closing in on his present home in the gated community of Cherry Hills.
Boasting an exclusive country club as well as a semi-rural nature, Cherry Hills consistently ranks amongst the five richest places in America with an average household income of $406,314. Forbes has also named it as one of the top 25 places to retire rich.
The $4.57 Million Mansion Has a Total of Seven Bedrooms and Eight and a Half Bathrooms
So, where do Peyton Manning and his loved ones actually make their home? Well, the answer is a 16,464 square foot mansion which the retired NFL star purchased for $4.6 million in 2012. Described as Georgian-style, the house sits on a total of 3.37 acres of land boasting of perfectly-manicured lawns and backyards. The long winding driveway passes through a gated entrance with a wrought iron fence. Located in the middle of the property is a three-story mansion that will take your breath away.
Peyton Manning's mansion boasts of seven tastefully furnished bedrooms. There is also a grand total of eight and a half bathrooms. Other features include a media room, a billiards room, a traditional study, two offices, and even a dog room that has a heated indoor/outdoor kennel. There is also a family room where the Mannings can gather each Sunday to take in one NFL game or two. When they do want to sleep, Manning and his wife have access to a master bedroom that features spacious walk-in closets for each person. Its bathroom reportedly has a wet bar, a refrigerator, and a massive shower head. There is also a heated floor for the couple in the event that the weather gets unseasonably cold.
There is Also a Wine Cellar and a Seven-Car Garage
Most people will describe their kitchens as the soul of their homes and this may very well prove to be true in the case of the Mannings. Their kitchen checks all the boxes with slab granite countertops, custom cabinetry, top-of-the-line appliances, black walnut flooring, a walk-in pantry, and an informal dining area where the family can have heart-warming dinners and catch up on each other's day.
When their fellow celebrities do come to dinner, Peyton Manning and his wife won't be left stranded as they can fall back on their formal dining room which comes with a butler's pantry and a china closet for preserving their finest wares.
Away from the kitchen, Peyton Manning's mansion also comes with all the other features that you would expect in the home of a popular celebrity, including a wine cellar, a spacious veranda, a patio with a built-in grill, and an exercise room. There is also a seven-car garage that contains the vehicles that various members of the family utilize for their day-to-day goings. The home is indeed quite sufficient but one thing that it lacks is a swimming pool or outside tub. The reason for this may not be unconnected with the fact that the weather in Denver is notoriously cold, meaning that one may not get the chance to enjoy such a facility.
Peyton Manning's Mansion is Now Valued at $6.01 Million
Manning and his family have stayed put in Denver from 2012 till date and in that time, they have made several improvements to their house. These improvements have improved the home's value from $4.57 million they acquired it to $6.01 million and such valuation may make the couple think of selling. This is not likely to happen though as the retired QB remains very much in love with Denver. According to him, since he and his family arrived there, everyone has been so warm, welcoming, and embracing of them and as such, he now regards the move as one of the best decisions of his life.
Another factor that would certainly motivate Peyton Manning to retain his home in Denver is the great relationship that he has with his former employers, i.e. The Broncos. Despite spending just four years with the Broncos, Manning led them to a Super Bowl trophy which means that he has assumed legendary status for the franchise and the city. They therefore frequently work together with him in order to improve the visibility of their organization.
For instance, in 2021, they gave Manning an internship role with the team. The role saw him release a hilarious video on Twitter during which he introduced their schedule for the season.
The light-hearted video certainly pleased lots of Broncos fans but it would have grated on the nerves of many in the city of Indianapolis. Prior to joining the Broncos in 2012, Manning spent 14 years with the Indianapolis Colts during which he achieved so many highs. He also led them to the Super Bowl trophy on his way to becoming their greatest ever quarterback. He would later leave the team but his legacy there remains intact and the Colts has since retired his jersey number.