Jordan Belfort's kids are Chandler Belfort who is a mental health counselor and Carter Belfort who is a marketing and branding expert. Both of Jordan Belfort's children have gone to pursue and attain success in their different careers very far away from the troubles their father's lifestyle and illegal means of wealth acquisition brought into their family.
Who are Jordan Belfort's Children?
Jordan Belfort has two children, a daughter named Chandler Belfort and a son Carter Belfort. The children were both born by his second wife Nadine Caridi whom he divorced in 2005, after 14 years of marriage. Get to meet them here.
Chandler Belfort is Jordan Belfort's First Child
Full name:

Chandler Ann Belfort

Nickname:

Channy

Gender:

Female

Date of birth:

July 29, 1993

Chandler Belfort's Age:

30 years old

Place of Birth:

Los Angeles, California

Ethnicity:

Mixed

Nationality:

American

Zodiac sign:

Leo

Sexual Orientation:

Straight

Religion:

Christianity

Marital Status:

Married

Chandler Belfort's Husband:

Connor Winter

Chandler Belfort's Parents:

Jordan Belfort and Nadine Caridi

Siblings:

Carter Belfort

Chandler Belfort's Height in Inches:

5 feet 2 inches

Education:

Muhlenberg College, Pennsylvania and Steinhardt College, NYU

Career:

Mental Health Counselor

Famous for:

Being Jordan Belfort's daughter
Chandler Belfort was born on July 29, 1993, and is 30 years old. She was born in Los Angeles, California, two years after the marriage of her parents; Jordan Belfort and Nadine Caridi.
Chandler is educationally accomplished as she has attended several schools in her quest for knowledge and professional advancement. For high school, she attended Vistamar School and after she graduated, she got enrolled in Muhlenberg College where she studied Arts, Psychology, and Spanish Language Literature and Culture.
Chandler furthered her education by obtaining a Master's degree in Psychology from New York University.
Young Chandler Witnessed the Chaos His Father's Lifestyle Brought Into Their Family
Chandler Belfort was affected by her father's lifestyle while she was a kid. Her father Jordan Belfort was arrested in 1999 for his company's involvement in money laundering and other financial crimes and was sentenced to a jail term of four years. He was however released after serving 22 months of his term.
After his release, his wife Nadine filed for a divorce, citing drug abuse, addiction, and physical abuse. The marriage between Chandler's parents was a rocky one as they both were engaged in constant fights and quarrels. Little Chandler had to witness all these fights and was once a victim of their brawl after her father crashed his car with her in it, having walked angrily out of the house following the usual trouble.
All the domestic unrest Chandler witnessed at a young age affected her mental health as she became wary of violent relationships. This, however, shaped her choice of career as she decided to help other people who suffer the same fate as her.
Is Chandler Belfort Married?
Chandler Belfort is married to a man named Connor Winter whom she met while still a student at Muhlenberg College. The two dated for seven years and got married at a private ceremony on September 25, 2021. Their union is yet to produce any kids.
Where is Chandler Belfort Now?
Chandler Belfort currently lives in New York where she works as a mental health counselor at a private firm. She landed her current job after years of gathering experience as an intern. She worked as a Workshop facilitator for an organization named One Love Foundation when she was still enrolled at Muhlenberg College.
The foundation was concerned with enlightening people on the risks of being in abusive relationships, as well as helping those who want out of said relationships. She has also interned as a Mental Health Coach at Berkeley College when she was running her Master's degree program at Steinhardt College, NYU, working as a mental health coach.
These previous professional positions have helped Chandler work with her current clients who are mostly adolescents and adults. Jordan Belfort's daughter shies away from the media, unlike her celebrity dad. She has an Instagram account @chandlerwinter_ which she keeps private, and as such, personal information about her is not readily available.
Is Chandler Belfort Involved in Any of Her Father's Business?
Chandler Belfort grew to pursue a career outside of the business world which is what her family is synonymous with. She works as a mental health counselor and as such does not work in her father's company, Global Motivation Inc.
Carter Belfort is Jordan Belfort's Second Child
Full Name:

Carter James Belfort

Nickname

: The drunken poet

Gender

: Male

Date of Birth

: August 15, 1995

Carter Belfort's Age

: 28 years old

Place of Birth

: New York City

Ethnicity

: Mixed

Nationality

: American

Zodiac Sign

: Leo

Education

: Muhlenberg College, Allentown, Pennsylvania, Los Angeles Film School

Marital Status

: Single

Carter Belfort's Parents

: Jordan Belfort (father), Nadine Caridi (mother)

Siblings

: Chandler Belfort (sister)

Carter Belfort's Net Worth

: $2 million

Famous for

: Being Jordan Belfort's son

Carter Belfort's Instagram

: @carter.belfort

Twitter

: @CarterBelfort

Facebook

: @Carter James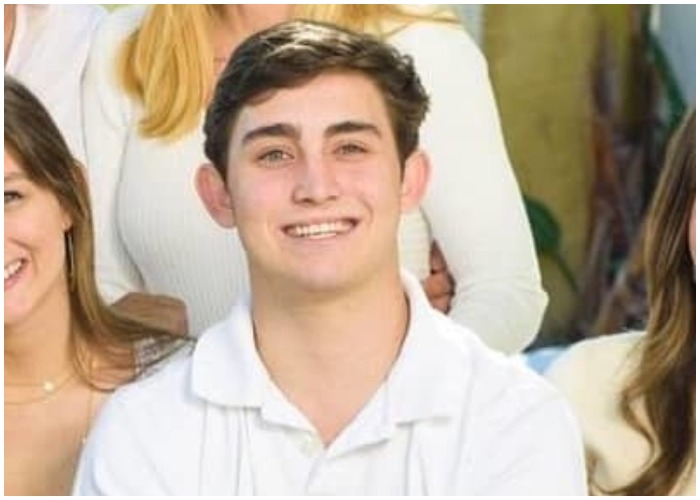 Carter Belfort is 27 years old. He is the second child born to Jordan Belfort. Carter was born and raised in Los Angeles, California alongside his sister. For his education, Carter attended Vistamar School, California from where he obtained a high school diploma.
He further attended Muhlenberg College in Allentown, just like his sister. However, he was only at Muhlenberg College for a year before he proceeded to earn a Bachelor's degree in Arts, Entertainment, and Media Management from the Los Angeles Film School.
Carter is Involved in His Father's Business
Carter Belfort currently works at his father's company named Global Motivation Inc where he holds the position of the vice president of Brand Development. Carter is a skilled strategic manager and marketing specialist and employs his skills in moving his father's business forward. He joined the company in April 2020 as a strategic marketing specialist and has remained committed ever since then.
He Has Also Ventured Into Music
Carter also has an artistic side which he displays through music. He focuses on the rap and hip-hop genres under the stage name The Drunken Poet. He uploads his songs on his YouTube channel @Carter James and has also made some mixtapes. He once appeared on his father's podcast where he thrilled the listeners with his rapping skills. Some of the songs he uploaded on YouTube include:
Out of Focus

The Drunken Poet

Off the Soul

One Scar at a Time

The End

Pass You By

Introspect

Mind of Carter
Does Carter Belfort Have a Girlfriend?
Carter Belfort has not disclosed details of his love life to the media. As such, we could not verify information about anyone he has previously dated, or his current relationship status. He is currently focused on building his career.
Carter is active on Instagram although his account @carter.belfort is set to private, just like his sister's.
Does Jordan Belfort See His Kids?
The relationship between Jordan Belfort and his kids were affected by his involvement in crime and his legal issues. It is uncertain if he is close to his daughter Chandler as they both hardly post pictures they took together, although he attended her wedding ceremony in 2021.
On the other hand, Jordan Belfort currently enjoys a close relationship with his son Carter Belfort. The duo works together and as such, get to spend lots of time with each other, as evidenced by the pictures they take together.