African American rapper, singer, and songwriter XXXTentacion (real name: Jahseh Dwayne Ricardo Onfroy, born January 23, 1998) was shot and killed on June 18, 2018, just less than five months after his 20th birthday. The last known words he spoke according to his companions just before he got shot was "What the F**k is going on".
However, there are uncertainties about whether he actually said that or not. Just a few days before the tragedy, a video was posted on Instagram that included what is currently regarded as XXXTentacion's official last words.
XXXTentacion's Last Words Read:
"Worse thing comes to worst, I fucking die a tragic death or some shit and I'm not able to see out my dreams. I at least want to know that the kids perceived my message and were able to make something of themselves and be able to take my message and use it and turn it into something positive and at least have a good life.
I at least… If I'm gonna… If I'm gonna die or ever be a sacrifice, I want to make sure that my life made at least five million kids happy or they found some sort of answers or resolve in my life, regardless of the negative around my name, regardless of the bad things people say to me. I don't give a fuck, because I know my goal in the end and I know what I want for everyone, and I know what my message is.
So I just wanted to say I appreciate and love all of you and I believe in you all.
Do not let your depression make you. Do not let your body define your soul. Let your soul define your body. Your mind is limitless. You are worth it. You are worth more than you can believe. All you have to do is dream and all you have to do is want to fulfill that dream and have the strength."
Where Did XXXTentacion Die?
XXXTentacion died in Deerfield Beach, Florida, United States, just as he was leaving Riva Motorsports Motorcycle & Marine Superstore, a store that sells motorcycles in that area of Florida. The events that led to his death, led to the conclusion that he had died during a robbery.
On the morning of that fateful day, the rapper was followed by a dark-colored Dodge  Journey SUV from the parking lot of Bank of America where he had just gotten some cash before heading for the superstore. Several reports confirm that the SUV was allegedly carrying four passengers namely Dedrick Williams, Robert Allen, Michael Boatright, and Trayvon Newsome.
These four individuals have since been arrested and charged with the murder of the 20-year-old rapper. Before we get into the details of the sentences handed down to the perpetrators, let's get to the root of what led to XXXTentacion's death.
What Day Did XXXTentacion Die?
XXXTentacion was shot and killed on Monday, June 18, 2018, around 3:56 pm. When he arrived at the motorcycle store, in the company of his uncle may we add, he was followed into the store by Allen and Williams who casually walked by him as he was looking around the store for a motorcycle.
When the late rapper finished with his business in the superstore, he rejoined his uncle in his black BMW, but just as they were about to leave, the dark-colored Dodge with the four assailants blocked his exit while Newsome and Boatwright exited the vehicle and accosted XXXTentacion for his valuables.
The late rapper tried to fight them off but Newsome successfully grabbed his Luis Vuitton bag containing $50,000 in cash, while Boatwright snatched his chain. By this time, the late rapper's uncle had fled the car and presumably gone to get help. Despite achieving their goal of robbing Tentacion, the CCTV picked up images of one of the assailants believed to be Boatwright as he picked up his rifle and shot the rapper six times.
When the paramedics arrived, they found the late rapper in critical condition but they were able to detect a pulse. When they eventually got to the hospital though, the pulse was gone and he was later confirmed dead by the Broward County Sheriff's office.
To apprehend those responsible for the death of the rapper, the Broward County Sheriff's Department put out a $3,000 bounty on any information that could lead to the arrest of the murderers.
The bounty attracted several speculations from internet users and fans of the late rapper who initially suspected Soldier Kidd and Soldier Jojo, because of their social media posts following the incident; posts which collaborated with eye-witness reports on the incident.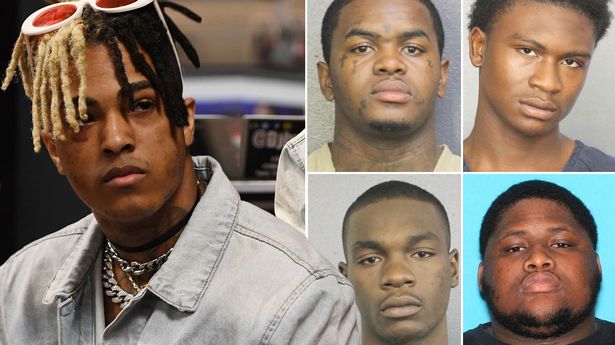 Those suspicions evaporated with the arrest of all four culprits between June 20, 2018, and August 7, 2018. All four men were indicted for the murder of the rapper by a Florida grand jury. Dwayne Onfroy, XXXTentacion's father declared that he wants a death sentence for the shooter and life sentences for his cohorts. Given that the suspects are being charged in Florida, he just might get his wish if they are convicted.
However, on August 12, 2022, Robert Allen accepted a plea deal to a lesser conviction of 2nd-degree murder in exchange for more information on the other 3 culprits. His sentencing is scheduled for February 2023, when he is likely to be sentenced to life imprisonment.
Boatwright's lawyers are claiming that he is not psychologically fit to stand trial but we are waiting to see how all that develops.
XXXTentacion's Last Words Foreshadowed His Death
Just a few days before his death, XXXTentacion made an Instagram post where he said some words that many have now come to believe were his last words. Of course, given that his uncle, and maybe his assailants, were the last people present at his time of death, the words he said in the Instagram post are definitely not his literal last words.
In the absence of any contradicting evidence, we have also come to agree with people who believe the things he said in that IG post were the last words he ever said to the public. He essentially told his fans and young people to chase their dreams with all they've got and not to let anything stand in their way.
He also stated that in the event of his untimely death, he wanted to leave a legacy that young people would emulate without the negative things that came with it.
XXXTentacion's Funeral
XXXTentacion's funeral took place on Thursday, June 28th, 2018, at the BB&T arena, in Sunrise, Florida. To control media circulation there was a strict no-video and recording policy. The guests waited in line just to get a view of the rapper's remains.
A few weeks before his murder, the rapper shot a music video for his song 'Sad.' However, the video was released posthumously. In the video, Tentacion attended his own funeral and the intro began with him staring at himself in a casket. Throughout the 6-minute long video, he was constantly being pursued by the grim reaper.
The video led a lot of people to believe that the late rapper attended his own funeral and that he might have faked his own death but the reality remains that it was just a music video that was completed when he was alive.