There is no limit to heights one can attain in life when one partners with the right person whether in marriage or business. If you doubt this ask Maria Bartiromo and her husband, Jonathan Steinberg. Maria is a well-known journalist, published author, and columnist, who currently works with Fox Entertainment Group while her husband is one of the top players in America's investment management industry. Although the couple had kicked off their careers and achieved a certain level of success before they got married, the decades following their marriage have seen them become far better and achieving more than they ever did before their marriage.
Aside from having successful careers, Maria Bartiromo and her husband are a perfect example for young couples. This is because they have been able to stick together through thick and thin since they wedded in 1999.
Early Life and Background
Maria Sara Bartiromo is a native of Brooklyn, New York and was born on September 11th, 1967. The journalist is the daughter of Italian-Americans, Josephine and Vincent Bartiromo. Her father, who is retired, was the owner of a restaurant in Brooklyn known as Rex Manor. She was raised in Brooklyn, New York City, where she attended Fontbonne Hall Academy in Bay Ridge. After that, she also bagged a B.A in journalism and economics from New York University.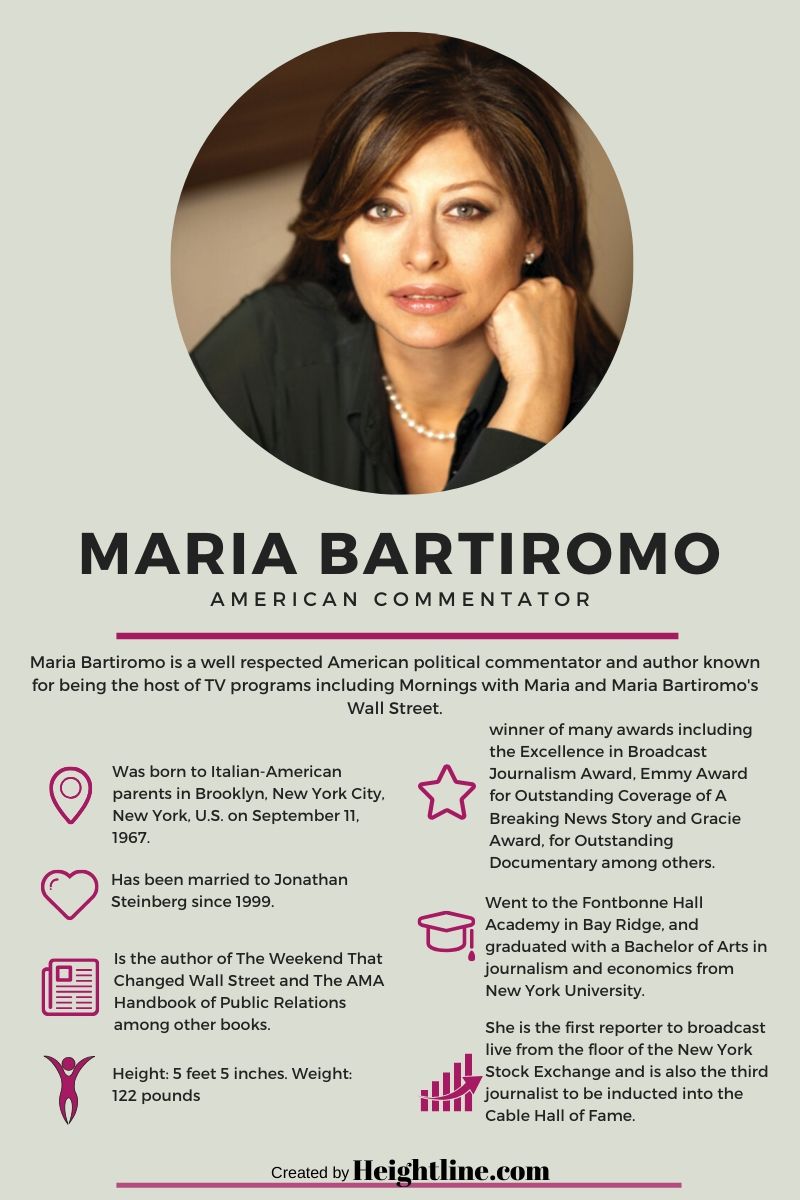 Jonathan Laurence Steinberg, on the other hand, is the son of Manhattan natives, Barbara Herzog and Saul Phillip Steinberg. His father, who died on December 7, 2012, was a known businessman/financier in America. He served as the chief executive of the Manhattan-based property and casualty insurance company named Reliance Group Holdings while he was alive. Following in his father's footsteps, Jonathan attended The Wharton School of Business at the University of Pennsylvania and has grown to become a successful business mogul.
Maria Bartiromo and Jonathan Steinberg's Marriage
Maria Bartiromo and her husband tied the knot in a private ceremony held in 1999. At the time, she was 31 while her husband was 34. The wedding ceremony, which took place in Quogue, N.Y., at the home of Jonathan's father and stepmother, Gayfryd Steinberg, was officiated by Rabbi Peter J. Rubinstein.
The couple has been together for two decades and still counting, nevertheless, they don't have any children. This is not because of any medical condition but a mutual agreement between them. How do we know? In 2012, Maria revealed that it was her choice not to have children, adding that she does not regret the decision.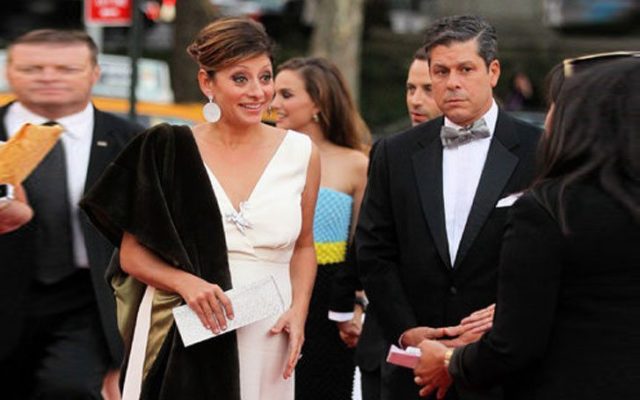 Maria's Journalism Career
Maria Bartiromo and her husband are both career-driven. While the former is living out her dream in the journalism industry, the latter is making waves in the business world. A little about Maria Bartiromo's career has been mentioned above but here is a little more about how it all began. Maria began her career in 1988 as a producer/editor with CNN Business News and after five years, she joined CNBC in 1993 as a reporter. She reported live from the floor of the New York Stock Exchange while hosting and contributing to the Market Watch.
Maria also anchored and served as a managing editor of On the Money with Maria Bartiromo, as well as a variety of other shows, including Closing Bell, The Business of Innovation, and Business Center. She also made guest appearances on TV shows like Real Time with Bill Maher, Late Night with Conan O'Brien, The Oprah Winfrey Show, and lots more.
Bartiromo left CNBC for Fox Business Network in 2013 after spending two decades with the network. She is currently a Global Markets editor at Fox Business Network, as well as an anchor for the Sunday Morning Futures with Maria Bartiromo on Fox News and also an anchor for Fox Business Global Power Players segments. Since 2000, Maria Bartiromo has been covering New York City's Columbus Day parade. She has also shown her acting skills in films and documentaries like Inside Job, The Taking of Pelham 123, Risk/Reward, Arbitrage, and Wall Street: Money Never Sleeps.
Maria has authored three books namely, The Weekend That Changed Wall Street; The 10 Laws of Enduring Success; and Use the News: How to Separate the Noise from the Investment Nuggets and Make Money in Any Economy. She also writes a monthly column for USA Today and has earned some awards for her outstanding performances.
In 2009, Maria was on the Financial Times list of 50 People Who Shaped the Decade. Later on, in 2011, she became the first journalist to be inducted into the Cable Hall of Fame and in 2017, she ranked 2nd in the list of 250 Most Influential Business Journalists, compiled by UK-based company Richtopia. Considering the height she has climbed to, Maria Bartiromo's annual salary is put at $3 Million with an estimated net worth of $22 Million.
Jonathan Steinberg's Career In Investment Management
Before becoming an entrepreneur and recording a lot of accomplishments, Jonathan Steinberg worked in an investment banking firm, Stearns & Co. Inc., from 1986 to 1988. He worked as an analyst in the company's mergers and acquisitions department of Bear. Additionally, he served as the Chairman and CEO of Individual Investor Group, Inc. where he held the position of Editor-in-Chief of Individual Investor and Ticker magazines.
Moving forward, Jonathan established his own company, an exchange-traded fund (ETF) known as Wisdom Tree on September 19, 1985. However, the firm remained inactive until October 1988 and he has served as its Chief Executive Officer from its inception to date. He has also held the position of the company's President since August 2012. Wisdom Tree currently has three different aspects- WisdomTree Asset Management, Inc., WisdomTree Investments, and WisdomTree Trust- and Jonathan is at the hem of affairs in all of them.
Also an author, Jonathan Steinberg is the writer of 'Midas Investing', a book which was published in 1996 by Random House.