Caster Semenya is an intersex woman, identified as female at birth with XY chromosomes and internal testes which causes a naturally elevated testosterone level. She has been married to a former athlete named Violet Raseboya since December 2015.
South Africa is one of Africa's most popular countries due to the number of global icons who call the country home. From Nelson Mandela to Desmond Tutu and Charlize Theron, the country is not short of prominent and appreciated global figures.
Another name on the prestigious list is Caster Semenya, a middle-distance runner and Olympic gold medalist who has been in the spotlight since 2009, both for her talent as a runner and her gender identity.
Just as her trophy cabinet is filled with multiple medals and accolades, so is the number of legal battles and controversy that has surrounded her gender identity – with the IAAF and in public discourse.
In this article, we discuss everything you need to know about her, the controversies and legal battles with IAAF, as well as her personal life. Check it out below.
Is Caster Semenya Biologically Female?
Caster Semenya, whose gender identity is a result of being born with the XY chromosomes, was at the center of another controversy six years later in 2016. After winning the women's 800 meters at the Rio Olympics, fellow competitors, Joanna Jozwik and Lynsey Sharp, suggested her testosterone levels were responsible for her victory.
Caster Semenya's skills and talents as a track athlete haven't come without their challenges. Particularly off the track with the IAAF and the Court of Arbitration for Sport regarding her gender identity.
The Athlete Has Faced A Number of Controversies and Legal Battles With The IAAF About Her Gender
Caster Semenya first experienced the controversy about her gender identity that would plague her career since 2009. This was after she won the World Championships.
Her record-setting performance drew the attention of athletics governing body, International Association of Athletics Federation (IAAF), which subjected her to a sex verification test.
The IAAF never published the result of the test officially but some of it was leaked to the press, showing Semenya has an intersex trait. Public discussions ensued about her right to compete in the women's category, temporarily ending eight months later in July 2010 when the IAAF cleared her to compete in women's competitions.
Even though their assertions flew against the ruling of the Court of Arbitration of Sport in 2015, that high natural levels of testosterone in women had zero impact on female athletic performance. It was enough to spark another round of debate about Caster Semenya's worthiness to compete as an athlete in the women's category.
The growing debate eventually led to a policy change by the IAAF in April 2018, which required female athletes with gender identity issues like Caster Semenya, to take medication to lower their testosterone levels.
Caster challenged the ruling at the Court of Arbitration for Sport but lost when the verdict was delivered on the 1st of May, 2019. She appealed the verdict at the Federal Supreme Court of Switzerland but lost again when the court decided on the 30th of June, 2019.
The court's decision led her to miss the 2019 World Athletics Championships in October 2019.
With more appeals expected in the future, the South African athlete continues to fight for her right to compete in the women's category.
Who Is Caster Semenya's Wife Violet Raseboya?
The South African athlete is married to Violet Raseboya, a former professional athlete. They got married in a well-attended ceremony in December 2015.
The two met in 2007, in a restroom at an athletic event. Despite a charged first meeting where Violet accused Caster of walking into the women's restroom, they became friends and eventually started dating.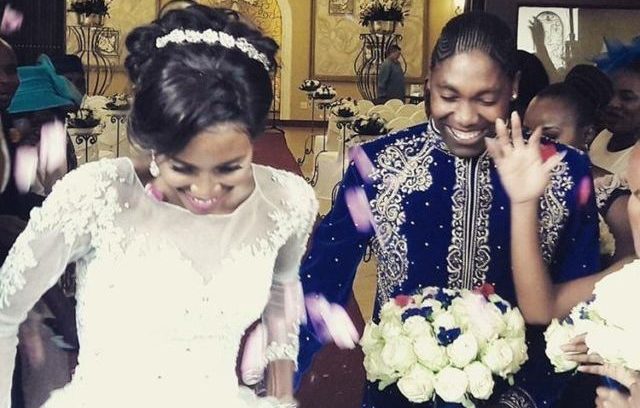 Caster Semenya's gender anomaly might be the cause of drama in her professional life, but not so much in her personal life. Since 2007, Caster Semenya and her wife, Violet Raseboya, have been together, supporting each other's professional endeavors.
A Brief Tour Of Caster Semenya's Background
Caster Semenya was born on the 7th of January, 1991, in a small village called Ga-Masehlong in Polokwane, South Africa. Her parents raised her in Fairlie in the Limpopo Province, along with three sisters and a brother.
Her journey into the world of sports began when she was at Nthema Secondary School, where she competed as a soccer player. Her life as a track athlete started at the University of North West, where she studied Sports Science.
Before going pro, Caster competed in the junior championships, recording victory at the 2008 Commonwealth Youth Games and the African Junior Championships. She also competed at the 2009 World Championships, winning the gold medal in the 800 meters category and announcing herself to the world as she set the year's fastest record.
Since then, Caster, who competes in the 800 and 1500 meters category, has won 14 gold medals, two silvers and one bronze medal, at the Olympics, World Championships, Commonwealth Games, African Games, African Championships, and the Continental Cup.
Key Takeaways About Caster Semenya 
Is Caster Semenya A Man?
Caster Semenya is an intersex woman, identified as female at birth, but with XY chromosomes and testosterone levels that are naturally elevated due to the presence of internal testes.
What is Caster Semenya's Testosterone Level?
Naturally, men have higher testosterone levels than women because of their testes. Over 99% of females have around 0.12-1.79 nmol/L of testosterone in their bodies while that of intersex women like Caster are in the male range of 7.7-29.4 nmol/L because they have internal testes.
Is Caster Semenya Married?
The South African athlete got married to her long-term partner, Violet Raseboya, a former professional athlete, in December 2015. They met in 2007 in a restroom at an athletic event and although they started off of the wrong foot, they eventually became friends and started dating.
Is Caster Semenya a Father?
Caster Semenya and her wife, Violet Raseboya, welcomed their first child, a daughter named Oratile Semenya – Caster Semenya in 2020. In 2022, the couple announced that their second child was on the way. They took to their Instagram pages to share a beautiful picture of Violet putting her baby bump in full display while Caster and Oratile held a small baby vest.