Miguel Ángel Félix Gallardo's net worth is pegged at $1 billion. The former drug lord has been in jail since he was found guilty of multiple offenses.
The Boss of Bosses, El Padrino, or The Godfather as he was called, made a majority of his funds through his drug peddling business, though he has huge stakes in other businesses, including the real estate and more.
Miguel Ángel Félix Gallardo's Net Worth
Miguel Ángel Félix Gallardo is said to be worth a whopping $1 billion. The sum of $500 million reportedly came from the proceeds he made from pedaling cocaine alone. The remaining part of his fortune accrued from the other arms of his business, including real estate.
What are the Sources of Miguel Ángel Félix Gallardo's Net Worth?
Before his imprisonment, Miguel Ángel Félix Gallardo established many income heads in the drug peddling business. As the El Padrino in charge of the Guadalajara Cartel, he opened up new routes for pedaling drugs to different parts of Mexico, including the neighboring US, and his tentacles even got to some parts of Europe. All these drug-pedaling routes were money spinners, bringing in millions of dollars for him and his cartel members.
Apart from the money he made from pedaling drugs, the Godfather was also neck-deep into the real estate industry. He had a property company which he ran alongside his wife, María Elvira Murillo.
Miguel Ángel Félix Gallardo's Early Career
Through the diary he left, it was discovered that Miguel Ángel Félix Gallardo's life wasn't always about drug pedaling. The Godfather recalled his childhood days when his family lived in want and penury. They couldn't even have access to the opportunities available to the average Mexican national.
Thus, upon the completion of his academic journey (he probably stopped at the secondary school level) he enlisted in the Mexican police at the age of 17. His job responsibility was that of a Mexican Federal Judicial Police agent and he was paid the normal salary of every police officer of his rank. However, he considered his wage to be rather too small as it did nothing much in solving his immediate needs.
In fact, the only time that he referred to his income as a policeman, Miguel Ángel Félix Gallardo described it as the cheapest he ever got as a salary.
The department that Miguel worked with during his day in the Mexican police was notorious for their corrupt practices and that was where he started deviating from the straight and narrow into a world of crime, hard drugs, black money, and more.
He became a Bodyguard After Quitting his Job with The Mexican Police
Felix's diary revealed how his career life started having meaning after he landed the job of a bodyguard with Leopoldo Sánchez Celis who was the then governor of his state, Sinaloa. He specifically worked with Celis' son, Rodolf. It was during his time in the governor's employ that he met his future partner, Pedro Áviles Perez, who was also working for the governor as a bodyguard, though Perez was already dealing in drugs.
It didn't take Miguel Ángel Félix Gallardo and Perez long to discover that Celis was a kindred spirit and with his help and political connections, they moved into drug pedaling full-time.
He Made A Lion's Share of his Fortune from Drug Pedaling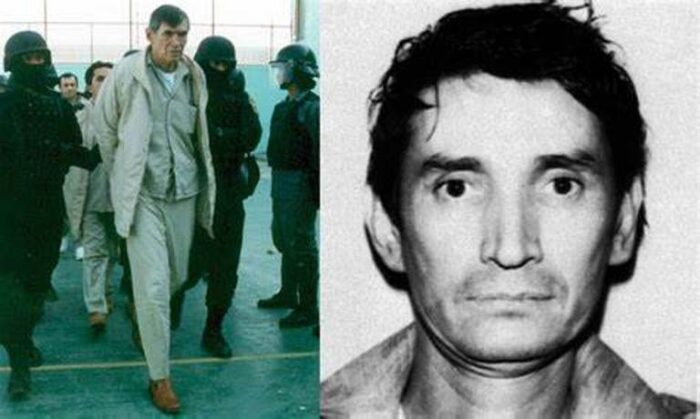 In the long run, Miguel was recruited into Perez's marijuana and heroine enterprise alongside Rafael Caro Quintero and Ernesto Fonseca Carrillo. It happened that Perez lost his life in a shootout with the Mexican police in 1978, leading Miguel to take over the helm of affairs, and consolidated the country's entire drug trafficking scheme under one single operation known as the Guadalajara Cartel.
Following this, Miguel assumed the alias, "El Padrino," or "The Godfather," and "The Boss of Bosses" of the entire Mexican criminal organization.
During the 1980s and 90s, the drug-pedaling business thrived under his watch. The father of the modern Mexican drug trade, as he was called, took charge of all hard substance trafficking businesses in entire Mexico, including the corridors along the borders of the United States and even some parts of Europe.
Even after his incarceration, he continued to reign supreme in the underworld. While in prison, he was shrewd enough to find ways of keeping the cartel alive by dividing the territories among the big names in narcos in Mexico. His nephews and nieces were put in charge of the Tijuana route and Juwan Garcia got the Matamoros corridor.
Miguel Ángel Félix Gallardo's Time as El padrino was a Massive Success
The success recorded in The Guadalajara Cartel under Miguel Ángel Félix Gallardo's watch was unprecedented. He took what Perez left behind to incredible heights. As the empire grew, they acquired a massive Rancho Búfalo marijuana plantation measuring 1,344 acres. This plantation alone was responsible for the production of marijuana worth over $8 billion on a yearly basis.
With more than enough products to sell, Miguel went ahead to break new frontiers by forging a partnership with Medellín Cartel and Cali Cartel in Columbia, and together, the trio started exporting products to all parts of Tijuana.
He was into Real Estate
After his arrest and imprisonment, reports surfaced that El Padrino and his wife, María Elvira Murillo, are owners of the company known as Delia Real Estate. Though the exact amount that comes in from the real estate company was never mentioned, it was said to be raking in a tidy sum.
However, the company was confiscated in 1989 after Miguel Ángel Félix Gallardo was found guilty and jailed for his crimes.
Despite the confiscation of his estates, it was speculated that the Godfather still has up to 50 houses and 200 ranches under his control.
Where Is Miguel Ángel Félix Gallardo Now?
The jail term that Miguel Ángel Félix Gallardo received after he was pronounced guilty was 40 years imprisonment. Consequently, he was moved to Altiplano maximum security prison where he was put in a horrible 8 by 14-foot cell without movement.
There was a time he appealed to the authorities to grant him permission to go and finish his jail term under house arrest, but this request was declined. When his health started failing after he had stayed so long in prison, Miguel was then moved to a medium-security prison located in Guadalajara where he continued serving his time.
It was later revealed that Miguel got an additional 37 years of jail term added to his 40 years. What this means is that he would likely spend 77 years behind bars.
FAQ
What Is Miguel Ángel Félix Gallardo's Age?
Miguel Ángel Félix Gallardo's current age is 77 as he was born on 8th January 1946.
What Is Miguel Ángel Félix Gallardo's Height?
Miguel Ángel Félix Gallardo's listed height is 1.8 meters or 180 cm. He balances his height on a body mass of 68 kg.
When is Miguel Ángel Félix Gallardo's Release Date?
Following his first jail term of 40 years, Miguel's release date was set for the 22nd of September 2022, However, after 37 years was added to his sentence, the previous release date became invalid and no new one has been set for him.