Charlie Tan is an American man currently serving a 20-year jail term at New York's Ray Brook federal prison on federal weapon charges. He became famous for having used a fireman to kill his father, Jim Tan.
Domestic violence and abuse have never ended well in the history of the world, as one party usually ends up dead in the process. This is not far-fetched from the case of Charlie Tan, who grew up in an abusive home where his father abused his mother. In a bid to put an end to his mother's misery, he killed his father. Read on to get the full story of how Charlie Tan ended up in prison.
Did Charlie Tan Shoot His Father?
Yes! Charlie Tan shot his father twice in the chest and finally in the face at close range in their home in Pittsford, New York, the United States, with a shotgun on February 9, 2015. Charlie and his family, including his father, mother, and older brother, Jeffery, lived in China, from where they relocated to Canada and finally to the United States. His father owned a tech company known as Dynamex Imaging, where Charlie once worked before the incident.

Meanwhile, Charlie Tan revealed that while growing up, his father has been abusive, and he watched him repeatedly abuse his mother verbally and physically. After he left home to attend school at Cornell University, he maintained steady communication with his mother because he was scared of what his father might do.
On January 28, 2015, his greatest fear turned real as his mother called 911 to inform them that she was in great danger as her husband tried to choke her. Jim Tan waved the report and tagged his wife as childish, but a deputy visited their home as about 18 calls for the same abuse had been made between 2003 and 2015. This notwithstanding, Jean refused to let the police arrest her husband.
Charlie Killed His Father In 2015
Jean Tan later called Charlie Tan to inform him about the abuse and also told him that she was left unconscious after the torture that she received. She went on to tell her son that the next time she would face such abuse, she might not make it out alive. On February 4, 2015, Jean placed a call to her son, stating that Jim was at it once more with his torture.
This time, the torture hit Charlie differently, as he had one of his friends purchase a gun on his behalf on February 5, 2015. At night, he informed one of his friends about his plans to leave the country. Based on the fact that Charlie was restless, another friend of his noticed it and placed a call to the police, who visited their home that night.
The police talked to Charlie for about 10 minutes that night to keep him calm. He reportedly entered their home through the back door and took the stairs to his father's office, where he shot him. After the incident, Charlie fled his home with his brother and mother to Toronto, Canada, where they got a one-way ticket to China.
However, they gave their action a thought and decided to return to their home to admit their crimes. After they returned home, Jean Tan placed a call to the police on February 9, 2015, informing them that her son murdered her husband while defending her.
The Cornell University student who was a former student council president at Pittsford Mendon High School was arrested after his mother, Jean Tan, called 911. Charlie apologized for killing his father on the day that he was killed, but when he later faced trial, he did not admit to killing his father as advised by his lawyer. Based on the fact that the jury could not give a consentient judgment, the judge declared it a mistrial and eventually dismissed the case.
Why Did Charlie Tan End Up In Prison?
Two years after the homicide case was dismissed, Charlie Tan was re-arrested for the illegal purchase of the gun that he used to murder his father. He later faced trial on three federal crimes, of which two involved luring a friend into purchasing a shotgun for him and another in which he knew that the gun would be used in committing a crime.
The federal sentencing guidelines proposed a 25-year jail term, which is the maximum under the law, but he was later given a 20-year jail term on November 19, 2018. Charlie Tan's attorney pleaded, stating that his father was abusive and that he feared that his father would kill his mother. The convict later stated that there were many ways that he could have handled his father, and if given the chance, he would be a changed person and be of help to the community.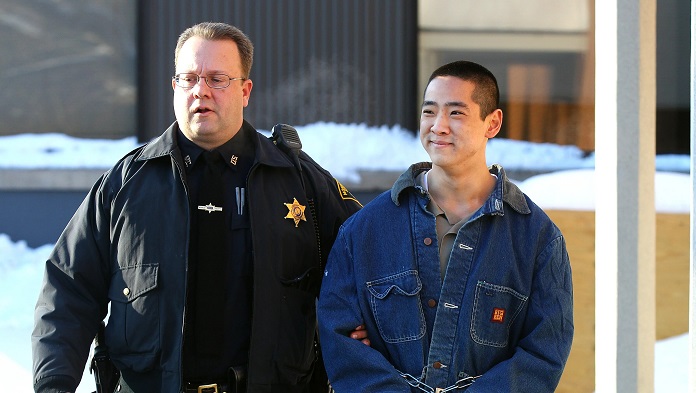 Charlie Tan Was Denied A Reduction Of Sentence
In 2018, Charlie Tan entered a guilty plea in a bid to reduce his sentence, which was presented in court by his attorney. His attorney stated in the documents that the initial trial was done without proof of the documents that show that Charlie's home was abusive, which in turn influenced his actions. This was denied by the Senior United States District Judge based out of Syracuse, who stated that it would not be reduced or altered.
In 2019, the convict pleaded guilty to having murdered his father in order to reduce the weapon charges. In the documents where he wrote about his plea, he stated that he grew up watching his father abuse his mother, which worsened when he got into university. He further stated that the constant and last plea for help from his mother prompted him to commit the crime.
He also revealed that he knew that killing his father would be the end of his future, but after the call that he got on February 4, he was not thinking straight anymore. Meanwhile, all through the trial, his friends always stood by him, and they described him as a kind, gentle fellow.
Where is Charlie Tan Now?
Charlie Tan is currently serving his 20-year jail term at New York's Ray Brook federal prison. The convict, who was sentenced on November 19, 2018, has served 4 years and will complete it in the future.
Meanwhile, though he is incarcerated at the moment, his net worth is experiencing a tremendous increase. While his mother has taken over their family business and is to get half of the company shares, which are about $2.4 million, Charlie Tan is to receive $231,000 in cash from a part of the company, Dynamax Imaging. At the same time, he is maintaining good conduct while in prison, as there has been no record of him getting into any trouble with fellow inmates or guards.