Wenwen Han is a 28-year-old Chinese movie actress, dancer, and violinist best known for her role as Meiyingin in the 2010 blockbuster film, The Karate Kid. After her appearance in the film, Wenwen took a long break from acting and returned in 2018, playing a small role in Ink & Rain.
Wenwen Han is one of the few Chinese actresses who have been able to make a name for themselves both in their home country and in Hollywood. The actress has been able to do so thanks to her role in the 2010 movie, The Karate Kid, which gave her wide exposure and made her one of the most talked-about persons in Chinese cinema for a while.
A multi-talented woman, Han is not just known for her acting as she is also a trained violinist and dancer. It further helps that she is fluent in English and Mandarin, traits that would ensure she enjoys longevity in her entertainment career.
Wenwen Han at a Glance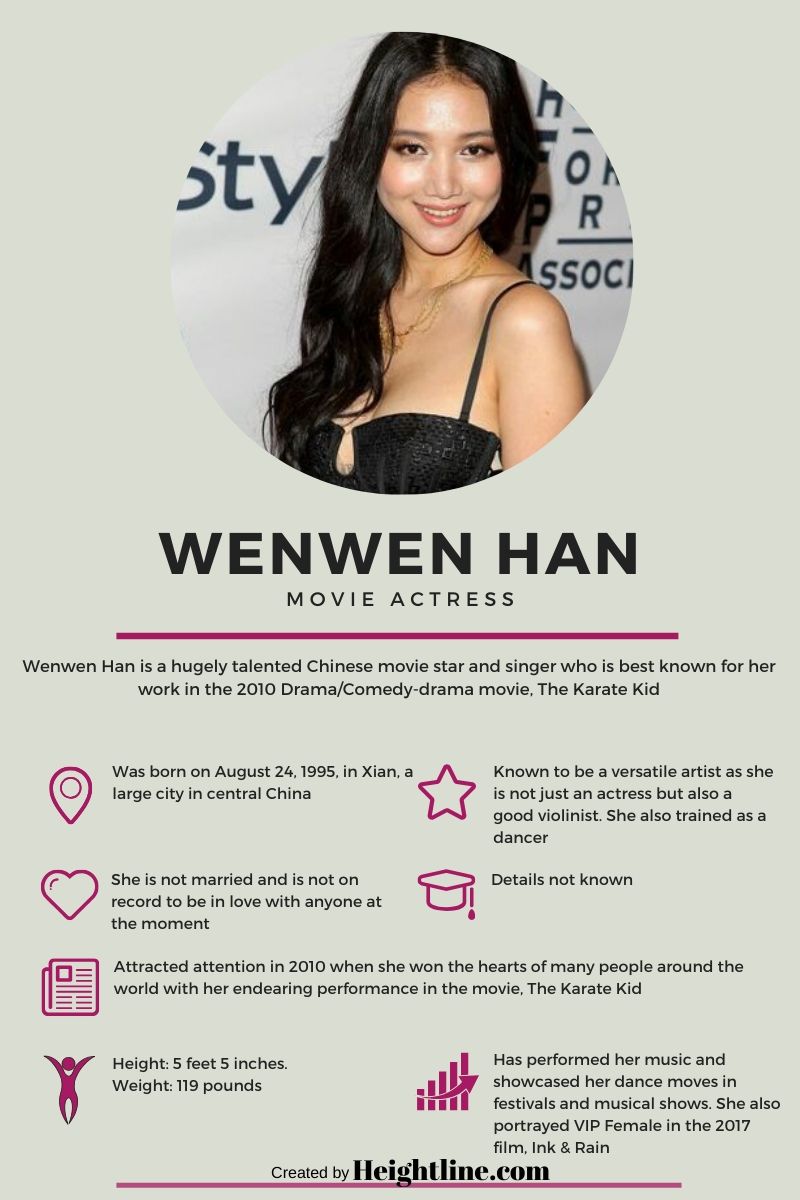 Early Years and Rise To Stardom
In 1995, a year during which China went through different crises, from massive inflation to natural disasters like the Wuding earthquakes, Wenwen Han was welcomed to the world. While most details surrounding her birth and infant years are not public knowledge, it is known that she was born on the 24th of August.
As a child, Han exhibited and showed so much passion for dancing as well as music. We know this because she made it known during an interview in 2010 when she revealed that she was always ready to bust a move at the slightest chance when she was a little girl. As a result of her love for dancing and music, she decided to attend a school of percussion for a limited time where she mastered the art of playing the violin among several other musical instruments.
Wenwen Han later began to play the violin at several local parties and festivals in her hometown of Xian where she gradually started to build a reputation for herself. After achieving fame for her dancing and violin playing ability, the young girl began to aspire to become an actress. She launched her acting career in 2007 when she starred in the TV series Zhong guo xiong di lian.
In 2010, Han got her big break as she was cast to play the character of Meiying in The Karate Kid, a remake of the original 1984 film of the same name. Wenwen Han was certainly excited to be cast to appear alongside other established acts like Jackie Chan, Taraji P. Henson, Jaden Smith, and Zhenwei Wang to name a few.
The Karate Kid was a huge success around the world. With a production budget of $40 million, the film went on to rack in a total of $359.1 million in the box office. It further received many positive reviews from moviegoers and critics.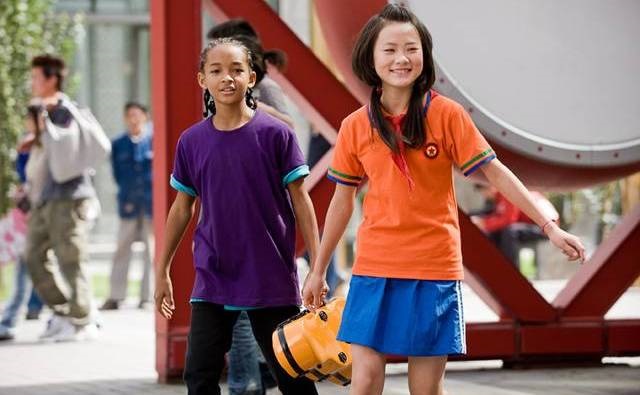 Some Interesting Facts To Know About the Actress' Career
Her First On-Screen Kiss was with Jaden Smith
Wenwen Han's first kiss on-screen was with her co-star in The Karate Kid, American actor Jaden Smith who played her love interest. Talking about the kissing scene, Jaden revealed that Han got a little bit nervous about kissing him but he helped calm her down and made sure that she was comfortable about it which eventually got the job done.
Wenwen Han Took a Break from Acting After The Karate Kid
After playing her breakout role in The Karate Kid, Wenwen Han did something that surprised many people who followed her progress as an actress. She disappeared from the screens, apparently taking a break from acting.
It was widely expected that Han would build on the momentum she had gained by starring in The Karate Kid to take her acting career to the next level. However, the opposite happened as she went silent soon after portraying the role of Meiying in the movie. As a matter of fact, it took her 8 years to appear in her next movie which was the Action/Drama/Fantasy movie Ink & Rain where she played the role of a VIP female.
Other Achievements Outside Acting
The main reason why Wenwen Han supposedly decided to take a break from acting has been revealed to be her desire to actually focus more on her musical career. Things appear to have gone on very well for her in that regard as she has been able to perform in several top musical shows and Festivals in China and other parts of Asia.
Her Love Life Has Been a Point of Interest
Fans of Wenwen Han have been itching to know more about her relationship status now that she has clearly become of age. The Chinese actress has on several occasions been rumored to be in a relationship with one or two other people but all this has been proven to be false as she has clearly stated that all her attention is on her career.
Han, however, made sure to mention that she hopes to find love someday, get married, and start her own family.
How Tall is Wenwen Han?
With the average height of women in China reported to be 5 feet, Wenwen Han certainly qualifies to be described as tall as she has a height of 165 cm (5 feet 5 inches).
In addition to her height, the actress is reported to have a weight of 45 kg. Her other body measurements are bust size – 29 inches, waist size – 21 inches, and hips that measure 31 inches, all of which contribute to giving her a sexy figure.