Dean Martin was not gay as he was married three times and had eight children in his lifetime. The American actor, singer, and comedian certainly lived in a time when sexual orientation was not openly discussed, but he never did anything to suggest that he favored same-sex or bisexual romantic relations.
The most likely reason for Dean Martin's sexuality being questioned sometimes would be his close relationship with fellow comedian Jerry Lewis during the early years of his career both as an actor and a comedian, a relationship that was strictly professional and friendly, at least before it crashed. Regardless, the question of Dean Martin's sexuality still occasionally rears its head even years after his demise; but this article hopefully lays to rest any lingering doubts that he was a heterosexual man.
Was Dean Martin Gay?
Dean Martin was not gay, however, the fact that he had several heterosexual romantic partners has not stopped several people of Gen Z from occasionally raising questions about his sexuality.
Born Dino Paul Crocetti on June 7, 1917, to Italian father Gaetano Alfonso Crocetti (1894–1967) and Italian-American mother Angela Crocetti (née Barra; 1897–1966), Dean Martin was one of the most popular entertainers of the mid-20th century American society. It was a status that earned him the nickname The King of Cool.
He started his solo career as a performer and actor in 1956 before establishing a singing career that saw him record several contemporary songs, including Ain't That a Kick in the Head?, Memories Are Made of This, That's Amore, Everybody Loves Somebody, You're Nobody till Somebody Loves You, Sway, and Volare.
He began hosting his own TV variety program known as The Dean Martin Show in 1965, which focused on his singing and comedic talents and properly showcased his easy-going personality. He spent ten years from 1974 to 1984 as roastmaster on the well-known Dean Martin Celebrity Roast, which was a hotbed for several celebrities, including politicians and comedians.
Dean Martin's Relationship With Jerry Lewis was Strictly Professional and Friendly
Throughout his life and career, Dean Martin formed close relationships with several other celebrities, including Frank Sinatra, Sammy Davis Jr., and Jerry Lewis, all of which were fully friendly and professional. However, one would be hard-pressed to argue against the fact that he was more close to Jerry.
Their collaboration and subsequent friendship began in the early days of Martin's career, which essentially started in 1946, the same year he teamed up with Lewis to form one of the most-recognized entertainment duos in the country. The 16 successful films and several other shows they made and were involved in together were a testament to the strong bond connecting them.
However, not unlike several relationships, their friendship ended, and not in a good way. Several factors were touted as being responsible for the demise of that friendship, but none were more prominent than the suggestion that Lewis' workaholic nature, as opposed to Martin's more laid-back personality, meant that the former was the one carrying the duo professionally.
It was also assumed that the strained relationship between the duo and each other's wives at the time contributed significantly to the end of the relationship. After the split in 1956, Lewis and Martin did not speak to each other for twenty years, a situation they later admitted was stupid.
Regardless, they were reconciled in September 1976 by mutual friend Frank Sinatra, who arranged a surprise appearance by Martin on Lewis' annual Labor Day telethon for the Muscular Dystrophy Association.
He only intimated what was about to happen by stating that he had a friend who loved what Lewis did every year. Martin and Lewis were grinning from ear to ear as they hugged and reportedly spoke to each other every day afterward.
Throughout Dean Martin and Jerry Lewis' time together, people talked about them as a pair in several contexts, but they were never viewed as a homosexual couple, nor did they do anything to put such ideas in anyone's mind, as both were very married during that time.
Who Were Dean Martin's Spouses?
Speaking of being part of the marital institution, Dean Martin was married for thirty-five of the seventy-eight years he spent on this earth, albeit to three different women, namely: Elizabeth Anne "Betty" McDonald, Dorothy Jean "Jeanne" Biegger, and Catherine Hawn.
His marriage to his second wife, Jeanne, was the longest he spent as a married man, staying in the marriage for slightly over two decades, more than twice longer than his union to his first and third wife combined.
While two of the three women he married have also passed on, it is worth taking a look at who they are or were, as the case may be, and what their lives are/were like before, during, and after their marriage to the late comedian. We hope that in doing so, the reality of those heterosexual relationships and subsequent marital unions would serve as definitive proof that Dean Martin was not gay.
Dean Martin's First Wife was Betty McDonald
Dean Martin's first wife was a woman named Betty McDonald. The now-deceased former couple were married to each other for eight years, from 1941 to 1949.
Betty McDonald, Martin's first wife, was born Elizabeth Anne McDonald on July 14, 1922, in Ridley Park, Delaware County, Pennsylvania, United States of America, to an American couple known as William McDonald (1897-1975) and Gertrude Louise O'Neill (1897-1970). She reportedly grew up with four sisters, none of whom much is known about.
Betty, as she was fondly called by close friends and family members,  spent eighteen years of her life in Swarthmore, where she obtained her high school diploma after becoming one of the members of the graduate class of 1940 at Swarthmore High School.
Beyond her academic responsibilities, she was also an exceptional athlete who went on to captain both the lacrosse and hockey teams during her senior year in high school. We have yet to ascertain whether she attended college afterward.
Dean Martin Married Betty McDonald in 1941
Betty McDonald's primary link to the spotlight was the fact that she became the first woman to legally address Dean Martin as her husband. There is next to no piece of information about how or where she met the comedian, but several sources have alleged that they met for the first time in 1939.
It didn't take them long to commence a committed romantic relationship which also reportedly lasted for one year. Having been convinced that they were right for each other, Dean popped the question, and they were married in front of their closest friends and family members on October 2, 1941.
Martin's Marriage to Betty McDonald Ended After About Eight Years
Throughout their time as a married couple, Dean and Betty managed to have four children together, namely Craig, Claudia, Gail, and Deana, and the future looked bright for them as a family who later experienced the feeling of being in the spotlight after Martin's career kicked off five years later in 1946.
Like most celebrity marriages, though, Betty's with Martin was faced with challenges it ultimately failed to overcome and eventually led to the end of the marriage.
One of those challenges was centered around the realistic possibility that the comedian was cheating on Betty. Another equally realistic theory is linked to Betty's battles with the demon of alcoholism, battles that prevented her from being the right sort of mother for her and Dean's children.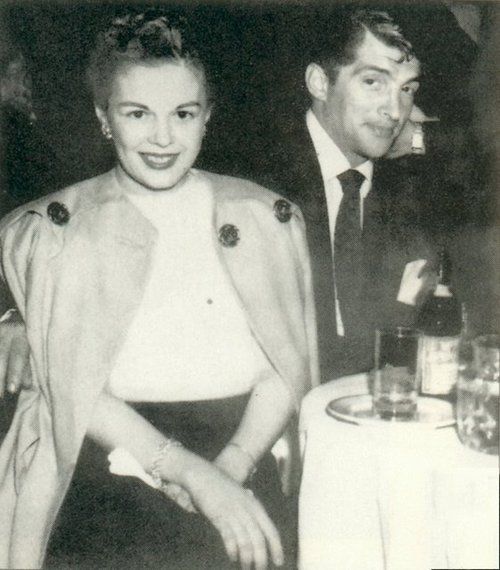 In the end, that lifestyle was more than the comedian could tolerate, and he initiated divorce proceedings to bring an end to the marriage. His divorce petition was granted in 1949, essentially bringing an end to the two years shy of a decade-long marriage between the former couple.
The saga did not end there because Dean got to retain legal custody of all four children he had with Betty. Whether the terms of the custody situation required him to have full or partial custody remains to be seen, even though it's likely that the former is the case because of Betty's struggles with alcoholism.
It's also quite likely that the late actor strong-armed her into going for it because of her troubles with the bottle. Not much was heard about Betty after her divorce from Martin, with several reports claiming that she quietly lived out the rest of her life in San Francisco, away from the spotlight that came with being the late comedian's spouse.
Dean Martin's First Wife Died at the Age of 66
Betty McDonald died in her San Francisco home on July 11, 1989, three days away from her 67th birthday, which means that she was still 66 years old when she passed on. So far, the cause of her death has yet to become public knowledge but funeral services were held in California, where her body was cremated and the ashes scattered over San Francisco Bay.
Even though she was cremated, there is still a discovery grave standing in her memory in San Francisco.
Jeanne Biegger was Dean Martin's Second Wife
The theory that Dean Martin was cheating on Betty McDonald, his first wife, becomes all the more likely with the fact that he married his second wife, Jeanne Biegger, almost immediately after his divorce from Betty was finalized.
Jeanne Biegger was born Dorothy Jean Biegger on March 27, 1927, under the birth sign of Aries, in Coral Gables, Florida, United States. Not much information is available about her birth family or her formal educational background.
Her link to the spotlight extends beyond the fact that she was Dean Martin's second wife. She was also a model and an actress. It's been confirmed that she changed her name to Jeanne following the start of her modeling career, which began in Miami. Her modeling achievements include the fact that she was voted Orange Bowl Queen in 1947.
As an actress, she went on to appear on several television shows, such as The Dean Martin Show and I Love Lucy, all during her more than two-decade-long marriage to Dean.
She was Married to the Late Comedian For About 24 Years
Dean Martin's marital union with Jeanne lasted longer than both of his other two marriages combined. He and Jeanne exchanged marital vows on September 1, 1949, in Beverly Hills, California, reportedly just one month after his divorce from Betty was finalized.
It's interesting to note that there was a 10-year age difference between Dean and Jeanne, but it did not stop them from falling in love with and subsequently becoming romantically involved after meeting for the first time on New Year's Day 1949 at a show held at the Beachcomber Club in Miami where Dean and his then-partner Jerry Lewis were performing.
As a couple, Dean and Jeanne had three children together: Dean Paul, Ricci, and Gina Martin, but she also raised the singer's four kids from his first marriage as if they were hers. The union, however, ended in 1973 after lasting for about 24 years.
The reason for the divorce is still unknown, but Jeanne never remarried, not even to her ex-husband after they briefly bonded over the death of their two sons.
Jeanne Died From Cancer Complications In 2016
Jeanne Bieger, Martin's second wife, lived to the ripe old age of 89 before giving up the ghost on August 24, 2016, at her Beverly Hills home in California. She was diagnosed with cancer a few years before her eventual death, and it was the complications from her ailment that led to her death.
Three weeks before her death, she had experienced the misfortune of burying her son Ricci, her then-only surviving son, following the death of his brother Dean Paul years earlier. Her grave site is located at Westwood Memorial Park, near Dean Martin's crypt.
Catherine Hawn was Dean Martin's Third Wife
Dean's third married spouse, Catherine Hawn, was born Catherine Mae Hawn on November 30, 1947, in Steubenville, Ohio, United States. Her birth sign is Sagittarius, and she is currently 76 years old. She is also the only one of the late singer's three wives who is still alive.
Details of her early life and academic qualifications have yet to become accessible to the media and general public, but before she became the third wife of Dean Martin, she worked as a receptionist at a Rodeo Drive hair salon. She later appeared in an episode of The Merv Griffin Show as Mrs. Dean Martin. The episode she appeared in aired on November 23, 1973.
Catherine's Marriage to the Late Comedian was the Shortest
It is yet unclear how they met, but we can confirm that Catherine legally became Dean's wife following a wedding ceremony that took place on April 25, 1973. However, that union was the shortest of the late singer's three marriages.
They separated in 1976 and finalized their divorce the same year. Despite never having any children together, Dean adopted Catherine's daughter Sasha, a child she had from a previous marriage.
Dean Martin's Children and Grandchildren
In all, the talented late comedian, who died in 1995, had 8 children, one of whom was adopted during his lifetime. Below is a highlighted list of those children and the women responsible for bringing them into this world.
List of Dean Martin's Children
With First Wife Betty McDonald
Craig Martin (born June 29, 1942).
Claudia Martin (deceased, born March 16, 1944, died February 16, 2001).
Barbara Gail Martin (born April 11, 1945).
Deana Martin (born August 19, 1948).
With Second Wife Jeanne Biegger
Dean Paul Martin (deceased, born November 17, 1951, died March 21, 1987).
Ricci Martin (deceased, born September 20, 1953, died August 3, 2016).
Gina Martin (born December 20, 1956).
With Third Wife Catherine Hawn
Sasha (adopted by the comedian)
List of Dean Martin's Grandchildren
Mickey Guerin (via Deana Martin)
Alexander Gunther Martin (via Dean Paul Jr.)
Montana Martin (via Ricci Martin)
Rio Martin (via Ricci Martin)
Pepper Martin (via Ricci Martin)
Jesse Martin (via Claudia Martin)