Vin Diesel is 5 feet 11 inches (1.83 m) tall and his weight is given as 102 kg or 225 lbs
Vin Diesel may hold sway as the face of the multibillion-dollar Fast and Furious franchise, but he is by no means the tallest actor to have worked on that movie. He is also not the shortest but just about hangs in the middle realm. These differences are not easily discernible though as the makers of Fast and Furious, who are already renowned for their mind-blowing special effects, have a knack for making their leading stars appear at the same height. Be it bringing up a shorter star to eye level with a much taller co-star or reducing the height of another actor to match that of another, the Fast and Furious team makes it difficult to decipher the real height of their co-stars on screen. We can, however, make a credible calculation once they are off the set, and in the case of Vin Diesel, he is of average height but not a giant.
Profile Summary of Vin Diesel
Full Name – Mark Sinclair Vincent
Age – 55
Date of Birth – July 18, 1967
Place of Birth – Alameda County, California
Nationality – American
Height – 5 feet 11 inches or 1.80 m
Weight – 102kg or 225lbs
Biceps – 46 cm (18 inches)
Chest – 132 cm (52 inches)
Waist – 87 cm (34 inches)
Shoe Size – 11
Father – Irving H. Vincent
Mother – Delora Sherleen Vincent
Siblings – Paul, Tim, and Samantha Vincent
Partner – Paloma Jimenez
Education (schools attended) – Hunter College, New York City
Net Worth – $225 million
How Tall is Vin Diesel?
Some sources put the actor's height at 5 feet 10 inches (1.77 m) while others say that he is 6 feet tall (1.83 m). If you average it out, it means that Vin Diesel is 5 feet 11 inches or 1.80 m tall. While this won't exactly have NBA agents drooling over the actor, there is no doubt that he is taller than the average individual out there. For instance, data from the CDC shows that the average American man is 5 feet 9 inches (1.75 m) tall while the average American lady over 20 years of age is 5 feet 4 inches (1.62 m) tall.
It, therefore, means that Vin Diesel is two inches taller than most of his male compatriots and seven inches taller than the average American lady out there. The situation is the same thing when narrowed down to the movie industry. The average Hollywood actor is 5 feet 10 inches tall (1.77 m) while the average Hollywood actress is 5 feet 5 inches (1.65 m) tall. It, therefore, means that Vin Diesel is one inch taller than the average Hollywood actor out there and six inches taller than the majority of the actresses out there.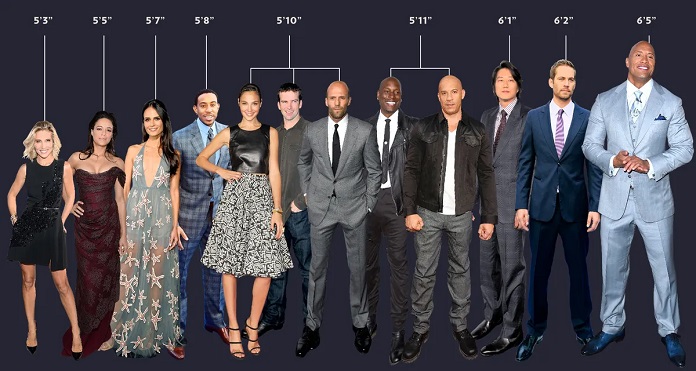 Vin Diesel Weight and Other Body Measurements
Vin Diesel is now in his 50s but you can hardly tell going by his physique. The Fast and Furious star boasts of a ripped body which would put most gym rats to shame. Diesel maintains his physique by putting in some quality time in the gym. He doesn't spend a lot of time exercising though but has learned to be smart about his workout. According to the actor, he starts out each session by shocking his muscles with two sets of powerlifting before then going into higher-rep sets afterward. The result is a physique that is to die for which comprises of the chest – 132 centimeters (52 inches), waist – 87 cm (34 inches wide), and biceps – 46 cm (18 inches wide). Vin Diesel's weight is put at 102 kg or 225 lbs.
Vin Diesel Height Compared to Fellow Hollywood Stars
Vin Diesel and Dwayne 'The Rock' Johnson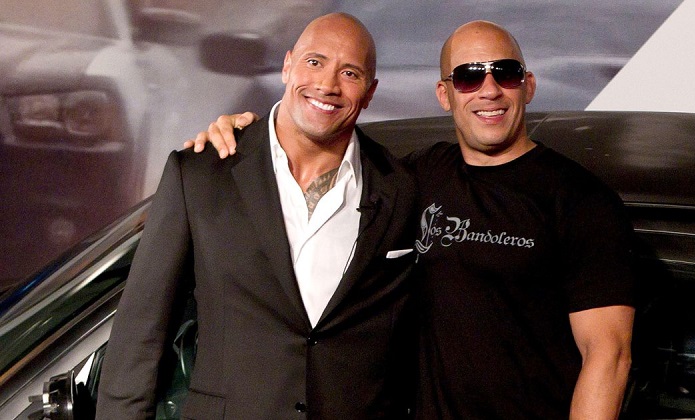 Ever since he joined the Fast and Furious franchise in 2011's Fast Five, Dwayne Johnson has become a household name there, appearing in a total of four films as well as the blockbuster spinoff, Hobbs & Shaw. His future appearances are now in danger though thanks to a feud with Vin. Johnson has complained about stars who don't conduct themselves professionally and the main target is Vin who has been known to turn up late for shoots. It is unknown how the feud will pan out but one thing that is certain is that Dwayne Johnson wins the height battle. The Rock is 6 feet 5 inches tall which makes him six inches taller than Vin Diesel.
Vin Diesel and John Cena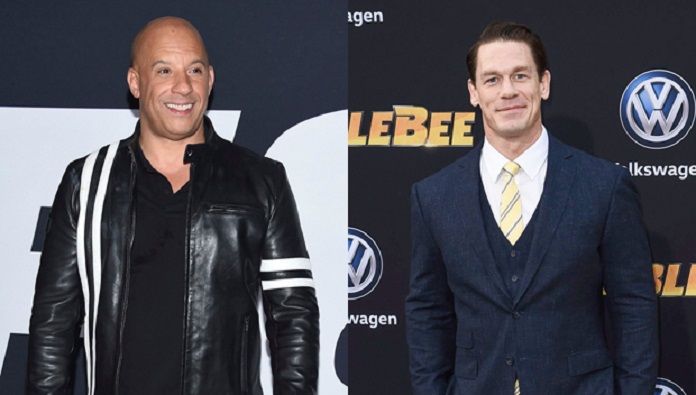 While Dwayne Johnson has no qualms about saying goodbye to the Fast and Furious franchise, one person that is relishing the opportunity to be a part of the family is John Cena. The WWE star debuted with a bang in 2021's F9 as Jakob Toretto, the long-lost brother of Diesel's character – Dom. A high-performance driver and deadly assassin, Jakob is the main antagonist and goes head to head with his brother in some crunching fight scenes. A look at these fight scenes will show the two stars at the same eye level but this must be due to the creativeness of the Fast and Furious crew. In real life, John Cena is 6 feet 1 inch (1.85 m) tall which makes him three inches taller than Vin Diesel.
Vin Diesel and Bruce Willis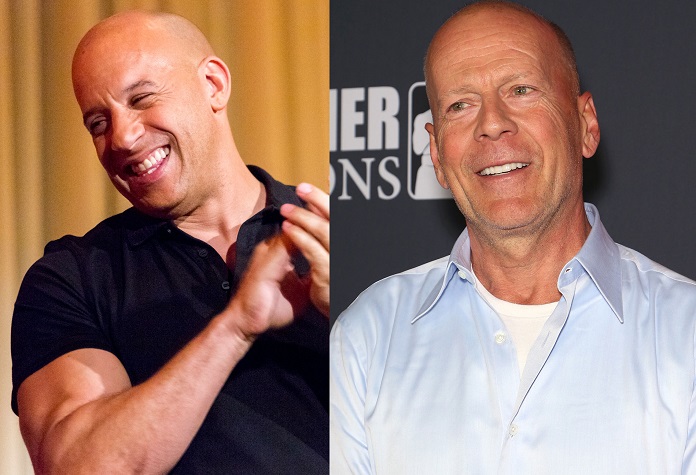 Before Vin Diesel took over as the most popular action hero of modern Hollywood, that honor belonged to the likes of Bruce Willis thanks to his iconic Die Hard films. There is now the inevitable comparison between these two generational stars and many have been wondering who would triumph if both men were to duel against each other.
Some believe that Willis will come out on top while others tip Diesel to finish the job. We may never get an answer to the puzzle but when it comes to height, Bruce Willis is 6 feet (1.83 m) tall which makes him two inches taller than Vin Diesel.
Vin Diesel and Tyrese Gibson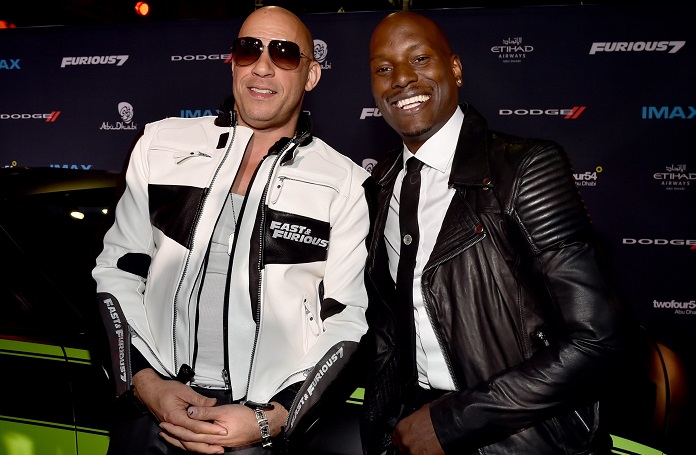 One Fast and Furious star that is the same exact height as Vin Diesel is Tyrese Gibson. Just like Diesel, Gibson stands at 5 feet 11 inches tall. A former singer and model, Gibson transitioned into films in the early 2000s and is now synonymous with the Transformers franchise as well as the Fast and Furious franchise. In the latter, he plays the role of Pearce, an ex-con who goes undercover to catch a drug lord in exchange for the erasure of his criminal record.
Vin Diesel Height Compared To Long-Term Partner Paloma Jimenez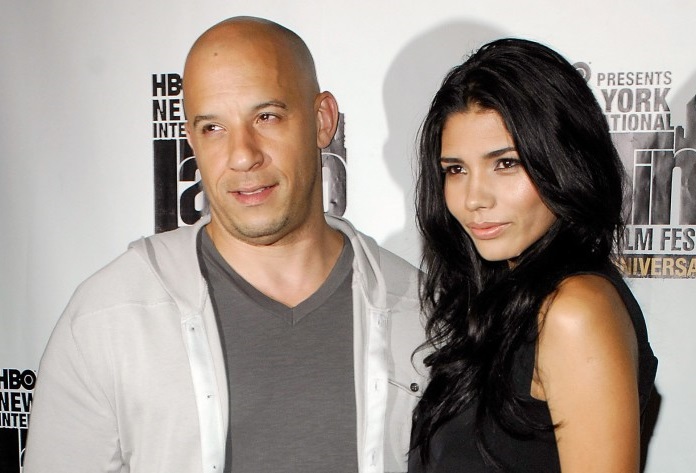 Vin Diesel is just an inch taller than his long-term partner, Paloma Jimenez, whose height is put at 5 feet 10 inches or 1.77 m. Jimenez is a Mexican-born actress and model and she and Diesel have been going steady for more than a decade. They have three children together namely Haina Riley, Vincent and Pauline.
Diesel is notoriously private about his romance with Jimenez and makes no apologies for it. Therefore, it is a herculean task to uncover why the couple has not bothered formalizing their vows despite the longevity of their romance.