Victor Lindelof made his first appearance as a professional footballer on English soil on 14th October 2017. He is a young center and optional right back from Sweden with lots of opportunities that are guaranteed to take him to the top of his career with plenty recognitions and accolades trailing after him. As we watch him spoil the play of opposing teams coming to go past him for a goal, let's take a look at his biography, and other unknown details about him like his girlfriend, body measurements, etc.
Victor Lindelof's Bio
Named Victor Jorgen Nilsson Lindelof when he was born on 17 July 1994, he has as his sibling Zacharias Nilsson Lindelof while their mother's name was given as Ulrica Lindelof. There are no details about the identity of his father and other siblings or even if he has any.
Lindelof's early life revolved much around football as a result of which he joined and played in many Vasteras-based clubs like Vasteras SK, IK Franke, and Vasteras IK. In Vasteras SK where he played as a youth, Victor Lindelof helped the team gain promotion to the Superettan; the second highest league in Swedish football.
Having proved himself as a youth in his home country, the lad set course to ply his trade abroad when Portuguese club Benfica signed him on December 1, 2011. He won the Portuguese Under-19 championship with S.L. Benfica Juniors which got him a place in the first team.
Victor continued his impressive form whenever he was called up to play on the pitch. He saw his first UEFA Champions League action against Zenit Saint Petersburg on 16th February 2016 in a round of 16 matches which his side won at home. The Swedish defender continued to put in an impressive performance throughout the rest of the season and in every match he lined up for his Portuguese club side. It was for this reason that he got Manchester United "The Red Devils" in faraway England interested in bringing him to Europe.
In all, he played a total of 96 matches with 4 goals for Benfica B in the Segunda Liga. Coming over to the Primeira Liga with Benfica (2013-2017), Victor Lindelof played 48 matches from which he had 2 goals as a defender to be remembered by.
At Old Trafford, Lindelof had a difficult time finding a first-team pick in the star-studded English club side which bought him off Benfica for a four-year €35 million (€10 million potential in add-ons). The announcement of his signing was made on 10 June 2017 and he passed his medical on 14 June as the contract became effective on July 1, 2017. Lindelof was fielded for a 2017 UEFA Super Cup match against Spanish football giants Real Madrid. It would then take another 2 months before he made his debut in the English Premier League as a substitute against Liverpool on October 14, 2017. Since then, the Swedish defender has gone on to impress both the club's coach Jose Mourinho and its fans whenever he is on the field.
See Also: Paul Pogba Height, Weight, Age, Girlfriend, Religion, Brother
Who is His Girlfriend?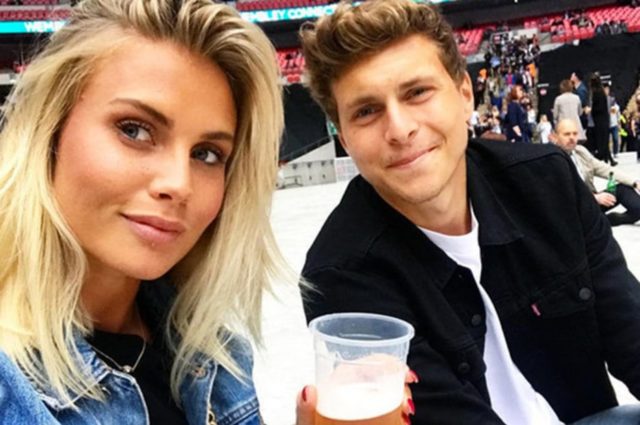 Victor Lindelof has as his girlfriend Swedish beauty Maja Nilsson. It is not yet known how the two met, but being that she has been with him right from his time at Benfica, we can as well assume that they have both known each other for quite some time and everything seems to be going just perfect between them.
From what we know about her, Maja Nilsson works as a professional marketer and also writes on Femme, a Swedish blog where she has written a guide about Lisbon, Portugal. On her social media pages; particularly Instagram, the belle keeps her fans updated about events in her life as well as that of her beau who she is undoubtedly his biggest fan.
Around June 2017 in a post she made on her Instagram, Maja made known her engagement to Victor Lindelof during their holiday in the Maldives. There is no doubt that this two are deeply committed to each other and probably soon, we will hear their wedding bells ringing just as Lindelof's fellow Red Devils defenders; Chris Smalling and Phil Jones did in June 2017.
Height, Weight, Body Measurements
The defender who can play both center back and right back stands at a height of 1.87 m or 6 feet 2 inches, weighing about 80 kg. His other body measurements like his biceps, waist and chest measurements have not yet been disclosed.