Vernon's parents are Simon Choi and Melody Chwe, an artist and art teacher respectively. He has just one sibling, Sofia Chwe (sister). Owing to the fact that he looks so much like popular Hollywood actor Leonardo DiCaprio, a lot of people think they are related, but that is wrong. The entertainers have no form of biological relationship. 
Korean musicians are gaining more fame and attention as the days go by; one of such popular K-pop artists is Vernon from the band Seventeen. 'Vernon' is the stage name of Korean-American rapper Hansol Vernon Chwe. He is best known as the main rapper of his hip-hop boy band – Seventeen; which is why many now know him as Vernon Seventeen.
Unlike its name, the group is made up of 13 members grouped into 3 sub-units: the Hip-Hop Unit to which Vernon belongs, the Vocal Unit and the Performance Unit. Due to the large size of the group, they are able to pool their different talents together and therefore most of their songs are self-produced.
Vernon Seventeen came into the limelight as Seventeen's lead rapper through a reality TV series titled Seventeen TV which culminated in a TV show Seventeen Project: Big Debut Plan. The show aired in May 2015. He went on to compete on Mnet's Show Me the Money 4.
The Seventeen band released its first EP titled 17 Carat which was featured on Billboard's 10 Best K-pop Albums of 2015. Its second EP titled Boys Be turned out to be the highest-selling rookie album of 2015. All that success landed Seventeen a spot on Billboard's 21 Under 21: Music's Hottest Young Stars list for the year 2015.
Quick Facts About Vernon's Family
Hansol Vernon Chwe is of mixed ethnicity; while his father is from South Korea, his mother is a Caucasian American. His father Simon Choi is an artist while his mother Melody Chwe is an art teacher. The rapper has only one sibling, a sister named Sofia Chwe. His middle name "Vernon" is actually his mother's maiden name. Coincidentally, the rapper also adopted it as his stage name. The rapper was born in the United States but the family later relocated to South Korea while Vernon was five years old.
Relationship Between Vernon Of Seventeen And Leonardo Dicaprio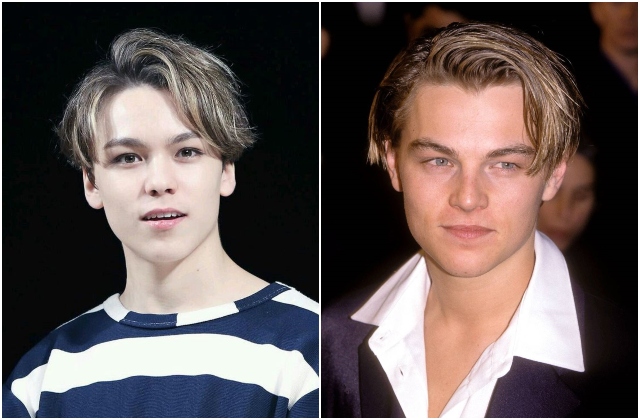 Thanks to his good looks, a lot of Vernon's fans are of the opinion that he bears some resemblance to popular Hollywood actor, Leonardo DiCaprio. Seventeen's lead rapper, Vernon, is often referred to as the Leonardo DiCaprio of K-pop. However, many have even taken it a notch higher by concluding that indeed, the 2 entertainers are actually related.
However, there is no blood relationship between the Hollywood actor and the young rapper. While Vernon is totally flattered by the comparison, he admits that he feels embarrassed sometimes.
Other Interesting Facts About Vernon Of Seventeen
• Seventeen's Vernon was born on February 18, 1998, in New York, USA. However,  as previously mentioned, at the age of 5, his family moved to South Korea where he was raised in the Hongdae neighborhood of Seoul, the capital city of South Korea.
• For his education, Vernon had his elementary education at Ewha University Elementary School.
• Vernon developed a passion for hip-hop at an early age and as a teenager, he got signed on to the record label Pledis Entertainment.
• The rapper also featured on the talent reality series Seventeen TV which was broadcast online. The show chronicled Vernon's training among other young talents and also helped them to build an early fanbase. The grand finale of the show was a live showcase on May 26, 2015, which marked the group's debut.
•  Soon after, the group released their debut EP titled 17 Carat on digital platforms. 17 Carat outlasted every other K-pop album on the US chart in 2015. The group's second EP Boys Be was a huge commercial success and also earned them well-deserved critical acclaim at the Seoul Music Awards, Golden Disk Awards among others.
• 2015 was indeed a massive year for Seventeen and the group ended the year with a music concert tagged 2015 Like Seventeen – Boys Wish. The concert which was held in December 2015 was a massive success and thus, was succeeded by two similar concerts tagged Like Seventeen – Boys Wish Encore Concert in February 2016.
• The group announced "Carat" as the official moniker of their fan club on February 14, 2016.
•  On April 25, 2016, Seventeen released its 1st studio album titled Love & Letter. The album was a success and also made its way into international music charts. The album was later repackaged to include another single "Very Nice", which became the album's lead single. This was followed by the group's first Asian tour which had them perform in South Korea, Japan, Singapore, Australia, and China. Seventeen released their third EP titled Going Seventeen on December 5, 2016, and its commercial success surpassed that of their debut album.
• Vernon has featured in several music videos, including that of the single Falling by Man K and that of My Copycat by Orange Caramel.