Valerie Adams is a retired shot putter from New Zealand who stands at 193 cm (6 feet 4 inches). 
She is among her nation's most successful and celebrated Olympic athletes and as such, it comes as no surprise that her name always strikes a chord whenever it's mentioned. Possessing a perfect physic for the sport from a very young age, Valerie actively took part in sports as a school girl. Thanks to a Physical Education teacher in her school who supported and guided her, she participated in the regional junior athletics day at the age of 13 and smashed records.
After years of staying committed to preparing herself for making it big as a sportsperson, she eventually took part in the 2001 World Youth Championships and won. While this was her first major victory, it marked the beginning of many more wins and achievements for which her country will always be proud of her.
Summary of Valerie Adams' Biography
Full name: Dame Valerie Kasanita Adams
Date of birth: 6 October 1984
Place of birth: Rotorua, New Zealand
Age: 38 years
Nationality: New Zealand
Height: 195cm (6 ft 4 in)
Weight: 118kg (260 Ib)
Father: Sydney Adams
Mother: Lilika Ngauamo
Siblings: Lisa Adams, Steve Adams, Warren Adams
Husband: Gabriel Prince (married 2016); Bertrand Vili (married 2004 – 2010)
Occupation: Athlete
Net worth: $1 million (estimated)
Valerie Adams was Born 38 Years Ago in New Zealand
Valerie Kasanita Adams was born on the 6th of October, 1984, in Rotorua, New Zealand. Her father, Sydney Adams, settled in New Zealand after active service in the Royal Navy. He had a total of 18 children with five women. Valerie Adams' career started back in high school; her physical educationE teacher had spotted the gold lying within her and took a personal interest in harnessing it. Though shy and mocked by her mates because of her height, this was the beginning of her greatness.
Unfortunately for Valerie, an ugly incident occurred shortly after she started her competition at the age of 14. Her Togan mother, Lilika Ngauamo died of cancer when she was 16 years of age. You can imagine what effect this will have on a young and promising teenager. It left her with an unforgettable scar; though devastating, she was able to pull through to a safe landing, that's why we can all hear about her today.
She has won Numerous Medals as a Shot Putter
Valerie Adams is an athlete, a New Zealand Olympic shot puter. She's a renowned athlete, who has won several gold medals. She has won the World champion for the fourth time and a four-time Indoor World Champion, amongst several others. This is what Valerie has been doing since her first competition at age 14 years, and she has kept at it. She's one of the very few women that has made a name for their countries.
In 1998, former javelin thrower, Kirsten Hellier decided to coach Valerie. As her coach, they both worked together for the next 11 years. She came into prominence after she won the World Youth Championships in 2001, with a throw of 16.87m. Valerie Adams has encountered several challenging situations in life that have not deterred her from pressing forward.
Her first Olympic Games in Athen was in 2004, shortly after being operated on for appendicitis. This she completed and got qualified into eighth place. Valerie Adams would go on to be the foremost sportswoman in New Zealand – winning gold medals at Commonwealth Games in 2006 and 2010 in Melbourne. This brought memories of her late mum, as she looked towards the sky and sensed her mum smiling downward.
In the 2008 Beijing Olympics, Valerie won the gold in track and field, the second time for her country, since 1976. At the London Olympics in 2012, Valerie Adams won the silver medal. Her performance was an outstanding one that got her promoted to the gold medal. At the Summer Olympics held in 2016, she finished second in the shot put with a distance of 20.42 meters, competing with Michelle Carter.
However, in July 2021 she won the Olympic Medal, the fourth time at the 2020 Tokyo Olympics. She won a bronze medal with a best shot put of 19.62 meters. Thus far, the athlete has won over eight Olympic Games. Little did she know that her potential which was discovered by her PE teacher back in High School was going to shake the world of athletics.
Summary of Valerie Adams Medals
Event
Gold
Silver
Bronze
Olympic Games
Twice
Once

Once
World Championships
Four times

2007 Osaka
2009 Berlin
2011 Daegu
2013 Moscow

Once
Nil
IAAF World Indoor Championships
Four times

2008 Valencia
Doha 2010
Istanbul 2012
Sopot 2014
Portland 2016

Nil
Once
Commonwealth Games
Three times

Melbourne 2006
Delhi 2010
Glasgow 2014

Twice

Manchester 2002
Gold Coast 2018

Nil
World Cup / Continental Cup
Two times
Nil
Nil
World Youth Championships
Once
Nil
Nil
Valerie Adams has competed in four Olympic games has Valerie Adams which are the 2008 Beijing Olympic games, London 2012, 2016 Rio de Janeiro, and Tokyo 2020. In all, she has won a total of 4 Olympic medals; 2 gold medals (1 in Beijing 2008 and the other in London 2012), 1 silver (2016 Rio de Janeiro), and 1 bronze (Tokyo 2020).
Aside from Wining Medals, Valerie Adams is also Breaking and Setting Records in Her Career
Telling the story of athletics in New Zealand cannot be complete without mentioning Valerie Adams. At the Olympic Games held in Tokyo, 1964, she put 19.29 m. This has never been achieved in New Zealand by a woman. She became the first woman to break the 19-meter barrier.
In January 2005 she won the award of the Athlete of the Year by Athletics New Zealand. This came after her performance in the world championship, the same year, with a throw of 19.62 meters. In 2009, Valerie won the Supreme Halberg Award for the third time. Adams has been involved in so many Commonwealth Games and has won gold medals, silver medals, and even bronze medals for her country.
The shot puter currently holds the Commonwealth, New Zealand, Oceania, and equal World Championship records, with a best throw of 21.24 meters. She has risen in her career with great achievements that many female folks and even her male counterparts are still struggling to meet up. Her life is such an inspiring and motivating one you can emulate.
List of Awards Valerie has Won
Laureus World Sports Award for Sportswoman of the Year: 2015 nominee
IAAF World Athlete of the Year: 2014
Track & Field News Athlete of the Year: 2012, 2013
New Zealand Listener Power List in Sport: 2008, 2009
New Zealand Order of Merit: 2017
New Zealand's Sportswoman of the Year: 2006, 2007, 2008, 2009, 2010, 2011, 2012
Halberg Awards – Supreme Award: 2007, 2008, 2009
Lonsdale Cup of the New Zealand Olympic Committee: 2006, 2007, 2011, 2013, 2014
How Valerie Adams' Physical Attributes (Height and Weight) Aid Her Career
You might be wondering about the possibility of her achievements. Valerie Adams' strength and physique have been a major contributing factor to her career and outstanding performances. It's like the Creator specially endowed the entire family with extra height. If you attempt to compete with her height, "then you'll be nowhere found." Hers is a physique that could reach up the heavens.
Adams, who is 6 ft 4 tall and weighs 118kg (260 Ib), has an amazing competitive temperament and mental soundness to perform well. Her height, which was mocked by her friends back in high school, is what has made her a celebrity today. As a shot put champion, she has won many competitions consistently throughout her entire career, all thanks to her height and dominance.
Valerie Adams is not the only Olympic shot puter in her time. But you can tell that the volume of her achievements seems to speak louder than that of her counterparts. You must have heard of the likes of Novak Djokovic, Roger Federer, and Rafael Nadal who have successfully led two generations of potential tennis champions, as a group. You'll also recall Serena Williams who has won a lot but is not as consistent as Adams. She won the biggest individual award in track and field, in 2014. The IAAF couldn't contain the joy, they had to announce her the female World Athlete of the Year. To date, she remains the only female specialist thrower to win the women's award in the last 3 decades. Her huge stature – weight, and height have done her so much good than evil.
However, Valerie's consistent winning streak has taken a toll on her physique over the years. In the 2014 off-season, she was necessitated to conduct two surgeries, one for her throwing elbow and the other for her left shoulder. The celebrity has achieved everything achievable in the world of athletics and could as well gather all her trophies and medals home. But to the surprise of everyone, Valerie has defiled all odds to quit her career. Coupled with two cesarean sections in birthing her kids, she still wants more wins for New Zealand.
Following through Valerie Adams' life and story, her's has been an inspiring and encouraging one. It thus means that anything you set your mind to achieve, with the right people and attitude, you're good to go. What the mind can conceive, it can achieve. Though greatness can be in-born, one can also achieve greatness by being in the right atmosphere and following the rules. Also, whatever you're endowed with should be to your advantage and that of your generation, and not a point of pity.
Valerie Adams Career and Physique Compared to Other Female Shot Puters
In shot put, Valerie Adams ranks among the best female shot puters in the world and it is easy to see why. Her career records are astonishing and a testament to how good she is in the sport. When it comes to her career winnings, very few women compare to her, and still, when you compare her physical attributes, to that of others, she towers above many.
Going by the latest results and athletes ranking after the 2020 Tokyo Olympic Games, the best female shot puters currently are Gong Lijiao, Saunders Raven, Valerie Adams, Dongmo Auriol, and Song Jiayua. A comparison of Valerie's height with some of these other ladies will tell you how much of a giant she is.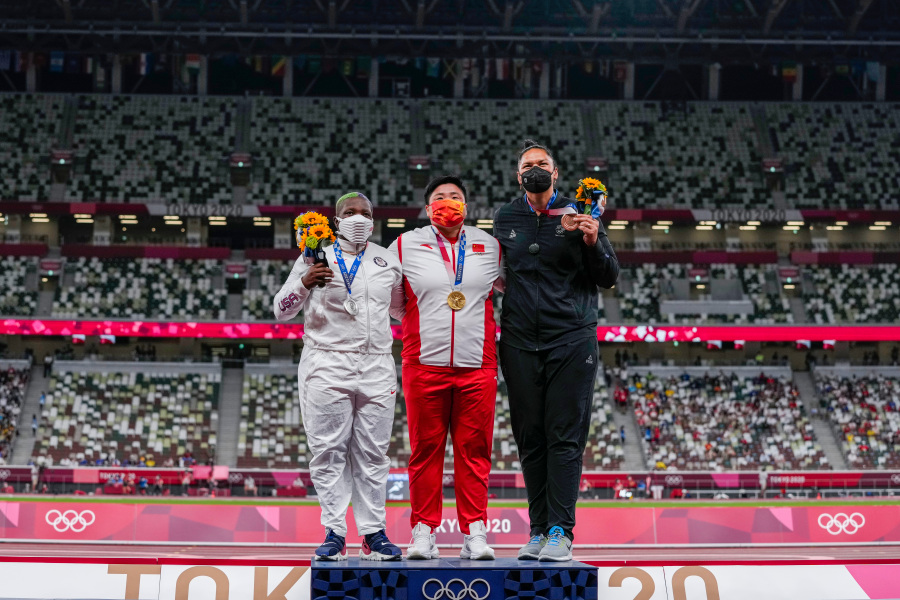 Valerie Adams is Taller and Heavier than Gong Lijiao
Gong Lijiao who emerged as a gold medalist in the 2020 Tokyo Olympic games with a distance through of 20.58 stands at a height of 5 feet 9 inches and weighs about 108kg or 238 lbs. Her height dwarfs her when she stands beside Valerie who towers at 6 feet 4 inches and is also heavier at 118kg or 260lbs.
Saunders Raven is Shorter and Lighter than Valerie
Saunders Raven, an American Olympic shot put athlete and discus thrower who also shone at the 2020 Tokyo Olympic games stands at a height of 5 feet 4 inches and weighs about 108kg. She is both shorter and lighter when compared to the imposing Valerie who is 6 feet 4 inches tall and weighing a heavy 118kg or 260lbs.
Auriol Dongmo Stands Considerably when Tall Compared to Valerie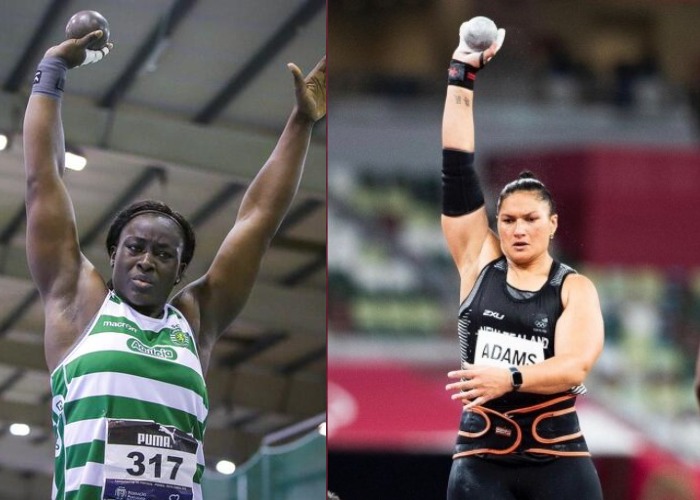 One of the few globally celebrated shot puters whose physical attributes put her very close to Valerie Adams is this Cameroon-born Portuguese track and field athlete named Auriol Sally Dongmo Mekemnang; more popularly referred to as Auriol Dongmo. In terms of height, she stands at a decent 6 feet or 1.83 meters while her body weight is given as 98kg or 216lbs. Compared to Valerie, Aurilo is still shorter by at least 4 inches and heavier by no less than 20kg, yet, she's one of the few (who are good in the sports) who won't be intimidated by height at least when she stands close to Valerie.
Auriol Dongmo's athletics career has also seen her clinch a couple of medals like gold in the 2011 Maputo and 2015 Brazzaville African Games, gold in the 2014 Marrakech and 2016 Durban African Championships, and also another gold in European Indoor Championships 2021 Toruń. She has a bronze medal from the African Championships 2012 Porto Novo.
Indeed, compared to many female shot puters, Valerie is a giant, and even when compared to some men, she still stands out remarkably tall and heavy. Obviously, to maintain her physique, she put in a lot in terms of dieting and exercise so she can always be at her best when performing.
Is Valerie Adams Related to Steven Adams?
Many questions abound about who Steven Adams is and whether he is related to Valerie Adams or do they just bear the name coincidentally? On the contrary, Steve is well related to Valerie, he is her half-brother. The duo are siblings of the same father but a different mother. Steven, who is a National BasketBall (NBA) player, is the youngest sibling of Valerie.
When it comes to professional basketball, Steven Adams is one to be reckoned with. The basketballer is a New Zealand professional player for Memphis Grizzlies of the NBA. He has been with the ball since college back in the United State. Steve Adams also has proven track records of success and achievements just like his sister, Valerie Adams. The entire family has challenged the world of sport with their endowed physique.