For Tyus Jones, basketball flows in his genes. Since getting signed in the first round of the 2015 NBA Draft as the 24th overall pick by the Cleveland Cavaliers, Jones' career has been soaring higher. He was quickly traded to the Minnesota Timberwolves where he began his professional basketball career, playing as a point guard. From his basketball family down to his romantic life, Here are all the facts you need to know about Jones' career and personal life.
Age, Early Life, and Rise to Fame
Tyus Robert Jones was born on the 10th of May 1996 in Apple Valley, Minnesota as the second son to Debbie and Robert Jones. Born into a family of basketball players, Jones' parents named him after Tyus Edney, a retired professional basketball player who played as a point guard for the Sacramento Kings between 1995 and 2010. Tyus Edney, a UCLA alumnus began his coaching career in 2017 with the UCLA Bruins.
Basketball came naturally to Tyus Jones who at the age of 4, became a fan of Space Jam and as a result, idolized Michael Jordan. In middle school, Jones explored his athletic side playing football, baseball, and basketball. He attended Apple Valley High School where he turned his focus towards basketball. Jones became a starter from his 8th grade and began attracting attention from colleges from his freshman year.
Rounding up his high school career, Jones on November 15th, 2013 committed to Duke University. He led his team to the NCAA Division 1 title in 2015 and was the MVP of the final game. Jones had an outstanding college career so much so that the mayor of his hometown in Apple Valley pronounced the 22nd of April as Tyus Jones Day. Tyus' college career lasted for just a year after which he entered the 2015 NBA draft.
Tyus Jones since the age of 8 has been best friends with fellow NBA star Jahlil Okafor.
Salary
Tyus Jones after being traded to the Minnesota Timberwolves signed his debut contract on the 7th of July 2015. It was a 4-year contract worth $6.53 million with all of the money guaranteed. In his first year, Jones earned a base salary of $1.28 million. On the average, the point guard takes home a salary of $1.63 million. Jones is due for a contract extension with the Wolves in 2018.
Read Also: Who Is Damian Jones? 6 Interesting Facts About The NBA Player
Tyus Jones Brother and Parents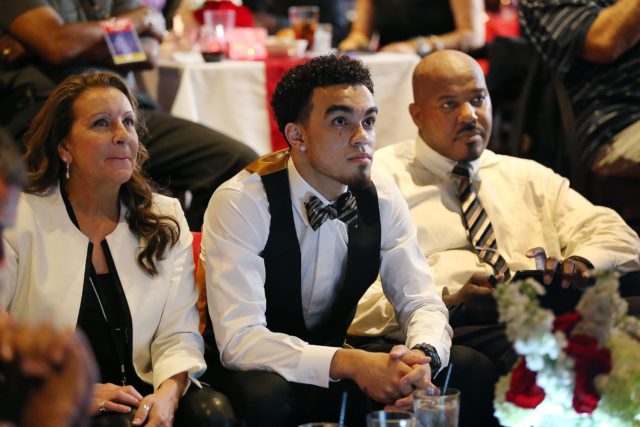 Tyus Jones hails from a family with a long history of basketball. Both of his parents – Debbie Jones and Robert Jones played basketball. His mother Deb played as a point guard for the Devils Lake High School, leading the team to the North Dakota high school championship. She would go on to play at the collegiate level. His father Rob, a towering 6 feet 6 inches figure also played to the collegiate level, representing the University of Wisconsin–Parkside at the Division III back in the 1980s.
Though Jones' both parents were basketball stars in their own right, he gives a lot of credit to his mom Deb who has coached him in the game since he was a young boy. Jones' parents are divorced. From his parents' marriage, Jones has two brothers, older brother, Jadee Jones and younger brother, Tre Jones who are both basketball players. They both played college basketball at Duke University.
Additionally, Tyus has a half-brother named Reggie Bunch who was an NAIA All-American at Robert Morris in 2010. In addition to his parents and brothers, Tyus has cousins, uncles, and aunties who are basketball players.
Who's His Girlfriend?
Tyus Jones has a woman in his life. Though the point guard is one of those stars who largely prefer to keep their romantic life off the media, Tyus has at least let the world know that he isn't single via a handful of Instagram posts. Jones and his mystery girl have been in a long-term relationship. Though he has put out her photos for the world to see, she still remains a mystery to the media as Jones has never ever dropped her name. In the few Instagram posts that Jones has flaunted her, he refers to her with names like; "my rock," "my other half" and has even dropped the power three words; "I love you." The B-baller seems to post about her only on her birthday and thankfully, we know that the beau was born on the 23rd of July.
Tyus formerly dated Alyssa Goehner, his teenage love. She played volleyball for Lakeville High School and later the University of Minnesota. They dated up to the time when Tyus was at Duke.
Tyus' Height and Weight
According to Jones' player profile on the official website of the National Basketball Association, he stands at 6 feet 2 inches, that is 1.88 m. His weight measures up to 184 lb, which is the equivalent of about 83.5 kg.