His real name is Tyler Steinkamp, but you know him as Tyler1, a popular player in the League of Legends video game. He streams his game sessions on both his YouTube and Twitch channels and he is infamous for his persistent toxic behaviour in the League of Legend community which earned him a reputation as "the most toxic player in North America".
His popularity ensured his bad behaviour didn't go unnoticed. By 2016, his toxic behaviour had reached alarming proportions and earned him an indefinite ban by Riot Games, the developer overseeing the game.
Wiki: Age; Height
Tyler1 who stands at a height of 5 ft 7 and weighs 185 lbs is an online gamer who rose to fame via his loltyler1 Twitch live streaming channel. He is a popular player in the League of Legends video game, where he solely plays the character Draven and is considered one of the best players in the world. He was ranked 13th in the world for the 2014 season.
He has garnered over 1,000,000 Twitch followers for his frequent League of Legends streams. He also streams his play sessions on his YouTube channel which boasts of over 750 000 YouTube subscribers, with over 2 million views on each video! In the bid to devote all attention to his craft, Tyler withdrew from college to become a fulltime YouTube streamer. He also sells merchandise on a personal website.
Even though Tyler is a great League of Legends player, that wasn't what made him famous. He owes his notoriety to countless stints of toxic behaviour exhibited in some of his streams. Due to his unsportsmanlike conduct, he had up to 15 accounts banned. But each time, he creates a new account where he continues with his "bad behaviour". He'd swear at other players, use abusive language in chats and sometimes leave his keyboard for several hours on stream.
See Also: Johnnie Guilbert Age, Height, Wiki, Dating, Girlfriend, Family
His most grievous offence was a practice known as 'inting'. This practice involves a betrayal of some sort to his own team, in which he'd intentionally allow the opposing team to 'kill' him, giving them money and experience points till they were able to defeat his team. This he usually did to get back at fellow league players if they refuse him certain buffs he wanted.
This bad publicity earned him lots of followers. Seeing that his reputation as the "Most Toxic Player in North America" earned him more viewers on his channels, Tyler1 began to intentionally troll games. His bad behaviour was easily conspicuous because he often played with professionals, other popular streamers and staff of the game developer, Riot Games. His toxic conduct reached its peak in April 2016 for which he earned an indefinite ban.
Tyler1 Girlfriend and Brother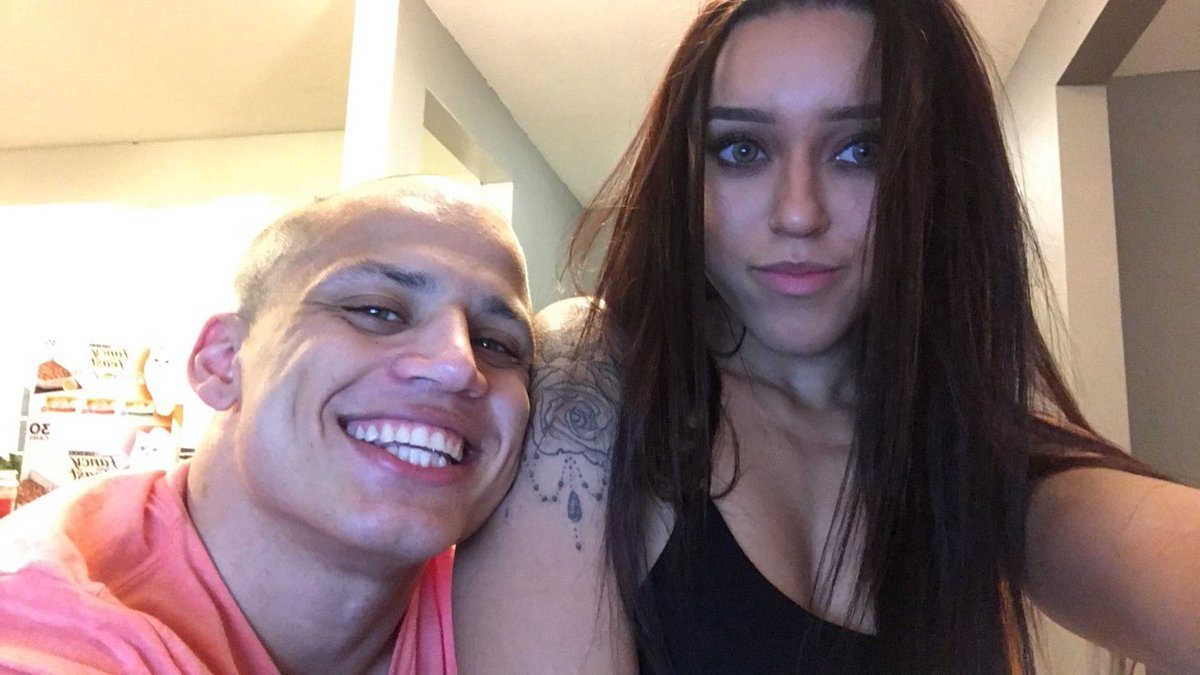 Tyler1 has a girlfriend known as Macaiyla. The couple met at TwitchCon2016 and started dating after some weeks. Their relationship is full of drama as they seem to get on well sometimes and at other times, Tyler would be seen yelling commands at her in his live stream videos. Macaiyla is 19 years of age though she is considered by some to be "immature" for her age.
Macaiyla started playing games as early as age 3, little wonder she couldn't resist Tyler who combines incredible gaming skills with good looks. Macaiyla's life was relatively drama-free until Tyler came along.
Tyler's aggressive behaviour, racist remarks, game cheating as well as Macaiyla's insults and offensive jokes about disabled people, ensure that this couple is never free of controversy. According to a Reddit feed, Macaiyla's second Twitter account was suspended in March. Her first account had been banned after she Tweeted about bombing a school! As they say, birds of a feather flock together!
Several images of a scantily-clad Macaiyla had popped up on Tyler's videos on several occasions. This could be considered a non-issue for Macaiyla as her Instagram is full of photos taken in her underwear and see-through garments. She started her own YouTube channel to enable her clear the air on some of the issues arising from her controversial relationship with Tyler.
Tyler has a brother named Eric, @Erobb221 on Twitter. Tyler sometimes plays League of Legends with his brother Eric and streams the game sessions too. Tyler donated $1100 to his brother in one of his live streams for his birthday.
See Also: Is Jon Cozart Gay? Wiki, Age, Brother, Girlfriend, Height, Bio
Game Ban Status
By April 2016, Tyler's toxic behaviour had reached its peak. The bans on his previous accounts seemed not to deter him even as his followership continued to soar. Even though League of Legends community is considered to be one of the most toxic, Tyler's antics were uncommon. Therefore, Riot Games, the developer overseeing the game had to take a severe disciplinary action against Tyler.
Seeing that the previous bans didn't yield any positive results, Riot instituted a "Ban on Sight" order against Tyler. The order ensured that any account owned/run by Tyler was instantly permabanned.
The ban against Tyler1 split the lovers of the eSport in two; some thought it was appropriate in order to restore sanity to the League of Legends community while Tyler1's loyal fans thought the measure was too harsh. During the period of the ban, Tyler1 remained a part of the League of Legends community and declared that he was making efforts towards reforming his toxic behaviour.
However, on January 5, 2018, Tyler announced his reinstatement via his Twitter account, to the delight of his fans. The reinstatement was confirmed by Riot and Tyler1 officially resumed streaming games on his loltyler1 Twitch account on January 8. The reinstatement seems to be only temporary as it seemed Riot had placed him on a sort of probation. According to an email which he received from Riot in October 2017, he would be fully reinstated if he is able to play "clean" for a period of one month.
Tyler's popularity seems not to have waned because his first post-ban broadcast garnered over 300,000 viewers in 20 minutes after going live. This first stream broke Twitch's record for most concurrent viewers on a non-event! The toxicity for which he is notorious for was noticeably absent in his first broadcast. Prior to the ban, Tyler1 had declared himself League of Legends "most toxic player," but now his Twitter profile reads "most reformed player."
Can we say that the ban worked or is it only a matter of time before his dark side resurfaces? Only time will tell!
Tyler1 Net worth
Tyler1 definitely has one of the best jobs in the world, he earns a living by playing video games! His "most toxic player in North America" status ensured subscriptions and views kept soaring, while he kept smiling to the bank. He's one of the biggest Twitch streamers at the moment. All these and the sale of merchandise on his website brings his total net worth to an estimate of $400 000.