The name of Tristan Tate's daughter has never been mentioned to the hearing of the public, but the little girl does exist. The social media influencer and former kickboxer shares his daughter with a Romanian TV presenter called Cristina Pazurati. It is not known whether they are still dating, but Tristan is actively involved in raising his daughter.
Tristan wasn't reportedly present in the labor room when Cristina had their baby girl, as he was held by the Romanian authorities for committing different types of offense alongside his big brother, Andrew Tate. However, since he was released from prison, the social media personality and former kickboxer has been collaborating with his baby mama in raising their little girl. The proud father has been spotted with his daughter on a few occasions.
Does Tristan Tate have a daughter?
In most of his interview sessions, Tristan Tate has severally mentioned that he is a father to many children, but most notable among them is his daughter.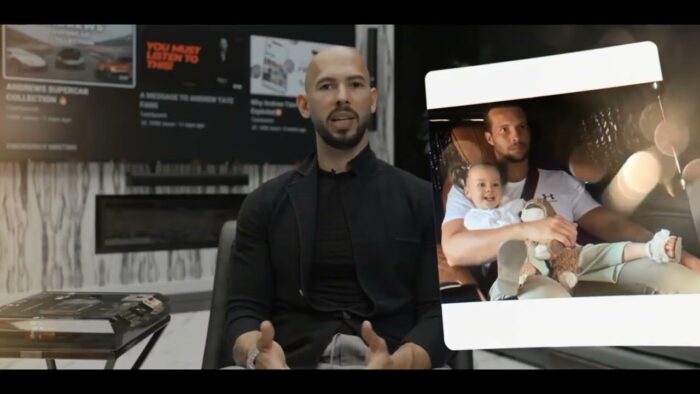 In December 2022, rumors were making the rounds that Tate was absent from his daughter's birth as the social media braggadocio was incarcerated in prison when she was born.
During that period, Tristan's attorney put up a strong argument advocating for his release on the grounds that he just become a father. In his submission, the lawyer suggested that the new father be placed under house arrest instead. Reportedly, the internet star's daughter was up to three weeks old before he could see her for the first time.
Since he became free, Tristan has been spotted carrying his daughter in one picture and has occasionally talked about his little girl.
What Tristan Tate Thinks About Fatherhood
Though he seems to be always talking about getting rich and the ways to make fast money, Tristan once revealed how it feels to be a father in one of his interview sessions.
According to Andrew Tate's brother, becoming a father is a wonderful experience, and he has plans to have more kids in the future. Talking about their master plan, Tristan said the Tate Empire would be managed by the Tate children in the future.
While contemplating family life, Cobra Junior, as he is called, mentioned the story of Steve Jobs and Elon Musk. Unlike Musk, Steve's board of directors were not his family members but ambitious careerists who didn't think twice about voting him out. Those board members were never loyal to Jobs but to the firm. Tristan said.
Tristan also said he wishes his daughter to have someone capable of providing for her and protecting her. His brother, Andrew Tate, also shared a similar sentiment about his young niece, saying that the girl would need a strong man in her life to protect and provide for her needs, and he wouldn't want the little girl to find herself in a world where men oppress and marginalize women. This is very rich, coming from a confirmed misogynist like Andrew.
Tristan once said people in his neighborhood don't allow their children to play with his daughter because he has been labeled a human trafficker, and that makes him sad.
When was Tristan's Daughter Born?
We have only heard that Tristan Tate fathered a daughter, but the little girl's birth details are nowhere to be found. However, it has been speculated that she may have arrived around February 2022, when the social media star was imprisoned. This conclusion is drawn from past reports claiming that Tristan missed the birth of his little girl because he was behind bars.
The above-listed date may not be accurate, but it is not far from the truth.
What is the Identity of Tristian's Baby Mama?
After rumors about Tristian becoming a father started making the rounds on social media, it sparked curiosity about the identity of his baby mama. Before long, it was revealed that his girlfriend, Cristina Pazurati, had been pregnant for a while, and that provided all the needed answers.
Christina is of Romanian nationality and hails from Chisinau. An alum of the Academy of Arts in her hometown, Chisinau, Christina was involved in acting during her days as a student.
She is a multi-lingual with proficiency in three languages, including Russian, English, and her native tongue, Romania.
What Does Cristina Pazurati Do for a Living?
Cristina Pazurati is listed as a Romanian television personality who doubles as a social media influencer. At a point in her career life, the mother of one dabbled into sports and recorded some performance kayaking.
Cristina also experimented with acting after she completed her studies at the Chisinau-based Academy of Arts but later decided to give it all up. From acting, she went into the music industry, which is still a new territory for the Romanian lady. However, she continues to earn her keep from TV and social media while trying to build a career in music.
Are Tristan Tate and Cristina Pazurati Still Together?
It is not clear whether Tristan Tate and his baby mama, Cristina Pazurati, are still together, as Tate has a penchant for keeping the details of his personal life away from media scrutiny.
Also, the duo never bothered to reveal important tidbits, like when they met and started dating and how long their relationship lasted. The only glaring fact about Tristan Tate and Cristina Pazurati is that the duo never tied the nuptial knot, nor were they ever officially engaged.
The duo are said to have a respectful friendship. When the Romanian authorities arrested her baby daddy and his big brother from their Bucharest, Romania, residence in December 2022, Cristina went to visit him in prison. This is a clear indication that the couple was still going strong at that period. Following their arrest, the Tate brothers were charged with sexual exploitation, organized crime, human trafficking, and more.
Tristan has since left jail, and even though he is not married to his baby mama, the social media influencer is actively involved in raising his daughter. What this means is that he still maintains contact with Cristina, and it is hard to tell whether they are still romantically involved or not.
Tristan has been spotted with his daughter in public a few times, and the little girl was seen with her mum in Dubai in December 2022.
Important to note that since the birth of his daughter, Tristan has been romantically linked with Romanian Instagrammer Bianca Dragusanu, and if this information is confirmed to be true, it then means that his relationship with Cristina may be truly over.