Travis Fimmel's unique blue eyes aroused attention from several quarters when he modeled for Calvin Klein. Also, he has a fresh scar as a result of an injury he got in a motorcycle accident. The frightening, yet astonishing scar on his face partly made him the perfect fit for his role in the Vikings. 
People initially thought Travis Fimmel's scar was created with make-up for the movie until he appeared with a "real," lengthy, deep scar on his face on the red carpet in 2017. Likewise, his blue eyes aren't a result of contact lenses, as people may have imagined. His unique facial features have, nonetheless, brought him to the limelight, giving him the much-needed attention to excel in his career. Here is all there's to know about Travis Fimmel's eyes and scar.
What Color is Travis Fimmel's Eyes?
Travis Fimmel has astonishing expressive blue eyes that convey the fury and psychological struggle he depicts as the character, Nordic leader – Ragnar Lothbrok, in Vikings. His glassy glance after committing some heinous acts of hyper-brutality, the eagerness, and the hungry gaze he exhibits when embarking on the Seabourn voyage gave out the idea of the character.
Besides, his blonde beard and stupendous blue eyes give him the look of a Viking monarch, although the American actor isn't from the Scandinavian northlands. In essence, Travis' eyes fit the role he's meant to portray in Vikings. Moreover, the Australian-born heartthrob became famous as the blue-eyed model in a popular Calvin Klein billboard campaign.
After his astonishing appearance, he was then offered the character of warrior Ragnar Lothbrok in Vikings. However, this was also thanks to a friend, who helped him film a short audition tape in his kitchen.
Travis Fimmel's Eye Color Is Inconsistent In the Vikings
Alexander Ludwig, the King of Kattegat Bjorn Ironside, had just been struck a fatal blow when the epic History series last broadcast on TV. However, Vikings fans may have noticed a major continuity flaw regarding the new protagonist.
Bjorn Ironside was initially introduced to Vikings fans in season one when his character was played by an Irish child actor, Nathan O'Toole. He is the son of Lagertha Lothbrok and Ragnar Lothbrok (Fimmel), the show's original actors (Katheryn Winnick).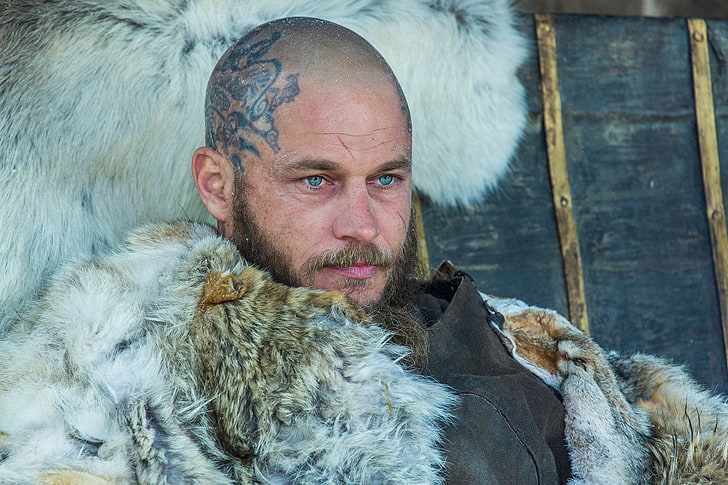 Sadly, he lost both his parents throughout the show, leaving the young king to take care of himself. Bjorn has piercing blue eyes just like his fictitious father, which contributes to the familial resemblance. However, when he was younger, his eyes were brown, but as he grew older, they turned blue.
Another similar error occurred with Fimmel's character. The colorization is without any doubt done in post-production. However, his eyes vary in color from dark blue to very light blue. But they aren't blue at all and occasionally are just half-colored. Some fans, however, believe that Travis's eye color discrepancy is intentional. For example, a Reddit comment on a related post reads "His eyes become brilliant blue when he fights… I believe it is done on purpose"
How Did Travis Fimmel Get the Scar In His Face?
Given how attractive Travis Fimmel is, it shocked many when he appeared in 2017 on the red carpet with a scary, lengthy, deep scar on his face. However, he revealed in an interview that his fresh scar is a result of the injury he got in a motorcycle accident. Notwithstanding, the accidental cut seems to have healed over time, so there's no need to get all worried!
Travis looked like he had returned from a real-life battlefield during the IWC Schaffhausen event in Geneva, Switzerland. The Australian actor displayed a painful-looking facial injury close to his right eye as he stylishly posed for photographs on the red carpet. Looking ruggedly handsome, he also sported a slightly greying beard.
Travis Fimmel's recent scar isn't something he got from the makeup when filming Vikings, as many have claimed. Rather, he got the injury from a minor motorcycle accident. And from all indications, the scar won't be permanent on his face. He could either get facial surgery or allow the scar to heal naturally.