Scott Galloway is married to Beata Galloway, a German-born property developer. They have been together for several years now and have two sons together.
Scott Galloway vigorously shields the identities and names of his children from the public and this may be due to several of his controversial takes which annoy some people. However, there is no doubt that he loves his wife and kids very much. He has written about engaging in fun adventures with his children. He has also described finding the right life partner as one of the keys to success.
Scott Galloway's First Marriage Ended When He Was 34 Years Old
Scott Galloway has been married twice in his lifetime but the details of his first marriage are hard to come by. It is difficult to tell when the marriage started. It is also not known what the name of his first wife is. Some sources, however, identify him as being married to Anne Galloway. It is, therefore, possible that the name of Scott Galloway's first wife is Anne Galloway.
Whichever it is, Scoot Galloway has revealed that his first marriage ended when he was 34 years old, in 1998. The professor and business investor has also described his first marriage as a good one that ended because he wanted to be single again.
He has also penned his thoughts on divorce in some blog posts. He sees it as something that brings one face to face with one's flaws. He has also advocated for rebranding as people see it as an admission of failure.
Who Is Scott's Wife, Beata Galloway?
Scott Galloway is now married to Beata Helena Galloway, a property developer. Beata is originally from Germany and relocated to the U.S. at some point in her life. She was born in March 1979, which makes her 15 years younger than Scott, and has Caucasian ethnicity. Beata is a property developer and licensed realtor based in Florida.
Scott Galloway met Beata sometime in the late 90s or early 2000s in Miami. This first meeting was at a hotel poolside and Beata was with another man. Scott was, however, quite taken with her and decided to still approach her. It was one of the biggest risks that he had ever taken in life and it paid off big time as she fell for him and they started dating.
They later got married after welcoming their first son together. The date of their marriage is not known but it came after 2008 as this was when their child was born.
Beata and Scott have what the latter has described as a great marriage. Scott has praised his wife for her contributions to the family. He also revealed in a May 2019 interview with Forbes that one of the most important decisions that one can make in life is choosing a life partner.
He advises people to find partners that have the same goals as them and are mutually supportive. For him, it is important to have someone to share joy, tragedy, and downsides with. The above is simply a testament to the great marriage that Scott has with his wife. They collaborate a lot, including in philanthropy.
The couple opened up their home in December 2021 for a fundraiser for The Jed Foundation. The foundation prides itself as a leading national non-profit that protects emotional health and prevents suicide for the nation's teens and young adults. Scott and his wife were able to raise half a million dollars and were commended for their efforts.
Let's go out on a high note. This will be my last tweet for a while.

Congrats to ????????, and thx to twitter for 10 great years. ????????

You can find me at https://t.co/y9Y0jWEp8T pic.twitter.com/5x6wI0E84K

— Scott Galloway (@profgalloway) December 18, 2022
Scott Galloway and his Wife, Beata, Have Two Sons Together
Scott Galloway has two children and they were both born by his wife, Beata. He and his family lived for several years in Gulf Stream, Florida, but in September 2022, they relocated to London in the United Kingdom so that the kids could experience a different culture.
Galloway and his wife shield the identity of their kids from the public so their names are hard to come by. The professor has, however, penned some essays which offer insight into his son's life.
Scott's First Child Was Born in 2008
Date of birth: 2008
Age: 15
Mother: Beata Galloway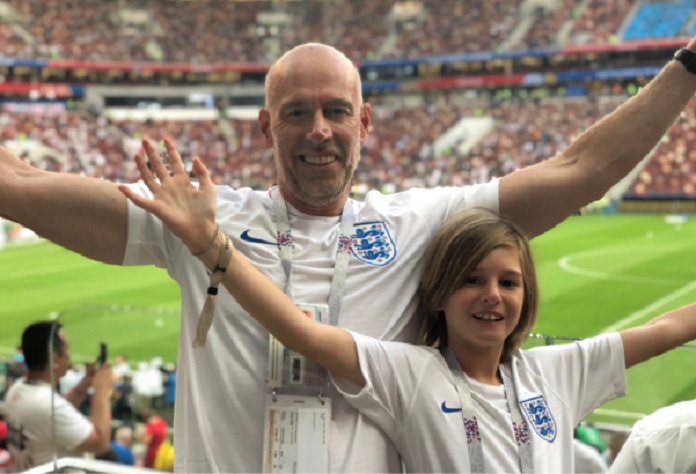 Scott Galloway's two children are both males and the very first is his son that was born in 2008. The boy's name is unknown but he is presently 15 years old. There is no doubt that he would be attending a quality educational institution.
From essays penned by Scott, we know that his first son is somewhat of a serious lad who frowns at some of the fun but mischievous activities that he wants to indulge in. We also know that the young man is a fan of soccer and plays as well as watches it. This passion for the sport has inspired his father to start following it as well.
While most teenagers maintain an active presence on social media, it will be difficult to find Scott Galloway's first son on any social media platform. The professor cum investor and podcaster has a distaste for social media platforms such as Instagram and has revealed that he had rather give his son a bottle of Jack Daniels and marijuana than an Instagram or snap account.
Galloway believes that social media is not healthy given some of the premises that it operates on such as the over emphasis and focus on looks etc.
His Second Child Was Born in 2011
Date of birth: 2011
Age: 12 years old
Mother: Beata Galloway
The family that masks together…

Wear. A. Mask. pic.twitter.com/2aEgjn9Ijn

— Scott Galloway (@profgalloway) June 29, 2020
Scott Galloway's second son was born in 2011 which means that he is about three years younger than his elder brother. He is presently 12 years old.
The young boy previously lived in Gulf Stream Florida alongside other members of his family. He equally relocated with them to the United Kingdom in September 2022 when they made that move. Scott Galloway's second son, just like his first, will live a very comfortable life given that their father is a multi-millionaire businessman who makes $5 million from just speaking engagements each year.
Beyond the material trappings, the young man will also benefit from his father's hands-on approach to parenting. Scott Galloway has penned multiple blog posts on his relationship with his children. One of them showed his desire to engage in mischief with his kids just as his dad had done with him while he was growing up.