Cuban-American hitmaker Camila Cabello is  5 feet 2 inches tall, which is approximately 1.57 m. The former Fifth Harmony group member also weighs 56 kg, which is about 123 lbs.
Camila Cabello deserves every second of her time in the spotlight with the long string of hit songs to her name. The Senorita singer, like many other famous pop stars, is widely revered for her good looks—and her shapely yet trim figure make up most of her public appeal.
But what happens when a pop star as mainstream as Camila experiences drastic changes in their weight, especially in the world of Hollywood where perfection is key? Here is the truth about the 'Havana' songstress's journey with weight gain and the public's reaction to it.
How Much Does Camila Cabello Weigh?
Camila Cabello's current weight has been given by a few credible sources as 56 kg. However, in the last couple of years, her weight seems to have steadily increased. At the beginning of her singing career, Cabello's weight was around the 46 kg mark.
As the years went by, this figure progressed to 50 kg, then 54 kg, and finally 56 kg. Her weight seems to be quite proportional to her height, but this mattered little to fans of the singer, who have continuously expressed their distaste for Camila's weight gain.
It's no news that she has been called out several times for daring to put on weight. Camila was accused of "letting herself go" and "setting a bad example" for her fans. The singer's last weight update was in late 2021. Since then, she has gotten noticeably trimmer and toner, which signifies that she might have lost a few more pounds. She has, however, declined to put out any further information regarding the issue of her weight.
How Did Camila Cabello Gain Weight?
Several pictures of Camila Cabello surfaced on the internet between 2021 and 2022 that left people talking.
In June 2021, the singer was seen walking along a Florida beach with her then-boyfriend and fellow superstar Shawn Mendes. Camila, who was 24 years old at the time, was wearing a blue two-piece swimsuit that exposed her belly. Another picture surfaced in the coming months, this time of the singer wearing another blue swimsuit, cavorting with her friends in Coral Gables.
Another particularly striking photo depicted the songstress in yet another swim piece – orange in color – at a beach on the coast of Capri, Italy. All three photos attracted significant outrage from a lot of online users who felt appalled that she had gained so much weight.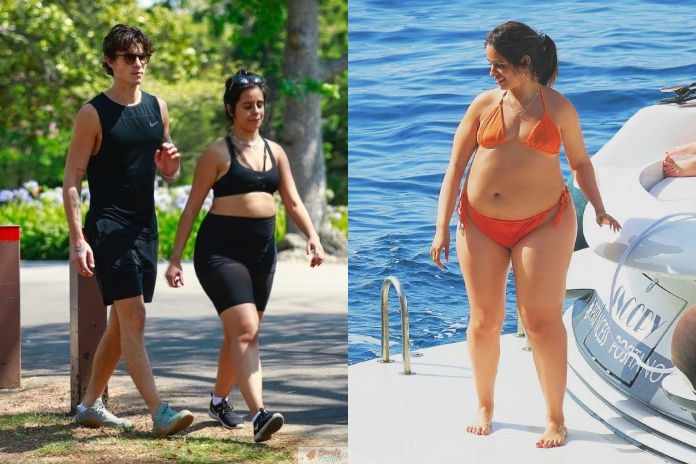 The singer came out to say that she had gained weight due to the 2020 lockdown. The lockdown, which had been effected because of the rapidly spreading coronavirus disease, crippled movement all across the country. All the gyms were out of service at the time, so it was understandable why a lot of people, celebrities included, were rather out of shape at the time. It didn't end there for Camila Cabello, however.
Soon after this public meltdown, she and Shawn Mendes ended their highly-publicized relationship. Vicious rumors also began circulating about their breakup, saying the Stitches crooner had dumped his girlfriend because of how much weight she had gained during that period.
Camila Cabello's Sudden Weight Gain Led to Rumors of her Being Pregnant
Being photographed in public without one's consent is not exactly something that one entirely gets used to. For famous folk, though, it has come to be expected.
After images of her in June 2021 came out, where she looked unusually heavier, the media was immediately abuzz with speculations that the ex-Fifth Harmony group member was pregnant. This was because, in the photos that went viral, a noticeable increase around Camila's belly area could be seen.
Fans immediately went haywire with the idea that one of the world's biggest pop stars might be expecting. However, all of those rumors were put to a swift end since Camila Cabello was not oblivious to all the talk.
The singer declined to respond to the overwhelmingly negative comments, most bordering heavily on fatphobia. The songstress gave the middle finger to her naysayers with statements that strongly expressed her stance on body shaming and body positivity.
Camila vehemently refused to be pressured to suck in her tummy at all times to avoid being photographed in an unflattering pose. The singer expressed how ridiculous it was for her to be expected to be perfect at all times, even while going about her daily, normal activities. She made her assertions clear in a TikTok video, saying that she was not going to apologize for having a natural body with fat, curves, stretch marks, and cellulite.
While the singer admitted that she wasn't completely used to the experience of being randomly photographed, she did share that she was becoming more comfortable with her body.
Cabello also expressed hope that her "unflattering" photos would lower the shame other celebrities felt, especially when they didn't particularly feel camera-ready. If there is one thing Camila Cabello knows how to do best, it is to uplift others.
The Singer's Weight is Now Back to Normal
Notwithstanding her sermons on body positivity, the Havana crooner seemed to take the weight-related criticisms to heart—yes, she dropped all the extra pandemic weight in 2022. While Camila didn't go on a strict diet, she did admit that fruits and nuts made up a huge part of her new diet. Camila also works out very frequently.
Her exercise regimen consists of rigorous cardio exercises aimed at burning away excess body fat. Even now, it's not difficult to notice the difference between the new Camila and the post-pandemic one. Camila looks more toned in her arms, abs, and butt. And what's more? The singer wears her new body with as much pride as she wore her bigger body.
What is Camila Cabello's Height?
With a full height of 1.57 meters, Camila Cabello can be accurately described as short. The Don't Go Yet singer has been described by fans who saw her in person as "incredibly small," with most explaining that they had wrongly assumed her to be taller.
The apparent disparity between Cabello's projected height and her real one is a popular marketing gimmick of the entertainment industry, where they make artists appear taller to give them a larger-than-life image.
In the American entertainment industry, female artists usually average a height of 5 feet 5 inches. And according to the CDC (Center for Disease Control), the average height for American women to be 5 feet 4 inches. In both cases, Camila Cabello is shorter than the average height, hence the logical deduction that she is short.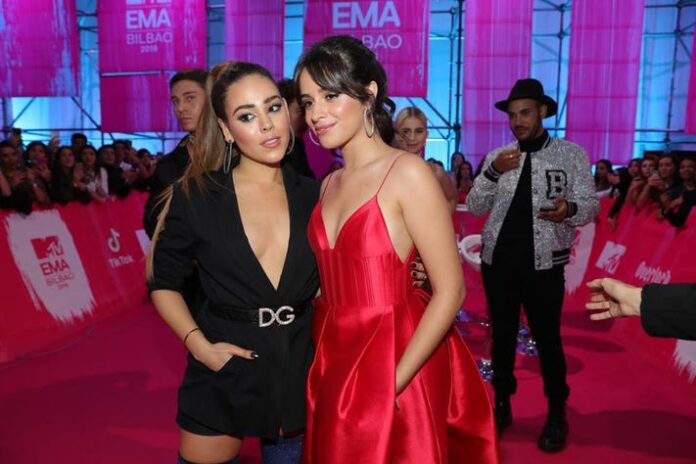 Ariana Grande and Camila Cabello's Height Compared
Comparisons between music divas have existed since the time of Whitney Houston and Mariah Carey. While Ariana Grande might not appear to have much in common with Camila Cabello—well, except perhaps, for the fact that they are both insanely talented singers with hits to prove—the fans have been comparing their heights.
While reports on Ariana's height vary from source to source, some of the most credible ones list her height as 5 feet ½ inches or 153.7 cm tall. Although it can't be said that she towers over Ariana, Camila is, however, 1½ inches taller than Ariana Grande.