Trish Regan is an award-winning television host, business news anchor, financial journalist, columnist, critically acclaimed author, and economic expert. Regan is, however, best known as the former host of the popular Fox business news show, The Intelligence Report with Trish Regan. The show was later renamed The Trish Regan Primetime Show. 
Trish Regan has been a model, beauty queen, trained opera singer, and pianist. Literally everything!
Since leaving Fox, Trish Regan has been hired as executive editor of American Consequences, P.J. O'Rourke's magazine. Early in 2021, she also announced on Twitter that she will be joining the lineup of presenters for Salem Podcast Network.
Bio and Profile Summary of Trish Regan
Full Name: Patricia Ann Regan
Date of Birth: 13 December 1972
Age: 50 Years Old
Zodiac: Sagittarius
Nationality: American
Alma Mater: Columbia University
Occupation: Journalist and Television host
Years Active: 2005 – date
Spouse(s): James A. Ben (2001 – date)
Children: 3
Associated Companies: CBS, Bloomberg, CNBC, NBC, and Fox
Net Worth: $20 million
Trish Regan Grew Up Wanting To Become A Musician
Born Patricia Ann-Regan McEachern on December 13, 1972, in Hampton, New Hampshire, the television talk show host grew up with her mother and an only sister named Caitlin Wroblewski. Her mother, Mary Eileen, was a freelance journalist who wrote for newspapers like 'The Daily Telegraph' and the 'Boston Globe' in the 1960s.
As a child, Regan was very musically inclined, and by age four, she could read musical notes and play the piano. She has often joked that she learned to read music before she could read the alphabet.
Regan had her high school education at Phillips Exeter Academy from where she graduated in 1991, with honors. He was a very active teenager and began to compete aggressively in vocal talent competitions. After graduating high school, she wanted to raise money for further studies and decided to compete in the local beauty pageant, which she won.
This made her qualify for the state pageant, which she was interested in because of the scholarships granted to the winner. She competed for Miss New Hampshire in 1993 and won, getting into the race for the finals. She went on to represent New Hampshire at the Miss America pageant in 1994. Regan got her scholarship and then continued her schooling.
Initially intending to pursue a full-time musical career in opera, Trish Regan traveled to Europe to study voice at Austria's American Institute of Musical Studies. She then went to Boston and enrolled to study classical opera at the New England Conservatory of Music. Eventually, she moved on to Colombia University where she studied History and Economics. In 2000, Regan graduated cum laude with a Bachelor's degree in U.S History. Meanwhile, she also attended Phillips Exeter Academy in Exeter, New Hampshire, and graduated in 1991.
An Unexpected Turn From Music To Finance Reporter
Notwithstanding her passion for music, Trish Regan realized how much she loved learning about American history when she got into the university. She picked up interest in the subject and in her penultimate year, she applied as an intern at Goldman Sachs & Co., a debt market group. Here, she worked as a financial analyst in the Fixed Income Division of the company. This became an experience that marked the beginning of Trish Regan's career in financial journalism.
To strengthen her skills as a finance reporter, she also interned with DE Shaw, a hedge fund company. She later worked as an intern with NBC where she was trained to be a reporter. This marked a major shift in plans for Regan and she decided to abandon music and face economics and journalism squarely, a decision that seems to have paid out extremely well for the former beauty queen.
A Timeline of Trish Regan's Career
CBS: 2001 – 2007
Trish Regan began her illustrious career by working primarily as a business correspondent for CBS in 2001. She became a news anchor at the CBS affiliate company called KPIX- TV. She gave economic correspondence for shows like the Evening News, The Call, and Money Watch. She was also a frequent co-anchor of the following shows; The Early Show, 48 hours, and Face the Nation. In 2006, Trish covered the State of the Union address meeting on behalf of CBS.
CNBC: 2008 – 2011
In late 2007, Trish left CBS and began working with CNBC as a stock market analyst reporter. It was during this period that she produced the documentaries that earned her multiple award nominations. The documentary, "Marijuana Inc: Inside America's Pot Industry," earned her an Emmy Award nomination for Best Investigative Journalism. Her second notable documentary series was called "Against the Tide: The Battle for New Orleans," for which she earned a Gerald Loeb nomination.
Trish's job demanded a lot of traveling during this period; she traveled to Columbia where she reported on the shift in the country's economic state. She reported from the capital cities of Bogota and Medellin. In a feature called 'Extreme Investing', Regan interviewed the incumbent president, Alvaro Uribe, about the free trade government, a highly controversial issue at the time.
Regan also traveled around Latin America at great personal risk to reveal a multibillion-dollar marijuana empire used to fund terrorism in the Middle East. She worked as a co-anchor on the show 'The Call'. She featured regularly in NBC's 'Nightly News' and 'The Today Show'.
Bloomberg TV: 2011 – 2015
After a rather brief stint with CNBC, she took up a role as a business anchor on Bloomberg TV. The show was called, 'Street Smart with Trish Regan'. Trish earned 'The Most Outstanding Young Broadcast Journalist Award' from the North Carolina Society of Professional Journalism for 'Street Smart'. She also hosted a series of primetime specials as well as the 2012 presidential election.
Fox Business Network (FBN): 2015 – 2020
Trish Regan's five-year tenure with Fox News was perhaps the highlight of her career as a TV business anchor. She began as the markets correspondent and then rose to host her own financial report show called 'The Intelligence Report with Trish Regan'. The show which later became the Trish Regan Primetime Show aired daily at 2:00 ET.
During her tenure at FBN, Regan hosted all of Fox's primetime live coverage of notable events, including the Republican and Democratic conventions. When FBN and Wall Street co-hosted the 2015 Presidential Debate, Regan and fellow Fox reporter Sandra Smith, co-hosted the debate making history as the first dual-female team to host a presidential debate.
She also hosted FBN's Primetime presidential inauguration coverage in January 2017. Her annual salary at FBN was estimated to the tune of $8 million and her show 'Trish Regan Primetime' is one of FBN's highest-rated shows of all time. She, however, was booted out after the inflammatory comments she made in August 2020 about the coronavirus for which the entire Fox Network came under heavy fire. She was placed on administrative leave and later fired.
Key Takeaways
Trish Regan initially wanted to pursue a full-time musical career in opera before making a career switch.
She was crowned Miss New Hampshire in 1993.
Regan kicked off her television career as a business correspondent for CBS in 2001.
She has also worked for CNBC, Bloomberg TV, and Fox Business Network (FBN).
For her amazing contributions in her field of work, she has been nominated two times for Emmy Award.
The television host made a statement in August 2020, dismissing the seriousness of the coronavirus and as a result, she was suspended by FBN and eventually sacked.
She is the founder of a multi-media news publishing company known as Trish Regan Intel and she also has a podcast known as Trish Intel.
The financial expert has been married for two decades and counting. She is a mother of three children.
Regan's Career Achievements and Awards
Trish Regan has received numerous accolades for her work in journalism and financial market analyses. In addition to being a two-time Emmy nominee for Best Documentary and Best Investigative Journalism, she is also a member of the Council on Foreign Relations. Her other awards include The Most Outstanding Young Broadcast Journalist Award and the Gerald Loeb Award for the Best journalist.
In 2006, Business Insider named Trish one of the most popular business television hosts. She has also been named one of the top ten women in broadcast journalism. Business Insider also said she was "one to watch" in 2006 and an unnamed source called her a 'reliably pro-trump personality'. In 2021, when announcing Regan's appointment, Salem Podcast Network CEO described Regan as "a superstar in conservative media".
Her show on CBS, Street Watch, was named the highest-rated original program in the history of the network company. And her documentary, Marijuana Inc., has remained the highest-rated and most-watched documentary series in CNBC's history. Trish has covered some of the most important events in the world like the G-8 Summit in Germany and Hurricanes Katrina, Rita, and Wilma.
Trish Regan is also famous for her renowned, fiery, and feisty interview skills. She has interviewed many notable figures and has been lauded for asking all the hard questions. The 50 year-old has never backed down from any opposing argument and has been known to take several controversial stances on issues countless times. In the course of her amazing career, she has interviewed Presidential candidates Mitt Romney, John McCain (late), and Jeb Bush. She has interviewed former Secretaries of State Condoleezza Rice, Madeline Albright, and Mike Pompeo.
She has interviewed Virgin Group CEO Sir Richard Branson, then World Bank President Kim Yong Jun, NSA Director Admiral Michael Rogers, and former presidents Bill Clinton and Donald Trump. She has also sat down with some of the country's most eminent investors and entrepreneurs, including the late Jack Welch, Mark Cuban, Larry Summers, David Rubenstein, Carl Icahn, Jim Chanos, Ray Dalio, Roger Altman, Carly Fiorina, Alan Greenspan, Jeff Immelt, Robert Rubin, Steve Munchin, and many others.
Political Blunders and Critical Responses 
In the course of her career, Trish has often been caught on the wrong side of public perception. In August 2018, while outlining the dangers of socialism as opposed to capitalism as an economic model, the FNB host compared Denmark to war-torn Venezuela. She talked about the system making people lazy because they were paid to do everything. Trish particularly mentioned the inability of school students to learn because they were being compensated for "doing nothing." She further went on to remark that there was "something rotten" in Denmark.
This sparked outrage among Danes and the Danish Finance minister, Kristian Jensen, clapped back immediately, saying that Denmark was one of the most economically free countries in the world, calling Trish's "opinion erroneous'. He further went on to compare the U.S to Denmark on Global Maternal health and Work-Life balance indices and pointed out the fact that the U.S. was outranked by Denmark in all. The talk show host had to retract her statement by saying that the correlation to Venezuela was over-exaggerated as she had only meant to decry the practice of socialism.
In August 2020, the business anchor also came under severe criticism for her statements dismissing the seriousness of the coronavirus. She had called the public's demand for government intervention an attempt to impeach then-president, Donald Trump. This led to multiple call-outs on social media and Democrats also called for her resignation and accused her of attempting to politicize something as sensitive as a pandemic. Following the backlash that succeeded this presumptuous outburst, Regan was placed on administrative leave by the middle of August and her primetime show was suspended until further notice. Ultimately, she was fired at the end of the month.
Trish Regan in 2021: What Happens After Fox?
After her fallout with Fox Business Network, Trish Regan announced that she would be going on a hiatus and that she intended to focus on her family for a while. Early in 2021, she announced on Twitter that she was back and set to join the lineup of presenters for Salem Podcast Network as of June 2021.
Trish is the founding president of a multi-media news publishing company known as Trish Regan Intel and part of the company is TrishIntel.com, a daily news website that covers the most recent news about market stories, politics, and the economy. The website also publishes several opinionated pieces.
Regan is also the host of her daily program business podcast, Trish Intel, which is one of the most popular new podcasts in America currently. On the podcast, she gives her opinion on issues and analyses the biggest news stories affecting Americans, challenging the status quo on media bias, economic policy, and political correctness.
In September 2020, Talking Biz News reported that she has been hired as executive editor of the monthly financial journal called American Consequences, a financial guide created to guide Americans and provide clarity on critical financial developments in the country.
She is also a frequent contributor to conservative television and radio networks. Trish Regan is still pretty active in the financial world and she doesn't seem to be slowing down anytime soon.
How Much Is The Financial Expert Worth?
The former Fox News anchor is undoubtedly one of the most successful business TV hosts of the past decade. Her annual take home at Fox was estimated to be $8 million and her total net worth was valued at $20 million in 2020. Aside from her former job as a television personality. Trish has a lot going on for her as seen above and they are all channels through which she earns money.
Her career in the media aside, she is also an author. In 2011, she wrote a history book titled, 'Joint Ventures: Inside America's Almost Legal Marijuana Industry', which accompanied her Emmy-nominated documentary.
The TV Talk Show Host Is A Wife and Mother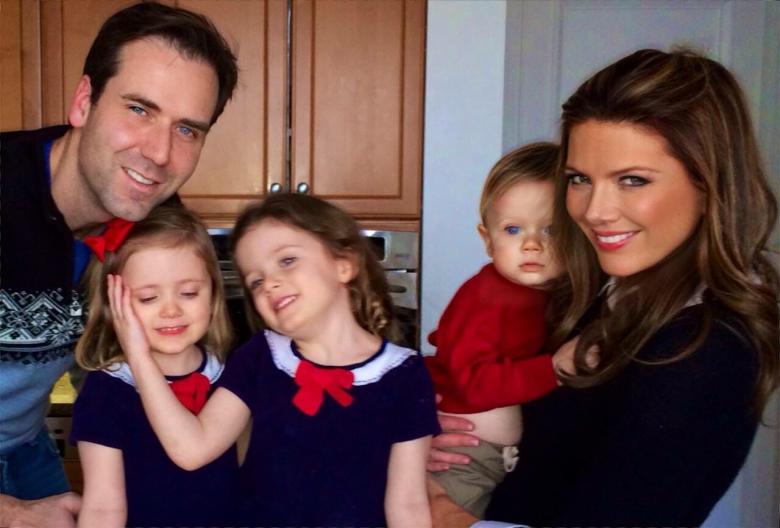 Despite having a career that keeps her in front of millions of people every day, Trish Regan has done a great job keeping the cameras far away from her personal life to a large extent. On the 15th of August 2001, she got married to James A. Ben. The two met at her cousin's wedding and the rest they say is in the past. Just like Trish, her husband is also working in the financial sector. He is an investment banker for Rothschild & Co. where he occupies the position of managing director of Global Financial advisory.
Regan and James have three kids. Their first pregnancy produced a set of twin daughters named Alexandria and Elizabeth who were born in December 2009. In 2012, the Bloomberg TV audience began to question if Regan was pregnant, and to clear the air, she made an official statement about it during her show "Street Smart." However, she did not reveal the gender of the baby. She eventually welcomed her third child (and first son) named Jamie Ben in 2012.
Judging by how long Trish Regan and her husband have been married without any news of trouble in their marriage, it is obvious that their relationship is a happy one. The fact that Trish is dedicated to her career notwithstanding, it appears she is doing a great job keeping her home together with the support of her husband who is seemingly supportive. The couple and their children live in New York.