Being a comedian for most people is all about eliciting laughter from people. Because of this, they say stupid, insensitive and vulgar things which are not funny. This is not the case with Trevor Noah. For him, comedy has to do with using intelligent humour to promote the general welfare of humanity.
Let's tell Trevor's tale from his own perspective a bit. The comedian believes he is the most successful comedian from Africa at large. The claim is neither brazen nor preposterous. He is truly the best from Africa and one of the finest in the world. While he throws punchline hilarious but brilliant jokes, his mimicking of people from different parts of the world or specific individuals is top-notch. And, the fact that he's a polyglot is an added advantage. He is good in German, Afrikaans, Xhosa, Tsonga, Zulu and of course, proficient in English.
Noah became an international sensation after it was announced in 2015 that he will take over from Jon Stewart as host of The Daily Show. He joined the Comedy Central late-night television program in 2014 as a contributor when Stewart was the host. Shortly after it was announced that Trevor would succeed Stewart as host, the South African was called out for some of his tweets which were regarded as offensive to fat women and Jews. In all, it was expressed that Noah is unfit to take charge of the late-night show.
Thankfully, Comedy Central came to Trevor's defence. The Viacom Global Entertainment Group's television channel issued a statement which expressed that it is not fair to Judge Trevor's character based on a handful of jokes. Comedy Central explained that Noah is sometimes provocative even to himself and thereafter asserted that he is a talented comedian.
Beyond being a comedian, Trevor has stared in a few films. This includes portraying himself in the 2011 documentary – You Laugh But It's True. That same year, he played Pilo in Taka Takata. Also, he was Bookie in the 2012 comedy film – Mad Buddies.
Trevor Noah Wiki, Mother, Parents, Family
If you come across people talking about a celebrity who was born a crime, they are definitely talking about Trevor. The comedian has severally joked about how it was against the law for his parents to have him when they had him – during apartheid in South Africa.
The then-apartheid government of South Africa, among other things, made it illegal for black citizens of the country to have romantic affairs with whites. But somehow, Trevor's mother, Patricia Nombuyiselo – a black Xhosa woman fell in love with Robert, a white man of Swiss-German ancestry. The Patricia-Robert affair led to the birth of Trevor.
As the law wasn't happy with such kind of integration, Patricia was fined and jailed while Robert relocated to his original country, Switzerland. As such, Trevor had to live with his maternal grandmom. You will find more of this tale in the comedian's 2016 book – Born a Crime: Stories from a South African Childhood. 
The book, a collection of Trevor's personal stories about growing up in his home country became a New York Times bestseller immediately it was released. Likewise, the audio version has been faring well. The book earned the comedian two nominations for the prestigious NAACP Image Awards. While it was nominated for the Outstanding Literary Work in the Biography/Auto-Biography category, it was also picked for the Outstanding Literary Work by a Debut Author honour.
Trevor's mother later married one Ngisaveni Abel Shingange and together, they had two sons named Andrew and Isaac. However, the marriage collapsed in 1996 as Ngisaveni wouldn't stop abusing Patricia physically. The man shot her in the head when she got engaged to another man in 2009. Thankfully Patricia survived the attack.
Before Trevor moved to the U.S in 2011, he was already famous in his country and pretty popular across the world. He worked with a handful of media establishments prior to his breakthrough with Comedy Central.
See Also – Don Rickles Wife, Death, Net Worth, Wiki, Daughter, Son, Family
Trevor Noah's Height, Girlfriend, Gay, Married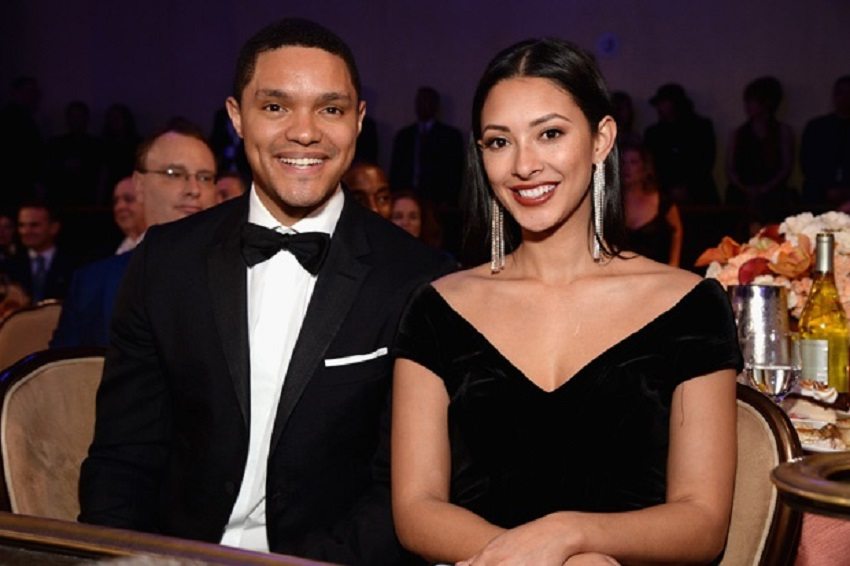 The comedian is probably being told every day that he's good looking. He's several inches taller than 5 feet and the height is perfect for his body structure.
To the best of our knowledge, Trevor Noah isn't sexually attracted to his gender He is straight and not gay. Also, the comedian will probably get married someday but as at the time of this report, he is not married to anyone. Nonetheless, he is dating Jordyn Taylor – an American singer-songwriter also known as a model. Trevor and Taylor started their affair sometime in 2015.
Before Taylor, Trevor's girlfriend was Dani Bagel. It is said that Taylor and Bagel have a striking resemblance and are both into music.