Trevor Donovan is a talented American actor and model who rose to immense popularity for portraying Teddy Montgomery in the American teen drama television series, 90210.
Ever since he debuted in 2004, the charming actor has appeared in several films and television series, working closely with prominent stars like Joey Lawrence and Melissa Joan Hart.
Apart from acting, he has a strong interest in music; Trevor is a guitarist, singer, and songwriter. Sometime in 2013, he was nominated for an award at the Golden Door International Film Festival of Jersey City. Join us as we take you through the life of the Hollywood hunk.
Summary of Trevor Donovan's Biography
Full name: Trevor Donovan Neubauer
Gender: Male
Date of birth: 11 October 1978
Place of birth: Mammoth Lakes, California, USA
Current residence: California, US
Trevor Donovan'sAge: 44 Years Old

Ethnicity: White
Nationality: American
Zodiac Sign: Libra
Sexual Orientation: Straight
Religion: Christianity
Marital Status: Single
Siblings: Jake Donovan
Education: The Art Institute of Los Angeles
Occupation: Actor and model
Trevor Donovan'sHeight in Centimetres: 188
Trevor Donovan'sWeight: 90kg
Eye color: Blue
Hair color: Blond
Trevor Donovan'sNet worth: $18 million
Famous for: Portraying Teddy Montgomery in the American teen drama television series, 90210
Trevor Donovan's Instagram: trevordonovan
Twitter: Trevor Donovan
Early Life and Background Details of The Actor
Trevor Donovan was originally born Trevor Donovan Neubauer on the 11th of October 1978. The actor's parents gave birth to him in Bishop, California but he was raised in the city of Mammoth Lakes, California. Trevor is of German-Jewish descent. As regards his family, the actor is yet to reveal the identity of his parents and their occupation. However, it is known that he has a brother called Jake Donovan.
Jake works as a fireman in Sacramento and has no relationship with the spotlight like his brother. Even though the brothers hardly make it to public events together, they share a strong bond that is felt through their pictures on Trevor's social media pages.
As a child, Trevor had lots of interest in sports, especially skiing and snowboarding. The actor is said to have competed in skiing for the US team during one of the Junior Olympics. He is a high school and college graduate. After his high school studies, Trevor enrolled at the Art Institute of Los Angeles. Upon completing his studies at the Santa Monica, California-based institution, the actor graduated alongside his peers with a degree in Graphic Design.
Trevor Donovan's Fact Card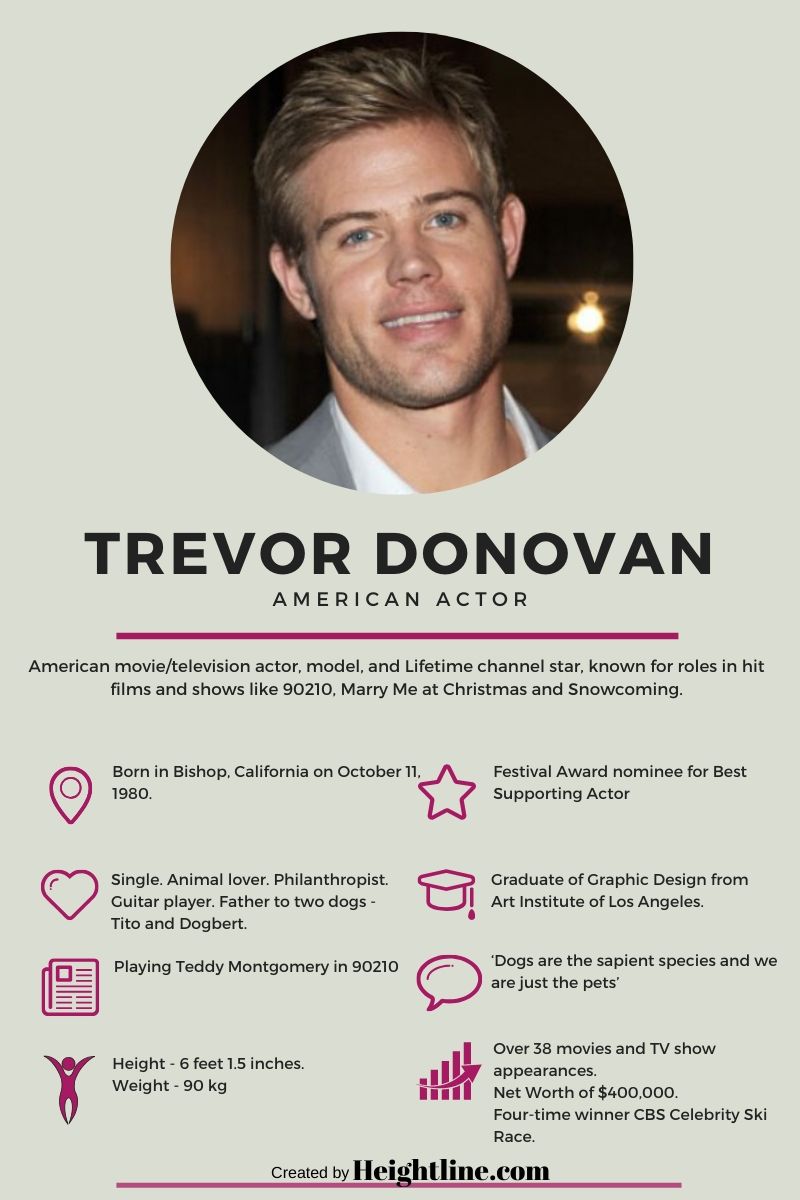 A Run Down of Trevor Donovan's Acting Career
Though a professional graphic designer, Trevor Donovan has been making waves in the field of acting since 2004. But before then, he worked as a model for a slew of fashion houses. He made his first acting appearance in 2004 as a waiter in an episode of the popular American sitcom, Quintuplets. His next role was as Jeremy Horton (a pilot and smuggler) in the NBC daytime soap opera, Days of Our Lives, after which he snagged another minor role in the science fiction movie, Surrogates.
The California native eventually had his big break in the year 2009 when he won a recurring role on 90210. Donovan was subsequently signed for a role in Oliver Stone's Savage in July 2011, which led to him playing the character of Matt. In 2013, he also played a recurring role (as Austin) in the third season of the ABC series, Melissa and Joey.
Since then, Donovan has been a part of various movies and television series including Love Finds You In Charm, Escaping Dad, Marry Me at Christmas wherein he portrayed Johnny Blake, and Bermuda Tentacles in which he played the role of Trip Oliver. Recently, he starred as John Burrows in the supernatural horror film The Ghost Beyond and as Ryan Taylor in seven episodes of the TV show, The Baxters.
Is The American Actor Married?
At the time of this writing, the charming American actor is still single and probably searching for the right woman to spend the rest of his life with. He has never been married and it's uncertain if he's dating anyone. The actor appears to be very much committed to his growing career.
Trevor Donovan, however, has been linked to some women including actress Sonia Rockwell whom he dated from 2006 to 2009, and Michael Jackson's daughter, Paris Jackson. The actor is yet to refute or confirm the rumor that he is an item with the daughter of the late King of Pop.
Why People Think He Is Gay
Rumors about Donovan being gay started spreading after his character in 90210 came out as a homosexual in the third season of the television series. In that particular season, his character gradually changed from a serial womanizer to a gay man facing the challenges that come with being gay like harassment.
Ever since the actor portrayed the role, questions about his sexuality have been the subject of speculations in the media and several quarters. Though he has continued to face so much controversy for the gay role, the American actor seems unperturbed by the rumors which have been swirling around him for years.
The Fact About His Sexuality
Trevor Donovan belongs to the school of thought that believes an actor's sexual preference should not limit the character he plays. With an LGBT role on his resume, it is not unusual for some people to assume that the actor is gay. Nevertheless, the actor has never identified as gay in real life.
The actor has on several occasions, dismissed reports about him being gay, maintaining that he is straight and will always be. Though Trevor is not in any confirmed relationship with the opposite sex, he has never been romantically linked to any man or caught in any situation that suggests he's sexually attracted to men.