Tori Brixx, also known as Tori Hughes, is a gorgeous American model, actress, DJ, and Instagram personality who rose to fame through her online presence. She has garnered over 3 million followers on her Instagram handle @toribrixx, where she keeps her fans updated with her alluring modeling and DJ photos.
The Texas-born model debuted with the Dynasty Series and Facet Studio. Brixx has worked with popular brands, including the modeling management company MUVA, Khloe Kardashian's Good American Denim, and Black Chyna's 88 Fin. Beyond modeling, she has successfully ventured into business and founded her own lipstick line.
Tori Brixx Profile Summary
Full Name: Tori Hughes Brixx
Date of Birth: August 16, 1990
Age: 33 years old
Place of Birth: Dallas, Texas
Nationality: American
Parents: Unknown
Spouse: Rich the Kid
Children: Dimitri
Height: 5 feet 6 inches (1.68 m)
Weight: 154 lbs (70 kg)
Body Measurements: 34-26-42 inches
Profession: Model, Actress, Disk Jockey
Net worth: $500, 000
Tori Brixx (Hughes) Is From Texas
Born on August 16, 1990, into an American family of upper-middle-class in Dallas, Texas, Tori Brixx is an Afro-American who takes gratification in her black genealogy. Not much is, however, known about her early life, her early education, her parents and their sources of livelihood, or even her siblings.
Nonetheless, her high school education was documented, and she is known to have received her education in Dallas, Texas, where she was reported to be a smart and brilliant individual, being the best student in her class. More so, Tori Brixx was known for her activeness and gained some local fame during her high-school days.
She Built A Modeling Career From Her Instagram Posts
In her quest for deep knowledge of what she had a passion for, Tori Brixx had to defy the odds against her and rode above barriers by moving to Los Angeles after finishing high school to pursue a career in modeling and acting. Meanwhile, she did not just build up the interest on her own, Tori was motivated by Draya Michelle whose fame soared high after pursuing an acting career.
While in Los Angeles, Tori took a while to understand the terrain and adjust to life in the new territory she found herself. She, however, got herself established with time and began to rise in popularity by posting various photos on Instagram. Her looks must have been one of the major rationales behind her sharp growth in fame on Instagram.
Having discovered that her posts pulled views each time she posted photos on Instagram, and even more whenever she posted sexy photos of herself, which subsequently amount to massive followers within a short while, Tori Brixx began to see her posts beyond just a post, but a quick way to a big prospect in modeling and a good channel to market herself as a model.
Fortunately for her, her popularity and huge followers on Instagram caught the awareness of firms aspiring to market and promote their brands through social media personalities who are highly exposed and command huge traffic and followership.
Tori Earned Recognition As A Model and Later Ventured Into Acting
In no time, Tori Brixx found a deal and began to work with Facet Studios for photo sessions. She thereafter got sponsorships from Fashion Nova and The Maxim. Not only that, but she also began to work with the fashion line called 88 Fin, which was established by Blac Chyna, as well as Good American Denim, an outfit formed by Khloe Kardashian.
Tori Brixx has also worked for Kendra's boutique (she has used their products severally while having her photoshoots), a luxury hair company that engages in online sales of its products. Another big designer Tori has worked with is the fashion and accessory designer King Pimp, he owns an outfit that has its own online presence/online store to serve its customers.
With all these deals, the social media personality in no time grew her fan base and earned more sponsorship deals which ultimately increased her income from modeling. This made her able to afford to travel to different locations around the globe. She has been able to visit many expensive, luxurious, and finest spots in Europe, America, and Asia. The modeling career of Tori Brixx indeed opened other doors for her in other lines of the profession.
For instance, her modeling job made way for her to try out acting, and one of the very first projects she would work on was the 2014 TV movie titled "Betrayed," a storyline of a pregnant boy whose boyfriend was kidnapped by a strange man, resulting in many hurdles. Apart from her TV project, she was also cast in the seventh season of the TV series "Wild 'N Out," which was an improv and comedy sketch series hosted by the comedian Nick Cannon on MTV.
Tori Brixx Has About $500,000 As Her Net Worth
Currently, the social media personality, actress, and business entrepreneur is estimated to be worth $500,000 and it is easy to see why she is worth that much. Tori has undoubtedly been one of the most successful social media personalities with lots of followers.
Her huge fan following on Instagram has made her one of the most sought-after models by big establishments who want promotion for their brands through social media.
Tori gets huge fees for modeling for some of these big brands and gets paid handsomely per contract she signs with them. Though the amount she makes per contract is not publicly known, she is making a killing from her deals.
She also makes money from acting and special adverts on her social media platforms. In addition, she is reported to have her own lipstick company which she established and is thriving. Do not forget that she is a professional disk jockey, which also fetches her income.
All The Ways Tori Bixx Makes Money
Modeling
Disc Jockey
Lipstick business
Tori Brixx's Relationship and Sexual Orientation
Tori Brixx is bisexual; she is known for her interest in both sexes, as she has dated both men and women in the past. Below are some of the relationships she has been in that the world knows.
She Briefly Dated Young M.A.
At a point, Tori was in a relationship with rapper Young M.A. The rumor of their affair broke out when they were both seen together in public. It was not long before that that they began to express their affection more openly. Even though they both did not make any open statements about their affair, Young M.A. later made the confirmation in a radio interview that they were in a romantic affair.
Based on reports, they both met soon after the success of the rapper's song "OOOUUU". They were formally introduced to each other by a friend after they had known each other online. But while their fans hoped that the relationship between the two will grow deeper, it was rumored that Tori had dumped Young M.A. to be with her next bae. Details of what caused their breakup have not been revealed up till now but what is certain is that the two are no longer together.
Tori Has a Child with Rich The Kid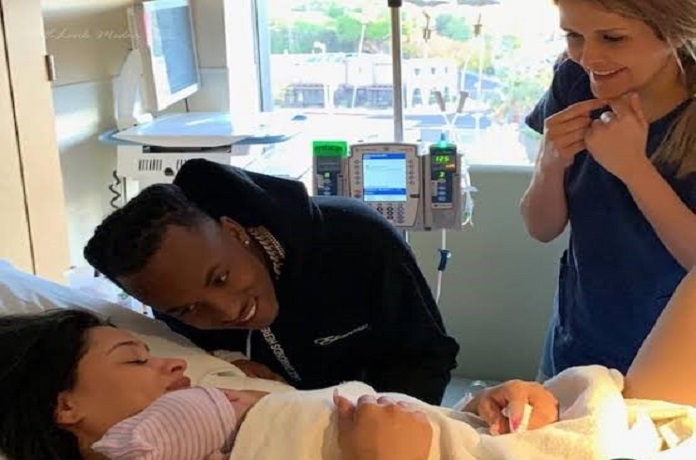 Tori Brixx also dated rapper Rich The Kid; they've been together since 2018. They met when Rich was still in his marriage with his wife, dancer Antonette Willis also referred to as Lady Luscious. Rich was dating Tori and keeping her as a side chick while still married to his wife who already had two kids for him.
Along the line, Rich's marriage crashed as his wife filed for divorce after she discovered her husband's affair with Tori. As soon as his marriage with Lady Luscious went up in flames, Rich The Kid went on in his relationship with Tori and made it public and Tori even later became pregnant for Rich as was revealed in her January 2019 Instagram post.
A few months later, Tori and Rich The Kid welcomed their child who they named Dimitri and fondly called Baby D. The couple has since then been living happily together even as the rapper seizes every opportunity he has to declare his love for his bae. He once inferred that his feelings for Tori are the yardstick of love.
Other Interesting Facts About Tori Brixx
How old is Tori Brixx?
Tori Brixx is currently 32 years old. She was born on August 16, 1990, in Dallas, Texas, United States of America.
How tall is Tori Brixx?
Tori Brixx stands at a height of 5 feet 6 inches, equivalent to 1.68 meters. She also weighs 70kg (154 lbs) and has body measurements of 34-26-42 inches.
Is Tori Brixx married?
No, Tori Brixx is not married yet, but she is engaged to Rich The Kid. The pair got engaged in 2019, but before their engagement, they welcomed a son named Dimtri in April 2019.
Where does Tori Brixx live?
The exact location of Tori Brixx's home is unknown. However, the model might have kept it a secret for security reasons. Although some sources say she resides in Dallas, Texas.