How tall is Tom Brady? Tom Brady's height is listed at 6 feet 4 inches which is the equivalent of 193 cm or 1.93m in the metric system. 
Be it on the field of play or the red carpet; Tom Brady is one gentleman who commands attention wherever he goes, thanks to his imposing height. That height could have easily seen him become a basketball star or a Hollywood leading man, but he chose football and has gone on to become one of the greatest, if not the greatest ever quarterback to have graced the NFL.
In an illustrious career spanning two decades, Brady has won seven Super Bowls, the most for any NFL player. He has also shattered several records and won numerous individual accolades. The QB is now in his 40s, practically ancient years for athletes, but he shows no signs of slowing down any soon. That longevity is down to a carefully planned and controlled diet as well as a unique fitness plan.
Exactly How Tall is Tom Brady?
Tom Brady is 6 feet 4 inches or 1.93 m tall. This makes him about seven inches taller than the average American male as data shows that the average American man is 5 feet 9 inches (1.75 m) tall. It also means that he is one foot taller than most American women as the average American woman is 5 feet 3.5 inches (1.61 m) tall. Such a fact means that Brady is more often than not amongst the tallest people in any room he enters and that situation also extends to the NFL.
The average height of most NFL players is put at 6 feet 2 inches, which means that Brady is at least two inches taller than most of his colleagues in the league. Without a doubt, that height advantage played a part in the great things that he has achieved.
Statistics show that height (6 feet 3 inches or taller) is one of the most important physical traits NFL teams look for and prefer in a starting QB. The reason behind this is that the individual will see over the linesmen who are getting increasingly taller. They also boast of other advantages that come with height, such as big hands and long arms.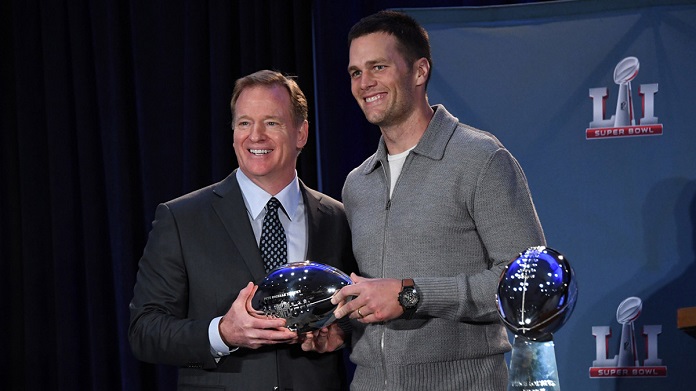 Is Tom Brady The Tallest Quarterback Ever?
Tom Brady is arguably the best QB to have ever played in the NFL but that does not make him the tallest. Scrutiny of a list of the tallest QBs to play in the league will show that they are all at least 6 feet 7 inches which means that the former Patriots star does not even make it into the list. So, who does make it into the list? Well, the top five have the likes of:
Mike Glennon – 6 feet 7 inches
Paxton James Lynch – 6 feet 7 inches
Brock Osweiler – 6 feet 7 inches
Frank Patrick – 6 feet 7 inches
Dan McGwire – 6 feet 8 inches
Brady is therefore not amongst the tallest QBs to play in the NFL but his magnificent achievements mean that in the eyes of many fans, he is the tallest NFL player ever. This was exemplified by the Banner Society Fans First Ultimate Fan Poll which declared him so.
Tom Brady Height Compared With Some of His Peers
Tom Brady is just one inch taller than Mahomes who is 6 feet 3 inches (1.91 m) tall. He is also about 18 years older than the Kansas City Chiefs QB and the age gap formed the biggest storyline when their sides clashed in the 2021 Super Bowl. Heading into the game, many expected the much-younger Mahomes to get one over the 43-year-old Brady. They were, however, sorely disappointed as Brady led the Buccaneers to a 31-9 victory against the Chiefs and won a record-extending seventh Super Bowl ring.
Even though they are meant to be rivals, Tom Brady nonetheless enjoys a great relationship with fellow NFL QB, Aaron Rodgers. That mutual admiration started while Rodgers was still a college athlete and Brady was making his name in the NFL. Rodgers would later make it into the league and both men have remained great pals so much so that Brady never misses an opportunity to troll Rodgers online. When it comes to their achievements, Rodgers has one Super Bowl ring while Brady has seven. When it comes to height, Brady also comes out on top as he is two inches taller than Rodgers who is 6 feet 2 inches (1.88 m) tall.
One of the great partnerships that have contributed to Tom Brady's career success is the one that he has with the tight end, Rob Gronkowski. The two played together for several years at the New England Patriots and won three Super Bowls together on their way to becoming one of the most successful quarterback-tight end duos in the NFL.
Brady would later leave for the Tampa Bay Buccaneers in 2020 while Gronkowski opted to retire. Brady, however, talked him out of retirement and he also joined Buccaneers where they ended up winning another Super Bowl straight away. Brady and Gronkowski are set to continue their exploits into the future and when it comes to height, the tight end is two inches taller than Brady as his height is listed at 6 feet 6 inches or 1.98 m.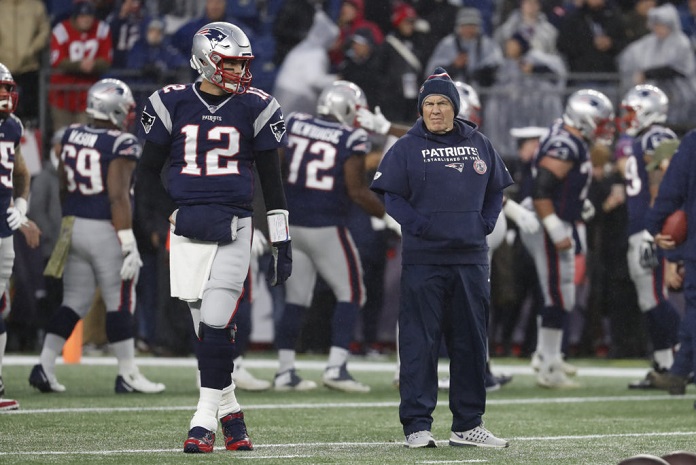 Tom Brady is five inches taller than his former long-term coach, Bill Belichick, whose height is listed at 5 feet 11 inches or 1.8 m. For nearly two decades, Brady and Belichick built one of the most successful footballing dynasties, reaching nine Super Bowls and winning seven. They also weathered several scandals together. At last, all good things must come to an end and they went their separate ways when Brady left the Patriots for the Buccaneers.
Brady's Height Compared To That of His Model Wife Gisele Bundchen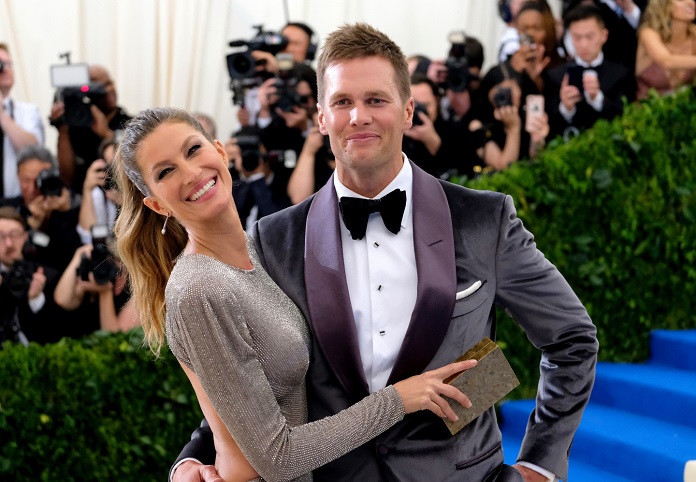 Tom Brady is one half of a golden couple, with the other half being superstar model Giselle Bundchen. Originally from Brazil, Bundchen held sway as one of the most popular models in the world, working with numerous fashion brands and appearing on the cover of every notable magazine in the world. She has since taken a step back and is focusing on activism as well as family. With regards to height, she is 5 feet 11 inch (1.80 m) tall, making for perfect pictures with her husband on the red carpet.
What Does Tom Brady Weigh?
Tom Brady's weight is given as 102 kg or 225 lbs while other additional measurements are chest – 46 inches, waist – 16 inches, and biceps – 34 inches. His arm length is 32.75 inches while his hand size is 9.38 inches.
Despite his age, the QB remains in prime physical condition and the reason behind this is his diet. His nutritional regimen features lots of electrolyte-infused water and smoothies containing blackberries, nuts, bananas, and seeds. He also favors fishes, vegetables, avocado, salads, hummus, and guacamole.
Another factor behind Brady's longevity is his work with his long-term physical trainer and close pal, Alex Guerrero. Their workouts and exercises focus on making the player's muscles as pliable as possible so that he can bounce back from injuries easily. The result is reflected in the fact that Brady has avoided any major injuries in the course of his career.